This is AI generated summarization, which may have errors. For context, always refer to the full article.
'My investigation will seek to uncover the truth and aim to ensure accountability,' says ICC prosecutor Karim Khan
New International Criminal Court (ICC) Prosecutor Karim Khan urges Philippine authorities to engage in the investigation into killings in President Rodrigo Duterte's bloody war on drugs, and killings in Davao City when he was mayor there.
"As we undertake this necessary work, I remain willing to constructively engage with national authorities in accordance with the principle of complementarity and our obligations under the Statute," Khan said in a statement released Thursday night, October 7.
Khan will lead the Philippine investigation started by his predecessor, Fatou Bensouda.
Khan's Office of the Prosecutor (OTP) is now seeking evidence to be able to identify the individuals they will request summons or arrest warrants for. Requests for summons and warrants will have to once again be approved by the ICC chamber.
President Rodrigo Duterte has repeatedly said he will not cooperate.
But it's not only the president who can engage, but any relevant authority who may have information.
The ICC's pre-trial chamber has indicated that those who may be implicated need not necessarily be high-ranking, but can be local and regional level authorities. These may include local policemen.
"My investigation will seek to uncover the truth and aim to ensure accountability. We will focus our efforts on ensuring a successful, independent, and impartial investigation," said Khan.
The Philippine government under Duterte continues to claim that the ICC has no jurisdiction, citing among others our withdrawal from the ICC that took effect in March 2019.
"The Judges of the Pre-Trial Chamber confirmed my Office's position that the Court retains jurisdiction with respect to alleged crimes that occurred on the territory of the Philippines while it was a State Party, from 1 November 2011 up to and including 16 March 2019," said Khan.
UN Human Rights Council
The ICC's investigation has reignited calls for the United Nations Human Rights Council – a political body – to strengthen their move on the Philippines.
By a majority vote of member states, the UN HRC chose to spare the Duterte government of scrutiny and instead offered technical assistance, which is now operationalized by a joint human rights program mainly with the Department of Justice (DOJ).
"[UN HRC] should be motivated by evidence to raise political pressure on the Philippines both to stop these murderous policies and also to cooperate with the ICC and hold those responsible to account," said Param-Preet Singh, associate director of the Human Rights Watch (HRW) international justice program, in an earlier Rappler Talk interview.
Singh said technical assistance "feels absurd for a government that has consistently denied that these abuses have been taking the place."
"The ICC investigation is an opportunity for governments to reset and rethink their approach to the Philippines. Instead of taking the path to least resistance, and vowing to what the Philippine government wants, this is an opportunity for governments to course correct and say we want to stand with victims," said Singh.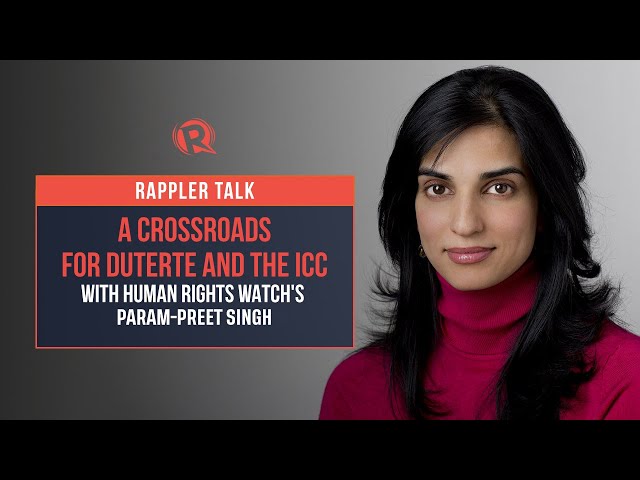 In the 48th session of the UN HRC Thursday, Human Rights High Commissioner Michelle Bachelet said: "Despite the [technical assistance], I remain disturbed at reports of continuing and severe human rights violations and abuses across the country including killings."
Bachelet's Office of High Commissioner for Human Rights (OHCR), which issued a scathing report finding among others planting evidence on crime scenes by the police, is a different unit from the HRC. 
The HRC is composed of member states, or the governments Singh was referring to, which resolve issues via a majority vote.
– Rappler.com