As PhilHealth chief in 2004, Francisco Duque III diverted P500 million to distribute health cards to bolster then-President Gloria Macapagal Arroyo's bid for a second term, says Senator Panfilo Lacson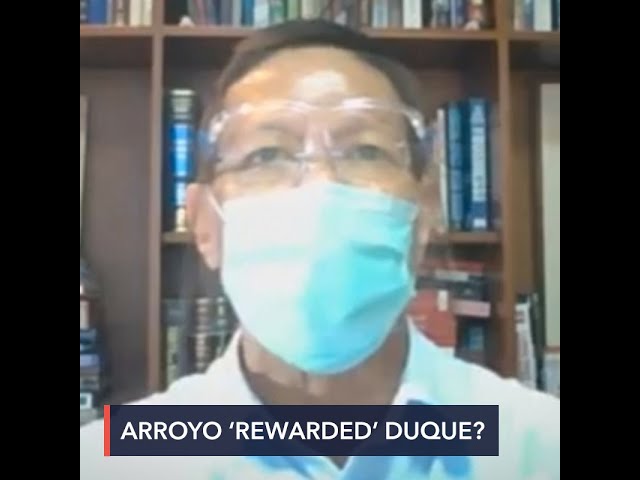 Senator Panfilo Lacson said former President Gloria Macapagal Arroyo appointed Francisco Duque III as her health secretary in 2005 as a "reward" for a health card scheme that aimed to bolster her bid for a second presidential term.
Duque, back now as health chief under President Rodrigo Duterte, was president of the Philippine Health Insurance Corporation (PhilHealth) in 2004.
Ahead of that year's national elections, Duque "illegally diverted P500 million in OWWA Medicare funds to buy PhilHealth cards bearing ex-President and then-presidential candidate Gloria Macapagal Arroyo's picture," Lacson said in a statement on Wednesday, August 19.
OWWA stands for Overseas Workers' Welfare Administration.
Besides Arroyo's picture, the PhilHealth cards bore the acronym "GMA" – Arroyo's initials, but which also stood for "Greater Medical Access." Also written on the cards were "GMA Para sa Masa, Para sa Lahat," the senator said. (READ: PhilHealth: Selling the future)
Lacson, who also ran for president in 2004, alleged that Duque distributed the cards "to areas where they knew they would lose [to] the late Fernando Poe Jr."
Presidential poll surveys at the time showed Poe, a hugely popular movie star, led the race with 5 million votes ahead of Arroyo. This was why the health card scheme was dubbed "Plan 5 Million," PhilHealth Davao regional vice president Dennis Adre told a Senate panel on Tuesday, August 18.
The health cards were given to allies and not to perceived political opponents, such as Duterte, who was Davao City Mayor at the time, Adre said.
Arroyo won the May 2004 presidential election, but was afterwards hounded by allegations of cheating. As vice president in 2001, Arroyo took over the presidency when Joseph Estrada was ousted by a popular uprising. This made her eligible for a second term, as Philippine law only allows elected presidents a single term in office.
"After her 2004 'victory,' Mrs Arroyo rewarded PhilHealth president Duque with an appointment as Department of Health (DOH) secretary," Lacson said on Wednesday.
As health secretary, Duque is the chairperson of PhilHealth. With allegations of massive corruption hounding the state insurer amid the coronavirus pandemic, Duque has come under fire from senators calling out his "ineptitude." Lawmakers also asked whether Duque may be involved in the anomalies in PhilHealth, as he has been with the agency in different capacities for nearly two decades.
Lacson criticized PhilHealth's attempt, under Duque, to collect premiums from overseas Filipino workers, even if they are a "special sector" exempted from this legal requirement. The senator also hit the "flawed if not perverted" implementation of PhilHealth's Interim Reimbursement Mechanism, "gross overpricing" of the insurer's information technology equipment, and the "doctoring" of its financial statements.
At a Senate hearing on the PhilHealth corruption mess on Tuesday, Adre said PhilHealth's financial woes began when Plan 5 Million failed to earn back the "billions of pesos" the health cards had cost. That was also when some people in PhilHealth started "window-dressing" its financial statements.
Despite these and earlier calls from senators for his resignation, Duque insisted he had been "doing his best." He denied the allegations against him, and said he would "continue to serve at the pleasure of the President."
Duterte has consistently stood by Duque amid these controversies.
"The President's trust and confidence notwithstanding, Filipinos don't deserve a state health insurance that is so corrupt, made possible by officials entrusted with mandatory monthly deductions from hard-earned salaries of ordinary employees," Lacson said.
"More than public interest, public health is imperiled with Secretary Duque at the helm of the DOH," the senator added. – Rappler.com