(1st UPDATE) The DOJ heeds the request of the Senate, and includes even Overall Deputy Ombudsman Warren Liong in the immigration lookout bulletin order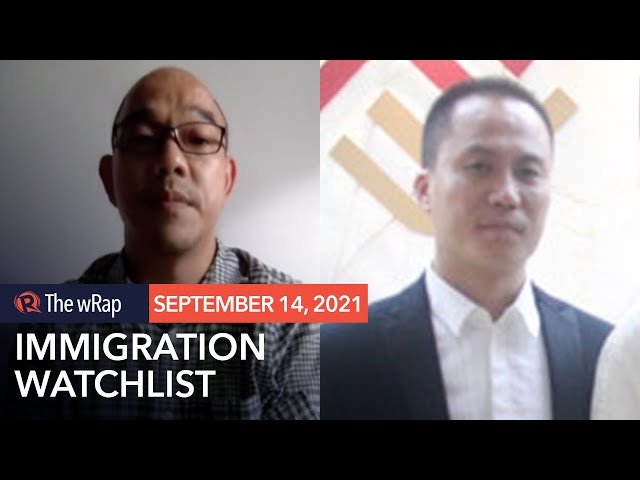 As President Rodrigo Duterte continues to undermine the Senate probe into his government's pandemic contracts, the Department of Justice (DOJ) has put the key figures in the controversy, including his appointees. on the immigration watchlist.
Justice Secretary Menardo Guevarra confirmed on Tuesday, September 14, that an immigration lookout bulletin order (ILBO) had been issued against former budget undersecretary Lloyd Christopher Lao, and that the ILBO on Duterte's former economic adviser Michael Yang was also issued on that day.
"As requested, the DOJ will issue [today] an immigration lookout bulletin order (ILBO) on the person of Michael Yang, also known as Yang Hong Ming. I have earlier released an ILBO addressed to the Bureau of Immigration (BI) covering the persons of Lloyd Christopher Lao and seven others, as requested by Senate President Vicente Sotto III," Guevarra told reporters.
The ILBO on Lao covered seven other people, including Overall Deputy Ombudsman (ODO) Warren Liong, who was Lao's director at the Procurement Service of the Department of Budget and Management (PS-DBM) when the questioned contracts were awarded to Pharmally Pharmaceutical Corporation.
Liong, Duterte's former legal consultant in Davao City, was appointed ODO in November 2020.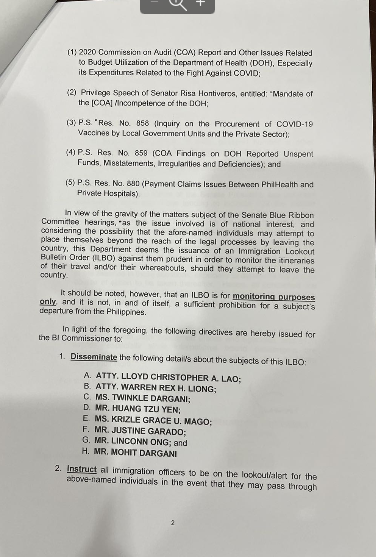 Here are the others on the immigration watchlist:
Pharmally chairman Huang Tzu Yen
Pharmally president Twinkle Dargani
Pharmally treasurer Mohit Dargani
Pharmally director Linconn Ong
Pharmally director Justine Garado
Krizle Grace Mago, the authorized person who received the purchase orders from DBM
Huang is in Singapore, while Mohit Dargani is in the United States. Both of them have attended the Senate hearings.
"The BI will make the proper arrangements for monitoring the subject's travel movements abroad," said Guevarra.
An ILBO cannot bar the subject from leaving the country, but sets up an alert mechanism for all authorities if they do. It is different from a hold departure order because only courts can issue HDOs when there's already a charge filed, or a preliminary HDO upon the request of prosecutors when there's already a complaint. There is neither in this case.
There's an ongoing fact-finding inquiry by the Office of the Ombudsman, but the DOJ has yet to launch its own.
The Senate blue ribbon commitee has issued warrants of arrest against Yang and Ong for contempt. Yang said he was in Davao City, while Ong is positive for COVID-19, and is under house arrest. The Senate's arrest and detention powers are only valid for the duration of its hearings.
In his taped speech aired on Tuesday, Duterte told officials in the executive that they cannot attend Senate inquiries without his clearance. He also told senators, "I will limit what you can do with the executive department."
What the Senate has revealed so far
Huang and Ong have admitted that Yang financed their company, and acted as guarantor for them too, because their funds were not enough to buy supplies from China which they sold to the government via the PS-DBM.
Yet even with insufficient funds and zero track record, Pharmally is the biggest winner in the PS-DBM pandemic procurements, winning P10 billion in government deals, so far, in 2020 and 2021.
In the last Senate hearing, Mago said that Pharmally delivered 500,000 pieces of face masks on March 25, and was paid more than P13.86 million by PS-DBM on April 15. According to the audit report of PS-DBM, the purchase order for that transaction was on April 16, raising more questions.
Former PS-DBM Inspection Division officer-in-charge George Mendoza also admitted he was made to sign an inspection report even before there was a delivery. Mendoza admitted it's possible payments were made before deliveries.
Mendoza said neither Lao nor Liong was in that meeting, and that it was PS-DBM's chief finance officer at the time, Raoul Catalan, who instructed him to sign the said inspection report.
Catalan has been summoned to appear in the blue ribbon committee's next hearing on Friday, September 17.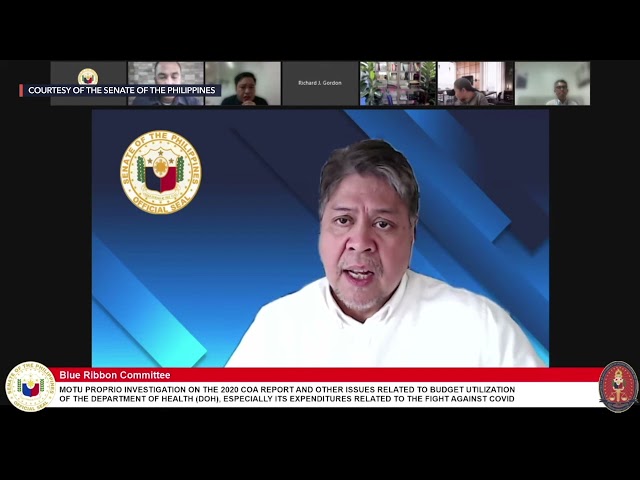 – Rappler.com