Speaker Lord Allan Velasco's oath-taking before the President is merely ceremonial, as he was already sworn in by a barangay captain a month ago
A month after his dramatic takeover at the lower chamber, Speaker Lord Allan Velasco took his oath as House leader before President Rodrigo Duterte in Malacañang. 
Velasco's oath-taking ceremony was held on Monday, November 9, coinciding with his 43rd birthday celebration.
Malacañang released photos and videos of the event only on Tuesday morning, November 10. 
"I am deeply honored to be sworn in by President Duterte who I admire a lot and have high regard for. He is also one of the persons to whom I am greatly indebted," Velasco said in a statement.
After the ceremony, Duterte offered to do a fist bump with his party mate, Velasco
Velasco's oath-taking before the President is merely ceremonial, however.
Senior Deputy Speaker Salvador "Doy" Leachon told Rappler the Speaker took his oath before Duterte "just for it to be meaningful [as it is] coinciding with [the] Speaker's birthday."
Velasco can be seen holding a birthday cake in one of the photos sent by Malacañang to the media.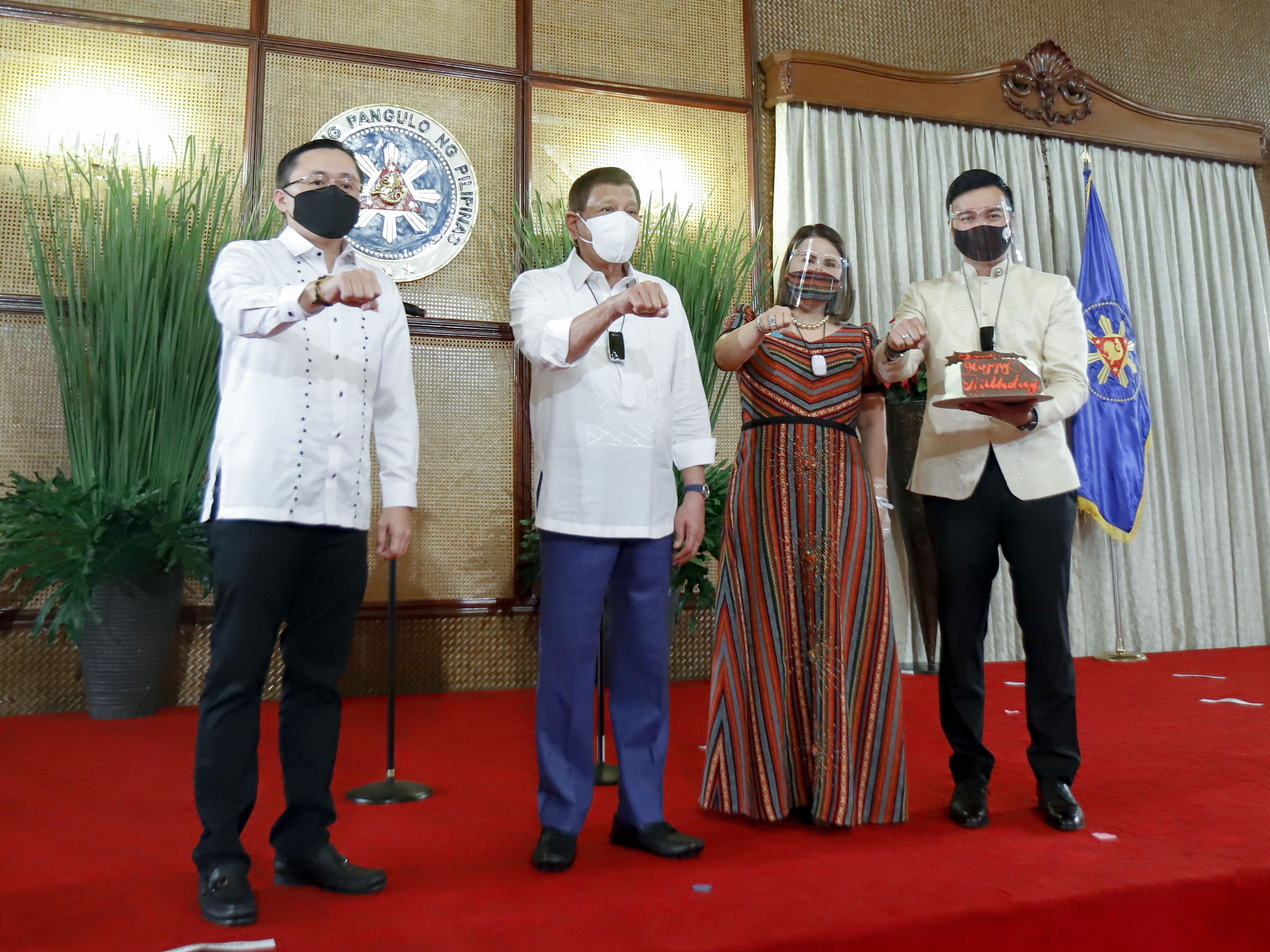 Velasco already took his oath before Barangay Captain Allan Franza of Matandang Balara, Quezon City, on October 12, after lawmakers staged their coup against Velasco's rival, Taguig City-Pateros 1st District Representative Alan Peter Cayetano, in an unprecedented session held inside a sports club.
Velasco's takeover was formalized during plenary proceedings the day after, making his speakership official.
Cayetano and Velasco, both Duterte allies, were supposed to share terms in a deal brokered by the President himself. Cayetano, however, wanted to hold on to power, forcing Velasco to unseat his nemesis to fulfill their "15-21" term-sharing deal. (READ: INSIDE STORY: Cayetano's hubris turns Batasan into the House of Lord)
Velasco's trusted allies in the House, including Leachon, witnessed his oath-taking in Malacañang.
The Speaker was also joined by his wife Rowena Velasco, his father Marinduque Governor Presbitero Velasco Jr, and his mother Torrijos Mayor Lorna Velasco during the ceremony. Senator Bong Go was also present.
The President briefly addressed lawmakers after Velasco's oath-taking, but Leachon said Duterte just greeted them and did not give any marching orders. – Rappler.com