(UPDATED) 'We can no longer sustain and support the needs of the affected families hit by Super Typhoon Rolly because of the pandemic and the series of typhoons that hit our province,' says Governor Al Francis Bichara
Albay Governor Al Francis Bichara is appealing for help from the national government and international institutions, citing the dwindling calamity funds of the province which just got battered by two typhoons a week apart.
"We can no longer feed them [the people] because we're already depleted. We're running out of funds. We are appealing for help from national government and International institutions as well as private donors to help our constituents affected badly of the typhoon," Bichara said.
Typhoon Quinta (Molave) made landfall in Albay on October 25. A week later, Super Typhoon Rolly (Goni) made its second landfall in Tiwi, Albay.
"We only have P26 million calamity fund left. We can no longer sustain and support the needs of the affected families hit by Super Typhoon Rolly because of the pandemic and the series of typhoons that hit our province. The next two months remaining are also critical because the strongest typhoon usually hit us in Bicol [at that time]," Bichara said.
In December last year, Typhoon Tisoy (Kammuri) battered Bicol. In late December 2018, Tropical Depression Usman hit the region, where 105 of the 122 deaths were recorded.
Quarrying concerns
On calls to to stop quarrying operations in Albay, Bichara said a province-wide suspension will adversely affect not only the provincial economy but also its rehabilitation projects, as the industry is one of its biggest revenue sources.
During a visit to Guinobatan, Albay, on Monday, November 2, President Rodrigo Duterte ordered concerned agencies to look into quarrying operations in the town, following allegations that such operations exacerbated the flooding in the area.
Bichara has ordered the suspension of quarrying activities in Guinobatan town, where hundreds of houses were buried by lahar flow.
Bichara noted that Albay supplies sand and gravel to the rest of Bicol as well as other areas in Luzon and Visayas. He said a suspension of quarrying in Albay "will affect government infrastructure projects and the [ability of the] region to bounce back from the impact of typhoon."
Meanwhile, Legazpi City Mayor Noel Rosal on Friday, November 6, wrote to Bichara to ask for a suspension of quarrying activities at the southeast quadrant of Mayon Volcano. 
Rosal said that the residents of the southeast quadrant covering 5 villages in Legazpi City expressed fear for their lives and safety. These are the villages of Mabinit, Matanag, Bonga, Buyuan and Padang – all at risk from lahar flow.
In 2006, Typhoon Reming (Durian) caused massive destruction in the Bicol region, leaving 1,500 people dead after lahar buried several villages in Albay within the southeast quadrant of Mayon Volcano.
Ed Laguerta, former resident volcanologist of the Philippine Institute of Volcanology and Seismology (Phivolcs) in Bicol warned that the Reming experience would happen again if quarrying operations are unregulated.
Mines and Geosciences Bureau Bicol chief Guillermo Molina said the MGB will assess the state of all river channels with links to the slopes of Mayon when quarrying operations are suspended.
After the assessment, the MGB would draft a policy on regulating the extraction of lahar and other volcanic materials around Mayon.
MGB records show that of the 101 quarry operators in the area, 100 have permits from the provincial government and one from the mines bureau.
Aid to farmers
Albay farmers, meanwhile, are trying to salvage their destroyed rice crops in the hope of selling them.
Among them is 68-year-old Sotero "Tata Tero" Ruiles, 68, of Barangay Balangibang in Polangui town. "As soon as the water subsided, we worked together along with our children…to salvage and save even [grains that are] not so ripe in our hope to recover the precious seeds left by Quinta and Super Typhoon Rolly," he said.
Agriculture Secretary William Dar was in Polangui town on Wednesday, November 4, to meet with farmers and assure them of government help.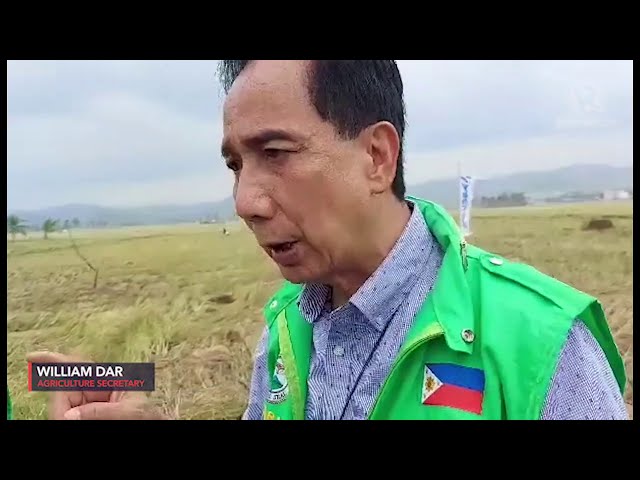 He announced that the Department of Agriculture has allotted P592,432,000 as indemnification fund under Philippine Crop Insurance Corporation (PCIC) for 32,761 Bicol farmers whose insured crops were damaged by Rolly.
Dar also said that his office allotted P680 million in assistance for typhoon-affected farmers in the region to help them cope up with the impact of Quinta and Rolly.
Dar said that the DA will provide P10,000 to P15,000 to every farmer as part of the indemnification. "This will be given before Christmas, aside from fertilizer," Dar said.
During his visit, Dar also distributed P90-million worth of assistance to affected Albay farmers, who received seeds of hybrid rice, corn, and assorted vegetables, as well as fertilizer, farm implements, and fishing gear. – Rappler.com