Nearly six months into the Marcos administration, officers-in-charge remain heads of two crucial departments
MANILA, Philippines – President Ferdinand Marcos Jr said on Thursday, December 1, that the status quo remains in the health and defense departments – two portfolios that are headed by officers-in-charge.
"We just go to the process," said Marcos in a chance interview on Thursday, December 1, when asked for updates on the appointment of officers-in-charge in his Cabinet.
"So let's be patient. Basta't na… Ako, ang concern ko lang 'yung kailangang gawin na trabaho, nagagawa? So far naman, nagagawa," he added.
(My concern is that if people are doing their jobs. So far, they're doing their jobs.)
At least three departments or offices headed by a Secretary are occupied by officers-in-charge: the Department of Health, Department of National Defense (DND), and the Office of the Press Secretary.
"Wala pa kaming DOH. Wala pa kaming inino-nominate (We don't have a nominee for DOH yet). Usec. Vergeire is doing a fine job," said Marcos, referring to Undersecretary Rosario Vergeire, who was designated officer-in-charge weeks after the new administration began took over.
Marcos also said he was "happy with the situation [in the DND] as it is now." The DND administers the country's military force and the Office of Civil Defense, an agency tasked with civil defense and disaster risk reduction.
It is currently headed by former armed forces chief Jose Faustino, designated Senior Undersecretary and Office-in-Charge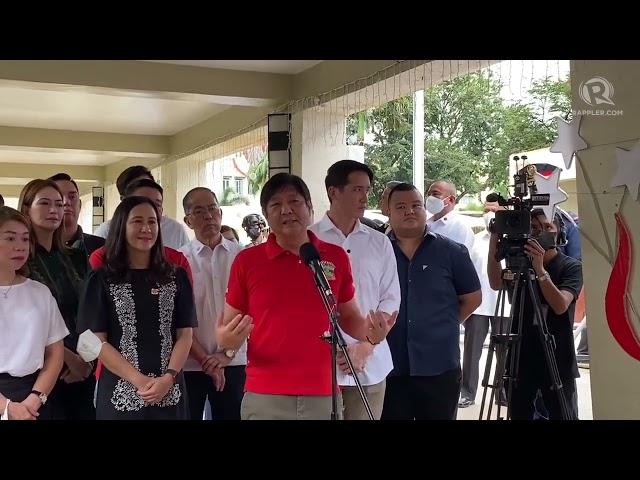 Still, the President did not rule out changes when 2023 rolls in. "These things are revisited especially every year at the end of the first year. I don't think that's any — that's a secret to anyone that at the end of the first year, 'yung mga ibang kandidato (the other candidates), they will now join the mix of possible nominees," he said.
There's another department that critics and allies alike have said needs a full-time post: agriculture, which Marcos holds concurrently.
The President has said that he has a checklist of things he wants to accomplish before finding an agri chief, although he did not say what were these goals.
Delays and backlogs in permanent appointments – from the heads of major Cabinet posts, middle management in the bureaucracy, and non-Career Executive Service Officer (CESO) occupying CESO posts – is a major sore point in the Marcos administration.
His short-lived first executive secretary, Vic Rodriguez, was criticized for being the supposed cause of the delays. Rodriguez, Marcos' campaign spokesperson during the May elections, has since been kicked out of the President's party for supposedly failing to accommodate their party-mates in government posts.
His replacement, former chief justice Lucas Bersamin, issued a memorandum circular that expanded the powers of these interim appointments, allowing them to enter into new contracts and projects, among others. – Rappler.com