Only the Cordillera Administrative Region and Mimaropa come close to the government target of tracing 30 to 37 close contacts of a COVID-19 case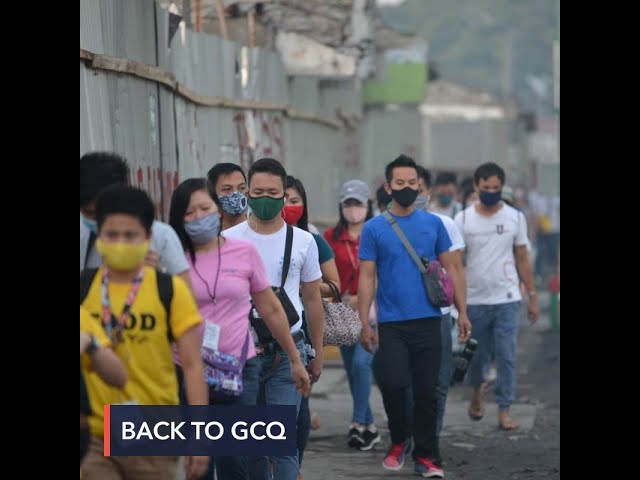 In the two weeks Metro Manila and nearby provinces spent under the stricter modified enhanced community quarantine (MECQ), the mega city was only able to improve its contact tracing ratio by one more close contact reached by authorities.
Tracing czar and Baguio City Mayor Benjamin Magalong reported on Tuesday, August 18 that, from a ratio of 1:4, Metro Manila obtained only a ratio of 1:5 after the MECQ period.
This means that if the region was able to trace only 4 close contacts of one confirmed COVID-19 case before the start of the MECQ on August 4, by the end of the period, they were now able to trace 5 close contacts.
This is far from the ideal 1:30 or 1:37 ratio that Magalong targets for all local governments.
"If you ask me if I'm happy with this figure, I think it's really not enough," admitted Magalong during a Malacañang press briefing on the last day of the MECQ period.
The figures are even worse for Cavite, Laguna, and Rizal which were also under MECQ. In Calabarzon, the region where these 3 provinces belong to, the contact tracing ratio even worsened – from 1:5 as of August 3 to 1:4.
In fact, the low contact tracing efficiency of all regions in the country hardly changed in the last two weeks. In some cases it even dipped.
Only 4 regions in the country have managed to contact, on average, more than 10 close contacts of a confirmed coronavirus case, according to a table presented by Magalong.
In Luzon, only the Cordillera Administrative Region and Mimaropa have come close to Magalong's target of 1:30. CAR was able to reach 22 close contacts, while Mimaropa did even better at 27 contacts.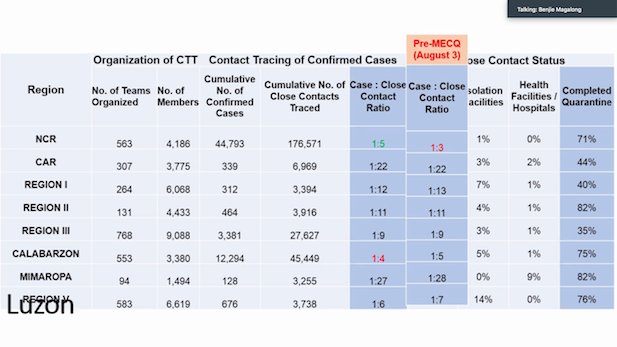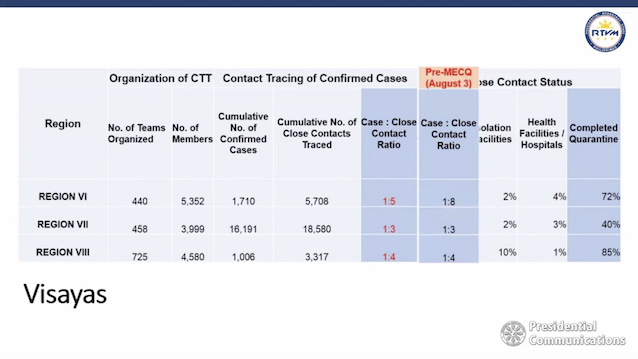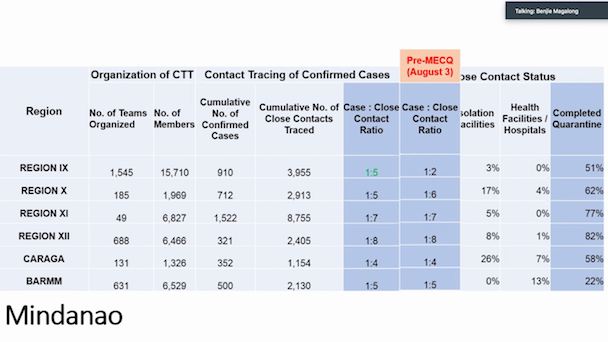 Despite these disappointing figures, Magalong saw hope in the rising number of total close contacts reached by authorities nationwide. From 202,198 contacts traced in late July, it grew to 319,836 as of August 10, said Magalong, saying his figures come from the World Health Organization.
"That's a very big improvement but if you ask me if I'm happy about this figure, I was expecting that the rise would be very, very steep," said Magalong in Filipino.
Yet in the same press briefing, Presidential Spokesman Harry Roque said the two-week MECQ was used well by the national government.
"Hindi natin sinayang ang dalawang linggong ito (We didn't waste these past two weeks)," he said.
The MECQ period was supposed to be a time for the government to "recalibrate" and boost its pandemic response.
Why is contact tracing so lacking?
The tracing czar explained reasons why local governments were having a hard time ramping up their contact tracing capability.
For most localities, contact tracing remains in the "background," and not a priority pandemic effort like aid distribution, putting up isolation facilities or enforcing mask-wearing and social distancing rules.
Alarmingly, many local governments don't even provide support for their contact tracing teams, forcing them to shoulder their expenses to do a job so critical to preventing the virus' spread.
"They are the contact tracers and they're also the swabbers. They provide their vehicle. They even foot the bill for the gas. So they often lose motivation to work," said Magalong.
Here are other reasons:
No active involvement of mayors;
LGUs prioritize other anti-COVID-19 efforts like relief operations;
LGUs are overwhelmed by the large number of cases;
Contact tracing teams are not incentivized;
LGUs don't realize the importance of contact tracing;
Lack of trained contact tracers;
Lack of funds to support contact tracers.
To address some of these concerns, Magalong said he was set to preside over contact tracing trainings for certain regions in the coming days. The training for Region 10 or Northern Mindanao will be on site. The rest will be virtual sessions.
Quezon City Mayor Joy Belmonte previously said her city's contact tracing efforts were hampered by the national government itself. She said the Department of Health has failed to provide complete information of cases living in their cities, making it doubly hard for her city to find them.
It would be more efficient, she said, if the DOH could quickly provide this information to hasten contact tracing and to prevent redundancies in efforts. – Rappler.com