Still confused about what this latest round of ECQ means? We got you covered
The National Capital Region formally reverted to a rigid enhanced community quarantine (ECQ) on Friday midnight, August 6, all but confirming that the end remains unclear for the Philippines' pandemic fight.
The latest ECQ – which will run until August 20 – is the third round of hard lockdowns in the urban sprawl of nearly 14 million people since the Philippines confirmed the local transmission of COVID-19 in March 2020.
Before August 6, the metropolis underwent hard lockdowns in March 2020 and March 2021.
The ECQ classification – considered the strictest under the Duterte administration – has evolved over time and is starkly different from the first hard lockdown 17 months ago.
Who can go out?
Only authorized persons outside residences (APOR) could leave their homes during ECQ, as per omnibus guidelines of the COVID-19 Interagency Task Force (IATF). These APORs are:
health and emergency frontline services and uniformed personnel;
government officials and employees on official travel;
duly authorized humanitarian assistance actors;
persons traveling for medical or humanitarian reasons, and those leaving their residence to be vaccinated (with proof of schedule), and persons availing of DFA consular services (with confirmed appointments);
persons going to and from the airport including overseas Filipino workers carrying Overseas Employment Certificates;
any person whose purpose of travel to the zone of destination is for work, business, or activity that is also permitted in areas under ECQ;
and public utility vehicle operators.
Non-APOR drivers can fetch their working APOR but must present the necessary documents at police checkpoints.
How about public transportation?
There will be public transportation, but only for APORs during ECQ. The IATF retained the current supply of public utility vehicles on the road, but they must not exceed 50% capacity.
The Department of Transportation also announced that vaccinated APORs can get free rides on MRT-3, LRT-2, and PNR trains during the ECQ period.
What border control measures are there?
Inter-city travel within Metro Manila is prohibited during the ECQ period, even among certain APOR categories, the Philippine National Police said, although new written guidelines have yet to be released to the media as of Thursday, August 5.
Philippine National Police Chief General Guillermo Eleazar said these APOR categories are:
working APORs, who are reporting physically to their workplace and considered as essential workers;
consumer APORs, or those who need to buy goods;
and other APORs, such as those who have other essential reasons for going out, such as for their medical needs.
Of the three, consumer APORs were barred from leaving their locality, which Eleazar has described as a "tiny bubble."
Are restrictions uniform in every city?
There were some differences in the guidelines of local government units (LGUs).
While the Department of the Interior and Local Government said quarantine passes would once again be required, not all LGUs provided passes to their APORs, such as Pasig and Muntinlupa. The latter also said a valid ID would suffice. Residents of Caloocan, meanwhile, could present old passes, which could be replaced if they were misplaced.
Other LGUs such as Navotas, Quezon City, San Juan, and Valenzuela issued new ECQ passes.
The national government also left it up to LGUs whether to enforce a liquor ban. The Metropolitan Manila Development Authority said on Monday, August 2 that the following cities prohibited the sale of liquor during ECQ:
Mandaluyong
Navotas
Parañaque
Pasay
Pateros
Quezon City
San Juan
Valenzuela
The following LGUs meanwhile did not have a liquor ban:
Las Piñas
Makati
Pasig
Taguig
However, there is a uniform curfew from 8 pm to 4 am in the metropolis for the next two weeks.
Will there be supplemental aid?
The Department of Budget and Management allotted P10.89 billion for "ayuda" or supplemental aid for poor families during the ECQ period.
It has yet to be determined when exactly families will receive cash aid.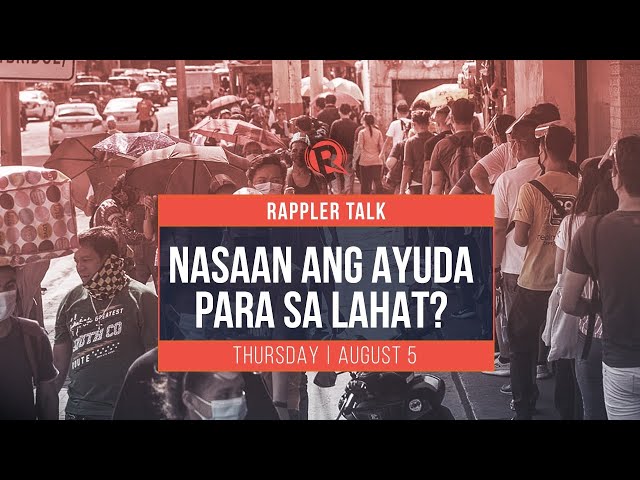 What's the game plan for this ECQ?
To ensure that the two-week hard lockdown would not go to waste, Metro Manila mayors set an ambitious goal to administer 250,000 vaccines daily during the ECQ period, after the national government heeded their request for an additional four million doses.
If local governments in NCR are successful, their vaccination coverage would rise to 45% by the end of the ECQ, 5% short of the "population protection" against the coronavirus.
The national government also aimed to ramp up contact tracing, and strictly enforce isolation measures during this period.
The Delta variant is said to be 40% to 60% more infectious than the Alpha variant first detected in the United Kingdom. Before the ECQ officially started, the Department of Health had confirmed the Delta variant's presence in nine Metro Manila cities.
Government officials were keen on not wasting the the two-week ECQ to prevent another extension, and avoid billions of pesos more in economic losses. – Rappler.com