This is AI generated summarization, which may have errors. For context, always refer to the full article.
The Institute for Autonomy and Governance calls on the government and the Moro Islamic Liberation Front to 'accept the hard reality' that a full implementation of the agreement is not possible now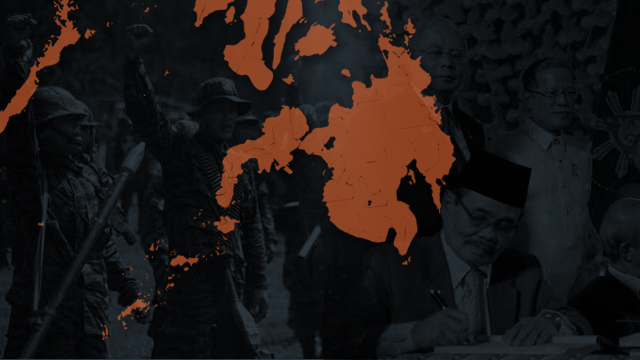 MANILA, Philippines – The government and the Moro Islamic Liberation Front (MILF) should make do with a "realistic and doable framework" to lift the proposed Bangsamoro Basic Law (BBL) from "suspended animation," the Institute for Autonomy and Governance (IAG) said on Wednesday, September 23.
In a statement, the group called on various sectors to "accept the hard reality" that the full implementation of agreements with the MILF is not possible with the prevailing constitutional, legal, and political environment in the Philippines.
"It is the obligation of the Moro revolutionary fronts and government to move the peace process forward from a realistic and doable framework," IAG emphasized.
After the signing of the Comprehensive Agreement on the Bangsamoro (CAB) by the Aquino administration and the MILF, the House and the Senate submitted their own versions of the proposed law.
The substitute bills differ from the one drafted by the Bangsamoro Transition Commission mainly on the exercise of autonomy in the proposed region.
However, MILF chief negotiator Mohaqher Iqbal said that despite the MILF being "open" to proposed changes, he said the "essential elements of a real autonomous government" should be still be included and respected in the BBL.  
"The autonomous government should have powers that would really allow that entity to stand on its feet," he said during a forum organized by the Foreign Correspondents Association of the Philippines (FOCAP).
The full statement of the Institute for Autonomy and Governance can be read below:
Not equal to successful autonomy?
Additional powers in policy and law for Muslim Mindanao, the group said, will "not instantly result in successful autonomy."
IAG cited the policies of the Autonomous Region in Muslim Mindanao (ARMM) that still are not implemented properly such as the establishment of regional police force, Shariah Law, regional indigenous people's law, local government system, and the local elections. These are due to weaknesses and the regional government's lack of capacity. (READ: How different is ARMM from the Bangsamoro?)
It is thus important that the transfer of powers to the autonomous government is in line with legal and bureaucratic reforms in the national and regional government.
A "realistic, sound, and effective transition" is vital, IAG emphasized.
But a successful transition can only be achieved if sufficient resources are provided and that the following are included in the proposed law of the Bangsamoro:
Delineation of powers between the national and regional Bangsamoro government
Regional parliamentary system with an electoral system that provides equitable allocation for district and party representatives
Control of strategic resources by the Bangsamoro government or at least co-management arrangement between the national and regional governments
Block grant
Justice system and Bangsamoro Safety & Security
"Many believe that there is no sufficient time anymore to pass a Basic Law under the Aquino administration," the group said. "The MILF has publicly committed to continue the peace process and advocate for the legislation of the BBL that is compliant to the CAB beyond the current administration."
The Office of the Presidential Adviser on the Peace Process (OPPAP) Secretary Teresita Quintos Deles remains firm that there is no giving up on the Bangsamoro aspiration "for the sake of the communities and especially their children." – Rappler.com