Metro Manila police chief Major General Debold Sinas is caught on camera as he and other cops allegedly harass a family living in an old police compound
Without carrying any document as basis, National Capital Region Police Office (NCRPO) chief Major General Debold Sinas and other police officials sought to displace a family of 10 in Taguig City.
At around 5 pm on Saturday, July 18, Sinas and over a dozen armed cops in fatigues stormed the home of Arles delos Santos, 20, and his family in the former Regional Direct Support Unit compound of the Philippine National Police.
Arles, his siblings, their wives, and children, have been occupying what was once the barracks of their father, former policeman Arnel delos Santos, since 2010. Arnel and his wife were in Bicol when the incident occurred.
Arnel retired in November 2019, Arles said. In March 2020, when the pandemic lockdowns began, NCRPO cops began "harassing" the Delos Santos family almost weekly with the goal of evicting them, according to Arles. The incident on Saturday was the latest case, and they caught it on CCTV. (LOOK: Birthday salu-salo for NCRPO chief Sinas amid ECQ)
In a news briefing on Monday, July 20, police chief General Archie Gamboa said the PNP will probe the incident for possible violations.
Destruction of property, snatching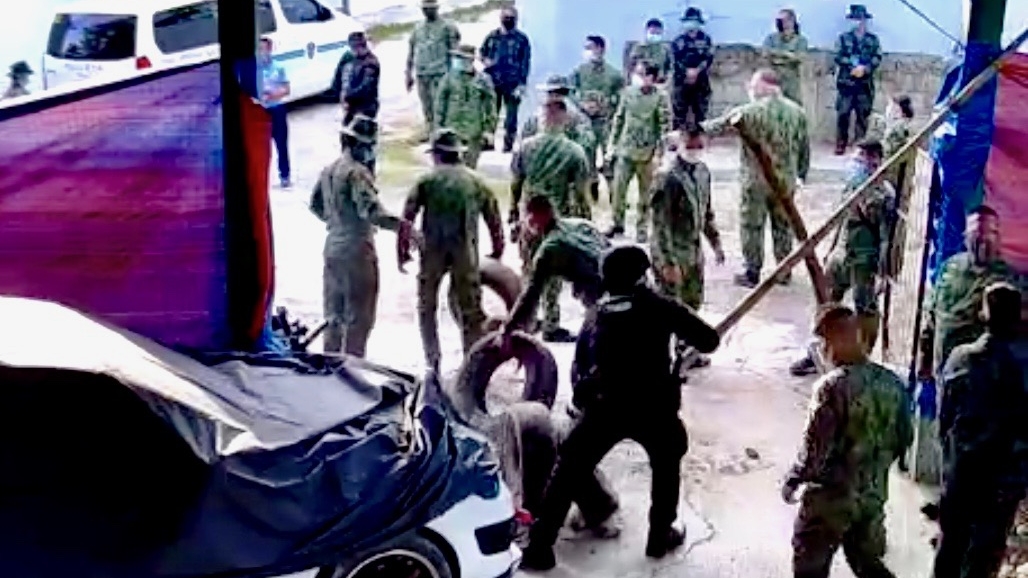 Sinas was seen in the video ordering cops to take down the makeshift barricade made by the family. He also ordered his cops to take photos of the plate numbers of the family's car and two motorcycles parked outside.
The Delos Santos family walked out a few minutes later, with Arles and his older brother Mike, who was on a wheelchair, up front.
Mike handed a folder with copies of their certificate of occupancy and other papers for their residence.
Meanwhile, Arles started to record the cops on video on his phone.
As their conversation began, one police official, NCRPO intelligence chief Colonel Remus Medina, snatched Arles' phone from him, leaving him visibly shocked. (READ: Año: Generals should never snatch cell phones. Period.)
Consultation becomes intimidation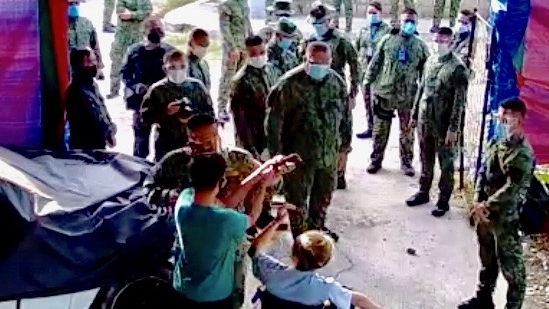 During their conversation, Sinas could be heard shouting over them, saying, "That is police facility…. Amin 'yan (That's ours)!"
"Wala kayong karapatang mag-demand dito (You have no right to make demands here)," he was heard saying a few seconds later, after Arles and Mike insisted that the police should give them basis for leaving their home.
Distrusting the police, Arles asked the cops to return copies of their documents. He walked over to Taguig City police chief Colonel Celso Rodriguez, who then threatened to punch him. Arles was forced to walk away.
His brother Mike attempted to get the papers. He was heard being mocked by Public Information Office officer-in-charge Major Britz Estadilla, who shouted to her fellow cops, "Ginagamit niya 'yung wheelchair niya (He's using his wheelchair to his favor)," before letting him through to get the documents.
In an email sent to Rappler on July 21, Estadilla's office denied that she was the policewoman identified in the video, saying that she had a "medical checkup" during the operation.
The NCRPO's basis?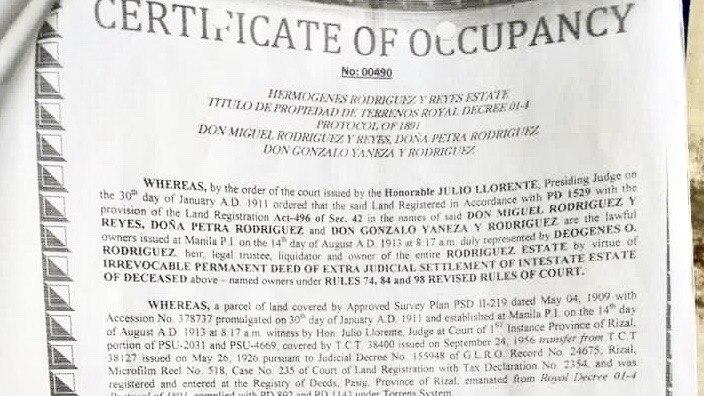 Sinas claimed that since Arles' father, Arnel, has already retired from the police service, they should leave the area.
However, the land title is under the names of Don Miguel Rodriguez, Don Petra Rodriguez, and Gonzalo Rodriguez Yaneza and not with the police. The Delos Santos family secured a certificate of occupancy from their descendant who claims the land, a certain Deogenes Rodriguez.
Still, the police believe they are the rightful owners, even without sharing any documents with the Delos Santos family.
Arles said they were willing to leave the place, but they had children who had to go to school, and the pandemic has made it difficult to move out.
"Hinihingi lang namin kaunting extension (We are only asking for a little extension)," Arles said in an interview with Rappler.
Why is the area sought after?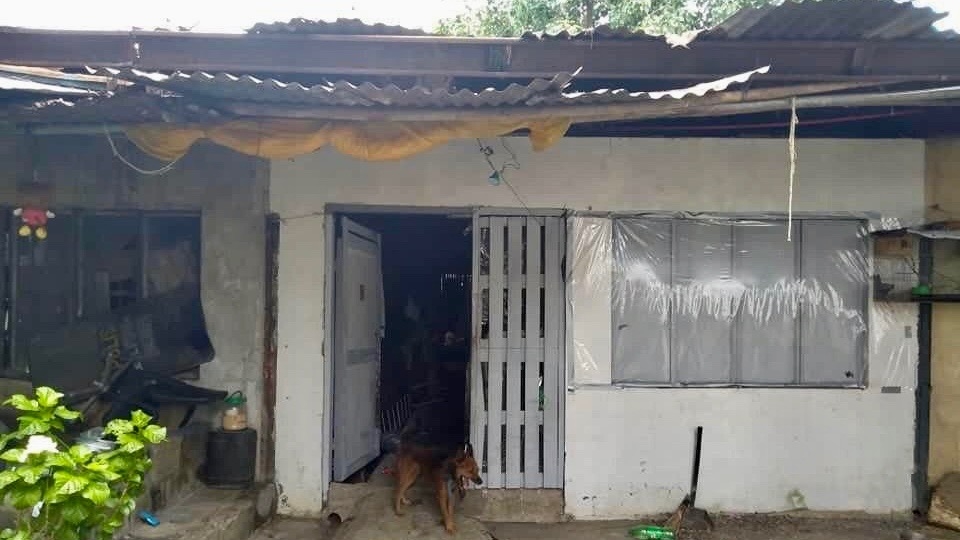 The entire lot is about 5,000 square meters and is strategically located near Bonifacio Global City in Taguig and Makati City.
The NCRPO said in a statement that they would like to use the area to build a coronavirus isolation facility.
Hospitals are beginning to be overwhelmed by new cases and are seeking to lighten their load by placing recovering patients with mild symptoms in isolation facilities.
The Delos Santos family believes that the cops are seeking to take the area so a high-rise condominium or homes for top officials could be built.
Falling on deaf ears
Delos Santos sought to report the encounter to their local police station, for at least a blotter record of the incident, he said.
They repeatedly tried to reach the Taguig Police Station 1 from around 6 pm on Saturday, right after the incident. The police station only returned their call at 11 pm, and allegedly told them that they were too busy to accommodate the family's complaint. (READ: Policing a pandemic: Philippines still stuck with drug war blueprint)
Dismayed, Arles decided to post about the incident on Facebook.
"General Sinas, takot ang dinala ninyo sa amin at ng isang batalyong kasama mo. Nakikipag-usap kami nang maayos, pero dahas ang ibinibigay ninyo sa amin. Sibilyan kami at walang armas, pero kung itrato 'nyo kami, akala [mo] mga kriminal," he said in his post.
(General Sinas, you brought terror upon us with the battalion you had in tow. We were speaking with you properly, but you gave us violence. We are civilians without arms, but you treat us as if we are criminals.)
Rappler sought comment from Sinas through text message. The NCRPO chief has yet to reply as of posting. – Rappler.com