Controversies – either involving him or under command responsibility – defined his term as PNP chief as well
Of the six Philippine National Police (PNP) chiefs that President Rodrigo Duterte has appointed so far, newly retired Police General Debold Sinas is hands down the most controversial.
Sinas was appointed as the 25th PNP chief in November 2020 succeeding Camilo Cascolan. The controversial police chief retired on May 7, after serving as top cop for only six months. 
Before his time in Camp Crame, he was the Metro Manila police chief who broke quarantine rules amid the coronavirus lockdown to hold a party for his 55th birthday. His excuse for the gathering – mañanita – has since become his nickname among netizens.
Earlier, his stint as Central Visayas police chief was marked by violence and unresolved killings.
Controversies – either involving him or under command responsibility – defined his term as PNP chief as well:
Cop Jonel Nuezca kills neighbors in Tarlac
In December 2020, a policeman assigned in Parañaque shot dead his neighbors, a mother and son, in Paniqui, Tarlac, after an altercation.
Sonya Gregorio and her son Frank were shot dead by Police Master Senior Master Sergeant Jonel Nuezca over the noise created by the former's improvised bamboo cannon or boga. The incident was captured on video and went viral.
PNP chief Sinas had a different view on the evidence and cautioned witnesses against taking videos and uploading them online.
"I will not advise [taking videos] because [it's] very tricky 'yun. Baka mamaya kumuha ka ng video tapos mainit sa panahon, baka mababalingan ka," Sinas said on December 22, 2020.
Sinas added that the witness who took the video had to testify to validate the piece of evidence.
Makati police mishandle Christine Dacera case
On January 1, 2021, flight attendant Christine Dacera was found dead inside her hotel room in Makati. Initially, Makati police said they solved Dacera's alleged rape-slay case and already captured three suspects. As it turned out, nine suspects were still at large.
Even without an arrest warrant, Sinas issued an ultimatum against the suspects to surrender in 72 hours or be hunted down – against legal procedures.
Bloody Sunday crackdown on Calabarzon activists
Police launched simultaneous raids on activists in various parts of Calabarzon on March 7. Critics dubbed it "Bloody Sunday" after nine activists were killed by police forces in Cavite, Laguna, Rizal, and Batangas. Six activists were also arrested and are currently detained.
The kin of one of the slain activists, Manny Asuncion, have been calling for further investigation into his case. The search warrant that the police had was for his home in Rosario town, but they killed him inside his office in Dasmariñas City.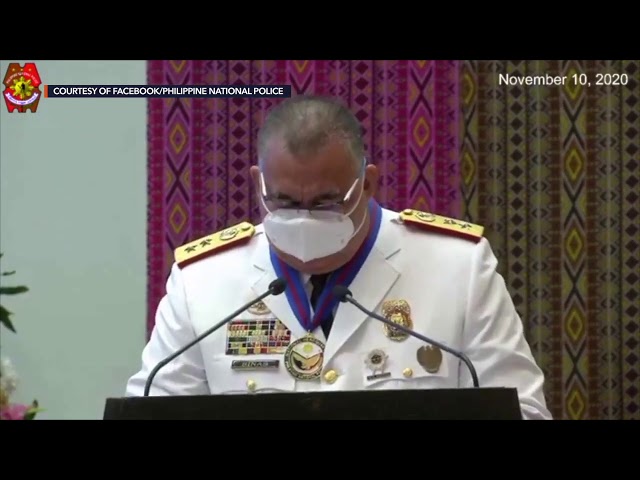 Families of four of the slain activists were initially blocked by the police from claiming their remains in a funeral home in Rizal. After four days, they were finally allowed to get the remains of their loved ones.
Despite these brutal killings, Sinas maintained that the operations were legitimate.
Sinas said the simultaneous serving of search warrants was implemented based on reports that the suspects had illegal possession of firearms – a line the police always say to explain the arrest of activists.
COVID-positive Sinas skips health screening
After his controversial mañanita, Sinas was once again involved in controversy related to health protocols.
Sinas did not undergo proper health screening when he visited Oriental Mindoro on March 11, 2021. That same day, he announced he was tested positive for COVID-19.
The PNP chief explained that he skipped the screening because he wanted to optimize his time with Mimaropa cops.
In a statement, the Oriental Mindoro provincial government confirmed that Sinas was brought by a helicopter straight to the Mimarpopa police office instead of passing through the pier, where travelers were being screened.
Curfew violator dies after cops punish him
On April 5, 28-year-old Darren Peñaredondo died after being forced to do 300 rounds of exercise by two cops in General Trias City, Cavite. According to Peñaredondo's death certificate, he died of a stroke. 
Village guards nabbed Peñaredondo for violating the curfew on April 1 – he was seen buying drinking water past 6 pm. He was turned over to the police, who made him and other curfew violators do strenuous exercises as punishment. He died two days later.
His family took to social media to tell the public about his death. General Trias police chief Police Lieutenant Colonel Marlo Nillo Solero initially denied the allegation, saying that they didn't mete out such punishment for quarantine violators.
Solero and the two cops involved were later relieved of their posts  after two quarantine violators, in sworn affidavits, supported the claim of Peñaredondo. Administrative complaints have been filed against the three cops.
Thousands of arrests during community quarantine
As the main agency of Joint Task Force COVID-19 Shield, the PNP leads the government's enforcement of health protocols during the pandemic.
On March 17, the police recorded a total of 6,498 quarantine violators arrested only two days after the implementation of the uniformed curfew hours in Metro Manila.
Following the death of Peñaredondo, Sinas announced on April 12 that the the police would stop arresting quaranting violators, including those who violate the curfew. About a week earlier, Justice Secretary Menardo Guevarra said that quarantine violators should be made to render community service instead of being arrested and detained. 
But just four days into the implementation of this no-arrest order on quarantine violators, police nabbed a journalist after he failed to wear his mask properly while riding his motorcycle in Pandacan, Manila. Manila cops arrested Radyo Pilipinas reporter Lorenz Tanjoco even after he tried to explain to the cops that he had to temporarily remove his face mask as it was being blown away by the wind.
On May 5, two days before Sinas stepped down, President Rodrigo Duterte ordered the PNP to again arrest quarantine violators who fail to wear masks properly. 
Red-tagging of community pantries
On April 14, Ana Patricia Non opened a community pantry in Maginhawa Stree in Quezon City, where people can donate and take food supplies and other needs. The project has since gone viral and replicated all over the country.
But a few days later, Non suspended their operations due to safety concerns after the Quezon City Police District and the National Task Force To End Local Communist Armed Conflict (NTF-ELCAC) red-tagged them on social media. The post was also shared by at least seven Facebook pages linked to the police. 
While Non complained about the red-tagging, some community pantry organizers complained about alleged profiling and surveillance by some police units. 
Amid the backlash, the PNP clarified that they did not order the red-tagging and profiling and that Sinas ordered the Criminal Investigation and Detection Group (CIDG) and the police regional offices to probe the red-tagging in their respective units. 
Police clearance for labor transactions
Amid the intensified red-tagging of activists and progressive groups,Sinas requested the Department of Labor and Employment (DOLE) to require national police clearances for various transactions related to labor. 
Sinas said in the request that the police were able to arrest 55 individuals who had outstanding warrants of arrest after applying for the document. Labor group Sentro slammed the PNP's request and said it could violate the constitutional right to organize.
On May 5, DOLE Secretary Silvestre Bello III rejected the PNP's request and said it "will do more harm than good." – Rappler.com