The research group says 13 of 17 local government units in Metro Manila are considered 'high-risk areas'
Independent group Octa Research said Metro Manila saw a "serious surge" of COVID-19 cases in the last week of July, as the more infectious Delta variant of the virus threatens the country.
In its monitoring report on Sunday, August 1, Octa said there were 1,740 new COVID-19 infections in the National Capital Region (NCR) on Saturday, July 31. This was the highest number in over two months or since May 10, when Metro Manila was still under modified enhanced community quarantine (MECQ), added the group.
Octa also observed that the 7-day average of new cases in the region increased by 40% to 1,279, from 913 in the previous week.
"The rapid growth rate suggests the possibility of community transmission of the Delta variant in the NCR," said Octa.
Metro Manila's reproduction number – or the number of people that one COVID-19 positive case can infect – likewise went up to 1.52 from 1.29 in the previous week.
Octa also noted that 13 of 17 local government units in Metro Manila are considered "high-risk" areas as of the last week of July, based on its indicator that monitor factors like the reproduction rate, average daily growth rate, health care utilization, and testing output.
Only the cities of Pasay, Taguig, Mandaluyong, and Manila are at "moderate risk" so far.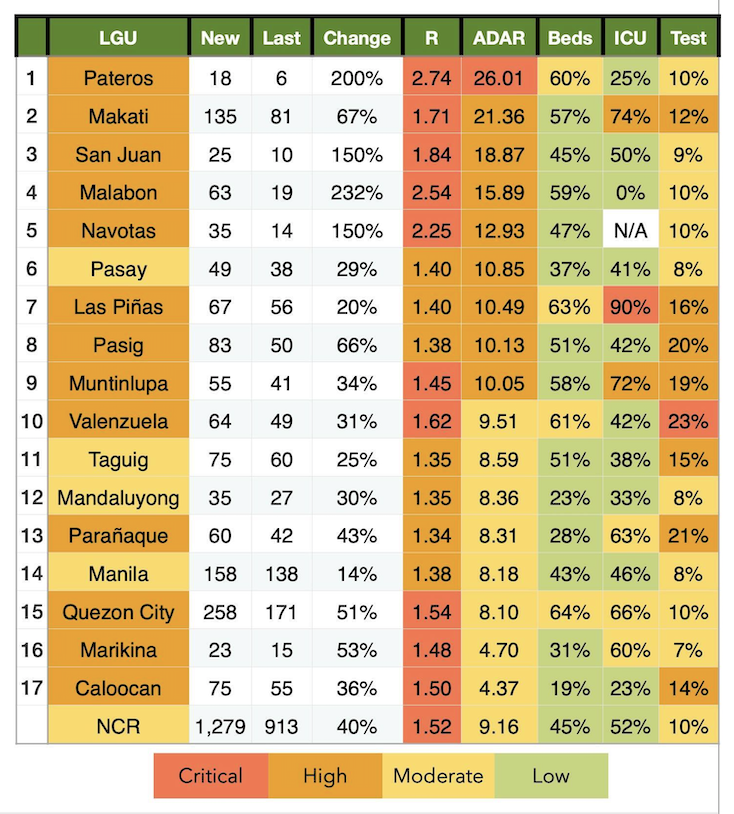 The group also noted the occupancy of all COVID-19 hospital beds went up to 45% from 38%, and the occupancy of intensive care unit (ICU) beds increased to 52% versus 45% the previous week.
The Department of Health (DOH) earlier said there is "no evidence" yet of another surge in COVID-19 cases in Metro Manila. However, it acknowledged there is an "observed increase in cases" in the region.
Nonetheless, a member of the DOH Technical Advisory Group said everyone needs to "work on the premise that every case that's now detected is Delta so that we can act accordingly."
Due to the threat of the Delta variant, the government added more restrictions in the heightened general community quarantine status of Metro Manila starting July 31.
NCR will then return under lockdown or the strictest enhanced community quarantine (ECQ) for two weeks, from August 6 to 20. – Michael Bueza/Rappler.com