While cases may be underreported due to limited testing, tracing, and sequencing, experts say 'we need to work on the premise that every case that's now detected is Delta'
After weeks of tracking Delta COVID-19 cases, the Philippines confirmed local transmission of the super contagious variant in the country on Thursday, July 22, prompting local governments to impose a fresh round of marginally stricter restrictions and brace for a possible surge in cases.
The Philippines' neighbors in Southeast Asia have shown the potential devastation Delta can bring to communities and health systems, especially as large portions of the population remain unvaccinated. The Philippines has not reached that point yet, but experts stressed now is the time to act. A better strategy to manage a surge is to ensure health facilities are always prepared, regardless of whatever community quarantine level is implemented. 
"Hindi po 'yung mag-e-escalate po tayo at saka pa lang naghahabol. Dapat parating ready (We can't wait for numbers to escalate and then only catch up. We need to be always ready)," said Dr. Anna Ong-Lim, a pediatric infectious disease specialist and member of the Department of Health's Technical Advisory Group. 
This is not the first time a more transmissible variant has managed to squeeze its way into the country's borders. But Delta, the variant first detected in India, is more worrisome because of its characteristics that allow the virus to quickly infect more people, cripple health systems further, and leave those who have received only half of a recommended vaccine dosage vulnerable. 
What's the Delta situation like in the Philippines? Here are answers to some common questions.
How many cases are there?
The health department has reported at least 119 known cases of the Delta variant in the country as of Sunday, July 25. The count goes until far back as May, when the first few cases were detected among test samples collected from Filipino seafarers who returned home. The total number of cases reported so far include 42 among returning overseas Filipinos and 72 local cases in the following areas: 
Metro Manila – 22
Calabarzon – 19
Central Luzon – 12
Western Visayas – 2
Northern Mindanao – 14
Davao Region – 2
Ilocos Region – 1
The remaining five cases are still being verified. 
Can this be underreported?
It's likely. While the DOH and Philippine Genome Center (PGC) have detected 119 cases of the Delta variant, it's not entirely clear exactly how many COVID-19 cases as of July 25 were already positive for variants. Health officials determine Delta cases only by sequencing test samples from patients who test positive for COVID-19. 
But as it stands, not all samples tested and collected daily get sequenced. To do that, labs must be able to carry out whole genome sequencing, which many are not equipped for. The Philippines also has a limited capacity for sequencing with just 750 samples processed at the PGC weekly. 
Due to the limited capacity for sequencing, scientists try to get the "best picture" of a variant's spread in the country by carrying out "purposive sampling," where more tests samples are taken from "areas, clusters, and groups of people" that have a higher likelihood of detecting COVID-19 variants.
Samples are then narrowed down further based on two criteria: first, specimen collected must be enough to be sequenced, and second, the cycle threshold (CT) value – which measures the viral load of a patient – meets required levels of less than 30 to successfully be sequenced.
Beyond limited capacity to do whole genome sequencing, the Philippines has continued to face severe limitations in contact tracing necessary to gain a more accurate picture of the virus' spread and cut transmission. Access to affordable testing likewise continues to pose limits to understanding the true picture of COVID-19 in the country.
When it comes to daily reporting of cases, confirmed cases are also reported based on test results two days before. Infectious disease specialist and mathematician Dr. Benjamin Co had pointed out that the lack of real-time data poses a challenge to implementing response measures on time.
"They (DOH) cannot keep backtracking on data because contact tracing based on late information is an exercise in futility and potentially disastrous. It is the anatomy of another surge," Co wrote on his blog dissecting the DOH's case count on July 22. Coupled with the reporting of "unknown" cases, Co said on July 24, "You cannot contact trace what you cannot find."
What's the big picture?
Owing to these limitations, infectious disease specialists say that from a public health standpoint, it is more practical to assume that Delta cases are more widespread than known.
Dr. Rontgene Solante, a member of the Philippines' vaccine expert panel and head of adult infectious diseases department at San Lazaro Hospital, had earlier speculated this was the case, even before the DOH confirmed local transmission of the virus.
Solante suspected that the Delta variant was already spreading beyond the known case count because cases had already been detected locally, and not just from returning overseas Filipinos who were quarantined as soon as they entered the country. 
Now that local transmission of Delta has been confirmed, Ong-Lim took this further, saying "we need to work on the premise that every case that's now detected is Delta so that we can act accordingly."
The fact that Delta is now regarded as the "fastest and the fittest" variant of SARS-CoV-2 that causes COVID-19 also gives reason to assume there are more cases than what is currently being reported. If the original virus can infect about three people, and the Alpha variant can infect some four to five, Delta can infect up to eight people. 
Infectious disease specialist Dr. Edsel Salvana, another member of the DOH's advisory group, pointed to the example of India and Indonesia where the Delta variant has spread rapidly. "Its spread is really exponential," he said.
On Sunday, reported cases grew from 64 to 119, after local transmission in the country had been confirmed.
How should we act?
Whether there are only 119 cases or more, the Delta variant is already present in the Philippines – a fact alone that should prompt extreme caution from the public, global health specialist Dr. Melvin Sanicas said. 
"We should be more serious about this one," Sanicas said. "Another way to look at it is if there are more cases, there will be more hospitalization eventually, and if there are more hospitalizations, there will be more deaths eventually." 
While people must be conscious of taking more precautions, one piece of good news is that current mitigation measures still work against Delta. The Healthcare Professional Alliance for COVID-19 reminded the public of its APAT DAPAT strategy to reduce the risk of catching COVID-19:
A – Air circulation (outdoor activities are much safer than those indoors) 
P – Physical distancing  (at least one-meter distance reduces the risk of transmission up to 80%)
A – Always wear face mask and face shield 
T – Thirty minutes interactions or less
The DOH has likewise urged Filipinos to get vaccinated as soon as possible. While variants have reduced the efficacy of vaccines minimally, scientists and experts emphasized these remained safe and effective against severe infection, hospitalization, and death due to COVID-19. Unnecessary travel and gatherings should likewise be avoided. 
What is the DOH doing about Delta?
Focus is being placed on border control and strict implementation of quarantine protocols for international travelers. Experts said while there has been local transmission in the county, monitoring borders is still a "crucial component" needed to slow down and monitor the entry of people who may be positive for Delta and other variants of concern.
Local governments are urged to continue monitoring passengers for the four remaining days of quarantine required after the 10-day, facility-based quarantine is completed. Health experts also urged local officials to implement strict localized lockdowns as it becomes necessary to avoid having to impose wider lockdowns in the future.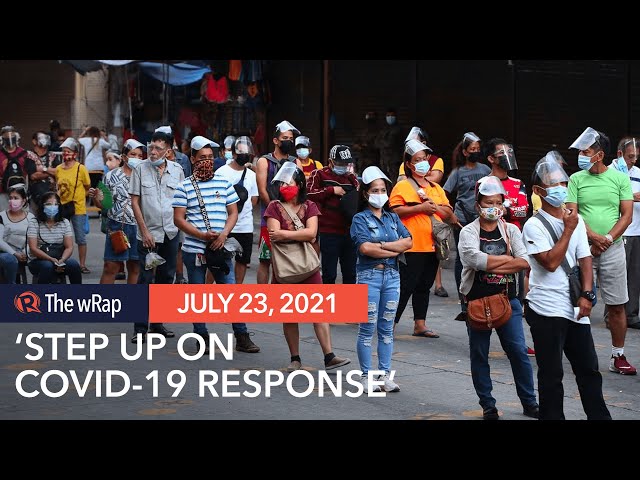 The DOH earlier said hospitals have sufficient supplies of oxygen tanks so far, but that it was coordinating with the Department of Trade and Industry to have at least twice the current amount of stock on hand, based on trends in countries where the Delta variant is spreading. 
The release of Philippine Health Insurance Corporation reimbursements is also being prioritized for high-risk areas in the country to allow private hospitals to purchase needed supplies quickly.
Aside from this, the DOH has been hiring more health workers and pre-positioning emergency medical supplies across the country. – Rappler.com