'The high positivity rates in Camarines Sur and Palawan indicate that more testing is needed in these provinces,' says Octa Research
Experts studying the coronavirus pandemic in the country flagged the high COVID-19 positivity rates in the provinces of Camarines Sur and Palawan.
The positivity rate is the percentage of all coronavirus tests performed that turned out positive. It indicates the extent of COVID-19 infections in the area of testing, and whether tests are keeping up with virus transmission.
"The high positivity rates in Camarines Sur and Palawan indicate that more testing is needed in these provinces," the Octa Research team said in its report on Monday, May 31.
Camarines Sur has a positivity rate of 73%, while Palawan has 53%. The World Health Organization recommends positivity rates to remain below 5% for at least two weeks before governments can consider reopening the economy.
Aside from the two provinces, the Octa team also noted uptick in COVID-19 cases in 6 other provinces:
Isabela
Cagayan
Iloilo
Misamis Oriental
Davao del Sur
South Cotabato
Meanwhile, the experts also noted the "slight" uptick in COVID-19 cases in "NCR Plus" composed of Metro Manila and 4 adjacent provinces Cavite, Rizal, Laguna, and Bulacan.
The Octa team said that virus epicenter Metro Manila recorded a -1% growth rate of COVID-19 cases, which is higher than the growth rates of -23%, -27%, and -36% in previous weeks. Meanwhile, "Cavite and Laguna had slight increases," with 6% and 4%, respectively.
However, the reproduction number (R) – the number of people one positive case can infect – in the capital remained below 1 or at 0.69.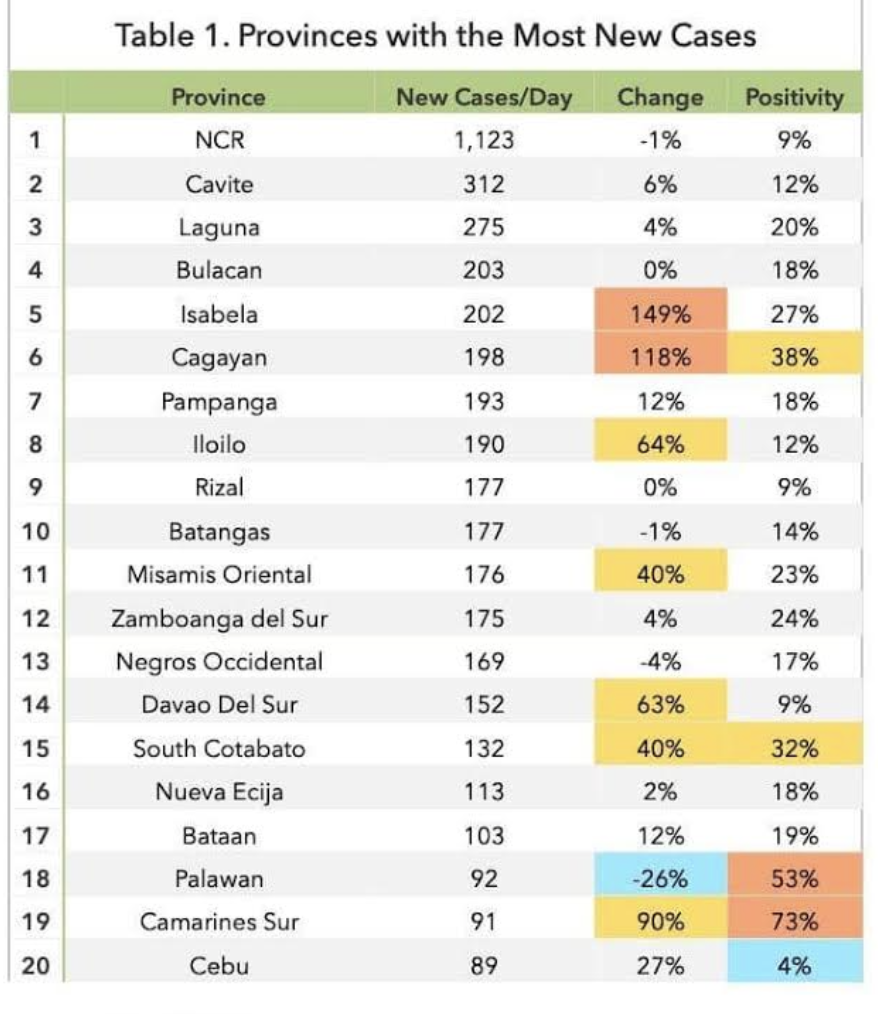 On Monday morning, the Department of Health (DOH) urged local governments to intensify efforts to respond to COVID-19 in their areas as cases across several areas in Luzon, Visayas, and Mindanao increased.
The DOH observed an increase in cases in several areas over the past few days, with over 7,000 new cases logged daily nationwide in the past three days.
Health Undersecretary Maria Rosario Vergeire said the government's coronavirus task force is expected to discuss the possibility of hiking quarantine restrictions in areas across the Philippines where increases in cases have been reported.
President Rodrigo Duterte is expected to announce on Monday night the quarantine classification in the country for the month of June.
"NCR Plus" is under general community quarantine "with heightened restrictions'" until May 31. – Rappler.com