Ombudsman Samuel Martires says he stands by his circular that restricts public access to SALNs 'even if I will be bashed, even if I will be removed from office'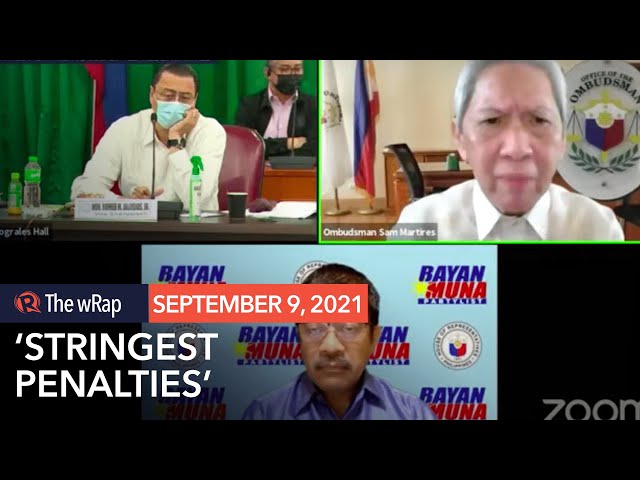 Ombudsman Samuel Martires wants "stringent penalties" – a jail time of five years – for anyone who makes "commentaries" on the Statements of Assets, Liabilities and Net Worth (SALNs) of government officials and employees.
(Editor's Note: An earlier version of this story reported that the proposed amendment covers commentaries of government officials and employees. This has been corrected.)
Martires pushed for this amendment to Republic Act No. 6713, or the Code of Conduct and Ethical Standards for Public Officials and Employees, during the House appropriations committee hearing on the Office of the Ombudsman's 2022 budget on Thursday, September 9.
"What I'm proposing is to make stringent penalties that anyone who makes a comment on SALN of a particular government official or employee must likewise be liable for at least an imprisonment of not less than five years, no more no less," Martires told lawmakers.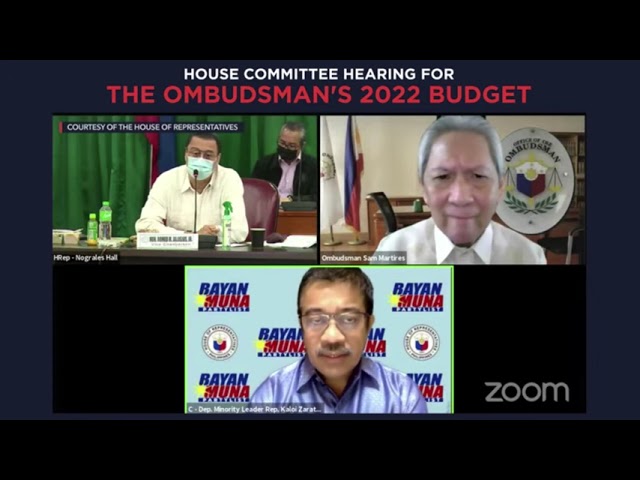 Martires has maintained a policy to restrict public access to SALNs, believing that it has been weaponized particularly by the media, and "can destroy the reputation" of an official.
Martires once again ranted on Thursday how the media supposedly unfairly reported his 2018 SALN that showed a one-year wealth increase of P15 million. An examination of the pertinent dates would show that the P15-million jump happened within five months, or from August to December 2018.
The Ombudsman said the reports made it appear that he earned that much from his government post in just five months.
"Even under the existing provisions of [RA] 6713, they're not allowed to make any comment. This is what media does not know," said Martires.
"I do not know if they understand English also. I am sorry to say this, but the provisions of 6713 is very clear. Napaka-liwanag (It's very clear), only for publication, walang komentaryo (no commentary) – that's the transparency," said Martires.
Section 8(C)(4) of RA 6713, which governs the filing of SALNs, says "any statement filed under this Act shall be available to the public for a period of ten (10) years after receipt of the statement."
Section 8(D)(b) says: "It shall be unlawful for any person to obtain or use any statement filed under this Act for any commercial purpose other than by news and communications media for dissemination to the general public."
Does reporting on the content make it a commentary? And even if it's an opinion piece, would punishing one who makes a commentary go against the constitutional right of free speech?
"Hindi po ba napaka-dangerous noon na i-penalize natin ang ating mga mamamayan kung nagtatanong sila, kasi guaranteed sa ating Constitution ang freedom of expression," said Bayan Muna Representative Carlos Zarate.
(Isn't it dangerous to penalize our countrymen if they raise questions, because freedom of expression is guaranteed by the Constitution.)
'Why are we so interested in Duterte's SALN?'
In September 2020, Martires issued Memorandum Circular No. 1 that restricts public access to the SALNs in their repository, like that of the President, Vice President, and heads of constitutional commissions.
It has allowed President Rodrigo Duterte to keep his SALNs secret since 2018. Vice President Leni Robredo, on the other hand, releases her SALNs on her own.
Martires said on Thursday that he would stand by his circular's conditions in obtaining SALNs, which is if the person gives a notarized consent to release his/her SALN, it's upon a court order, or part of a government investigation.
"No matter how much criticism I will receive, even if I will be bashed, even if I will be removed from office…. I will not yield to public opinion," said Martires.
Martires' circular has so far survived a constitutional question before the Supreme Court, but that petition was denied largely on procedural grounds. But in that decision, the Supreme Court said, "A custodian [of SALN] is not prohibited by the Constitution to regulate such disclosure."
During the budget hearing, Martires asked, why is there so much interest anyway?
"Bakit napaka interesado natin sa SALN ng presidente at bise presidente, bakit hindi tayo interesado sa SALN ng ibang opisyal ng gobyerno? (Why are we interested in the SALNs of the president and the vice president, why are we not interested in the SALNs of other government officials)," he said.
Martires added: "I really do not know what the purpose is of these people of asking the SALNs of the President and Vice President. What is it with these offices?" Martires added, saying that corruption is deeply rooted and endemic in many offices.
Martires said he could guarantee that Duterte has been filing his SALNs as required.
– Rappler.com