This is AI generated summarization, which may have errors. For context, always refer to the full article.
Filipino-American filmmaker Francis Catedral produces a documentary on the stories of Filipino migrant workers in Hong Kong, some of whom have been red-tagged for their activism
HONG KONG – "I'm worried for my family," said Hong Kong-based Filipino migrant worker Dolores Balladares-Pelaez as she reflected on being red-tagged for her activism.
Pelaez, chairperson of United Filipinos in Hong Kong, is one of the main subjects of Filipino-American filmmaker Francis Catedral's 2022 documentary Migrant Women Rise, which tells the stories of activist overseas Filipino workers (OFWs) and the risks of speaking out against the Philippine government, even if they are far away from home.
The Philippine government's red-tagging spree, which was accentuated during the administration of former president Rodrigo Duterte, was concentrated not only among activists in the Philippines. Progressive overseas Filipino groups who continue to criticize the government face a chilling effect similar to what their local counterparts face.
"It's very frightening if you've been red-tagged. I myself [am] not exempted. I'm worried for my family, you know, because when [I am] red-tagged, it's not only me. Our experiences in the Philippines – if a person is red-tagged, the families are also affected," Pelaez said in the film.
"We always criticize policies of the Philippine government that are very harmful, and [this puts] us workers, our families, in a very vulnerable situation," she added.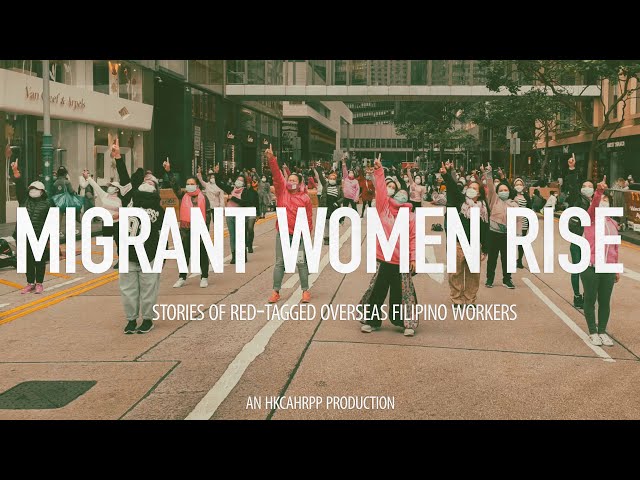 "Red-tagging" is the act of accusing individuals or groups of being linked to communist rebels. Philippine officials from the Duterte administration red-tagged activists, students, journalists, and community organizers, among others. The practice has led to harassment, threats, attacks, and sometimes even killings of red-tagged individuals, and is seen as a crackdown on dissent.
Amnesty International has raised concern that red-tagging has continued under the administration of President Ferdinand Marcos Jr.
Vigilance from afar
One of the most common jobs among OFWs in Hong Kong is domestic work. Along with shots of the workers cooking at home, taking care of their employers' children, and going to the market, the film also captures some workers' protests on pandemic-era Sundays – the day off for most OFWs in Hong Kong.
The progressive groups speak out against issues such as the Duterte government's lapses in its COVID-19 response, its deadly war on drugs, and the controversial anti-terrorism law that was still a bill during filming.
Apart from Pelaez, the film also features Annabelle Maregmen, vice chairperson of Gabriela Hong Kong, who is also a domestic worker. She anticipated that red-tagging would intensify as they neared the 2022 national elections, which Marcos eventually won.
In a number of scenes, such as during an anti-terrorism bill protest and the election season, the progressive groups are seen heckled by pro-administration members of the Filipino community.
China's votes, which included Hong Kong's, were one of the pillars for Marcos' path to an overseas victory. Marcos got 58,160 votes from China, a far cry from Marcos' closest competitor, former vice president and opposition figure Leni Robredo's 9,059.
'Shared connection'
The film is Catedral's first documentary. In a screening at Eaton Hotel in Hong Kong on Sunday, April 23, Catedral told Rappler that the film began by just getting to know the Filipino community in Hong Kong and eventually filming the protests. He wished to explore the "shared connection" he had with them since he comes from an immigrant family based in the US who had similar reasons for leaving the Philippines.
As he and his wife Lydia migrated to Hong Kong in the summer of 2018, he said the community made them feel at home.
"Having and experiencing that hospitality from them is what really helped me to connect more deeply with them, with who I am as a Filipino, with what was happening in the Philippines. And just seeing them [and] the issues they were fighting for are so much bigger than just like, 'Oh, we're just leaving home to give money back to the Philippines or to our families.' It's something bigger that is the struggle that they're fighting for," said Catedral.
"I wanted to highlight the ways that they were very human, and they were dehumanized through red-tagging," he said during the open forum.
Lydia, who is also a producer of the film, mentioned the couple's involvement in the Hong Kong Campaign for Human Rights and Peace in the Philippines and how they wished to bring human rights issues in the Philippines to a larger international audience.
"Of course, it is an issue for the Filipino people first and foremost, right? But then, we kind of see how international pressure and international awareness can also influence the course of things. And so we try to play a small role in that through different events," said Lydia.
Despite the challenges and attacks, the workers said they would continue to speak out abroad. Maregmen says in the documentary that they are hopeful that their voices will win, as no one is in power forever.
"There are hindrances: in Hong Kong, we have the national security law; in the Philippines, we have the anti-terror law…. But we keep on saying, who will [speak out] if not us? Nobody will push our issues if we're [not] going to stand for our cause. And once we strengthen our ranks, our organization, we multiply it, it will give more enthusiasm or example to other organizations to fight," Pelaez said during the open forum.
Migrant Women Rise is open for screening requests, which can be coursed through here. – Rappler.com