Former Philippine charge d'affaires to Syria Alex LaMadrid denies the claims
MANILA, Philippines – Over 20 overseas Filipino workers (OFWs) on Friday, May 26, filed a complaint with the Office of the Ombudsman against former Philippine charge d'affaires to Syria Alex LaMadrid and other Philippine officials over alleged abuse, harassment, and neglect while they took refuge at the Philippine embassy in Syria.
After being trafficked to Syria and experiencing abusive working conditions with their employers, the women sought help at the Philippine embassy in Damascus, hoping to be repatriated back to the Philippines. Instead, they allegedly experienced neglect and harassment by the officials meant to take care of them.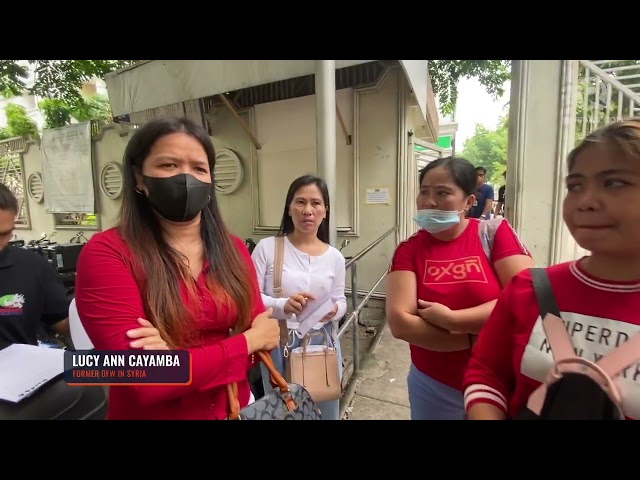 In their 15-page complaint, they alleged that their cellphones were taken away, rendering them incommunicado from their families for one to two years. Others alleged that officials tried to sell them back to their employers.
At least one complainant alleged verbal sexual harassment from a certain Jun Carillo. This embassy employee's name was also brought up in a 2021 Senate investigation on trafficking of Filipino workers into conflict-ridden Syria led by Senator Risa Hontiveros.
They claimed that LaMadrid failed to give regular updates about their repatriation, and gave them a sour attitude whenever they asked.
Some of the women were witnesses of the 2021 Senate investigation. Some were minors when they were recruited.
Sometime in 2020, a group of the Filipinos managed to escape and go on Facebook Live to report their situation and appeal for help. The group of around 50 OFWs were repatriated between 2020 and 2021. (READ: BI sacks immigration officers linked to trafficking OFWS to Syria)
With the filing of the case, the OFWs hope for appropriate administrative and criminal charges against the officials.
Calling for justice
As they filed the case with the Ombudsman on Friday, the OFWs were confident and passionate about exacting accountability from the Philippine officials.
"Kailangan namin maging malakas para mabigyan kami ng hustisya. Kasi kung hindi kami magiging malakas, walang mangyayari," said Hazel Valenzuela, one of the complainants. (We need to be strong so we can achieve justice. If we are not strong, nothing will happen.)
Hazel said that during the time she could not contact her family while she was in Syria, her ties with her family weakened.
"Lumayo po 'yung loob ng mga anak ko sa 'kin. Kasi akala po nila patay na ako…. [Sinabi] nila, 'Oh, bakit pinabayaan mo kami?' Nandoon na po 'yung pagsisisi eh, 'yung sinisisi ka nila. Pero hindi mo ma-explain sa kanila na dahil sa isang tao, na si LaMadrid nga, nagkakaganyan 'yung buhay namin," she said.
(My children and I drifted apart, because they thought I was dead. They said, "Why did you abandon us?" They blamed me. But I couldn't explain to them that it was one person, LaMadrid, who was the reason why our lives turned out that way.)
LaMadrid is currently a senior special assistant at the Office of the Undersecretary for Multilateral Affairs and International Economic Relations at the Department of Foreign Affairs, and part of the board of directors of the Tourism Promotions Board.
"Napakasaklap po para sa amin. Ang sarap-sarap ng upo niya sa opisina niya, ang lamig-lamig doon, tapos kami nagpapakahirap pa rin," said Lucy Ann Cayamba, another complainant. (We feel so devastated. He's there sitting comfortably in his airconditioned office while we are still suffering.)
Cayamba said that the Overseas Workers Welfare Administration has given them financial aid, but that it is difficult to follow up on the assistance.
"We don't expect more than mabigyan talaga sila ng hustisya sa kanilang dinanas. Mapanagot si LaMadrid, mabigyan sila ng bayad pinsala, at makuha nila lahat ng mga benepisyo at tulong na dapat nilang matanggap dahil sa pagkakabiktima nila ng human trafficking," said Migrante Philippines chairperson Arman Hernando, who accompanied the OFWs on Friday.
(We don't expect more than giving them justice for what they experienced. LaMadrid should be held accountable, they should be paid damages, and they should get all the benefits and assistance that human trafficking victims are entitled to.)
Hernando said that after filing, personnel from the Office of the Ombudsman informed the complainants that the office would evaluate the case and provide an update within a month.
LaMadrid denies allegations
In a CNN Philippines report, LaMadrid said he was unaware of the case filed by the OFWs on Friday.
LaMadrid said that there was a lockdown in Syria from March 2020 to September 2020, and the airport was closed. The airport reopened on September 15, which was when Syrian immigration officials resumed processing exit permits.
Migrante had said in a statement that the OFWs were confined in the shelter at the embassy's basement. While LaMadrid confirmed that the shelter was in the basement, he said that the women were free to roam around the embassy premises.
"They also interacted with FilCom (Filipino community) during meetings, commemorative events like Philippine holidays, as well as Christmas and other parties organized by FilCom with the embassy," LaMadrid said in the report.
LaMadrid also said that he was not aware of any verbal sexual abuse against any ward in the shelter while he worked at the embassy. – Rappler.com