The group was supposed to join a protest at the University of the Philippines Los Baños
Sixty-four individuals, who were detained by police in Cavite on their way to a State of the Nation Address (SONA) protest at the University of the Philippines Los Baños (UPLB), were released early Monday evening, July 27.
The individuals – including 11 minors and 4 senior citizens – were on a convoy of 5 jeepneys, which were flagged down by police at the SLEX Carmona exit in Cavite at around Monday noon, according to Kobi Tolentino, spokesperson of Anakbayan Southern Tagalog and one of those detained.
Tolentino said the police initially told them that they violated general community quarantine guidelines, and they needed to secure a travel authority from the Philippine National Police before they could go to Los Baños.
He said the police requested to check the licenses of the jeepney drivers, and then issued them tickets for going beyond their designated routes. The jeepney drivers also planned to participate in the SONA protest and were among the 64 detained.
Tolentino said they were told by the police that the drivers needed to pay a fine of "around 1,000" each, but did not specify the amount on the tickets.
According to Tolentino, the police insisted that the 64 individuals head to the covered court beside the Carmona Police Station in Barangay Maduya, Carmona, Cavite, to "comply."
The covered court turned out to be a temporary cell for detainees. The arrested persons opted to stay in their jeepneys while waiting for their paralegal team and lawyers to arrive. They were detained for at least 3 hours.
Around 5 pm, Tolentino said the representatives of the Commission on Human Rights arrived at the police station for an investigation.
After some negotiation, Tolentino said, the police decided not to file a case against the 64 individuals and allowed their release. But, according to him, the police maintained that the jeepney drivers went "out of line" by traveling beyond their designated routes.
"Based on the reason why we were released, since there were no formal charges, we condemn this detention. We see this as harassment, given that today is President Rodrigo Duterte's State of the Nation Address, and the same incident happened not just in Cavite," Tolentino said in Filipino.
Rappler has reached out to the Cavite police for comment but they have yet to respond as of posting.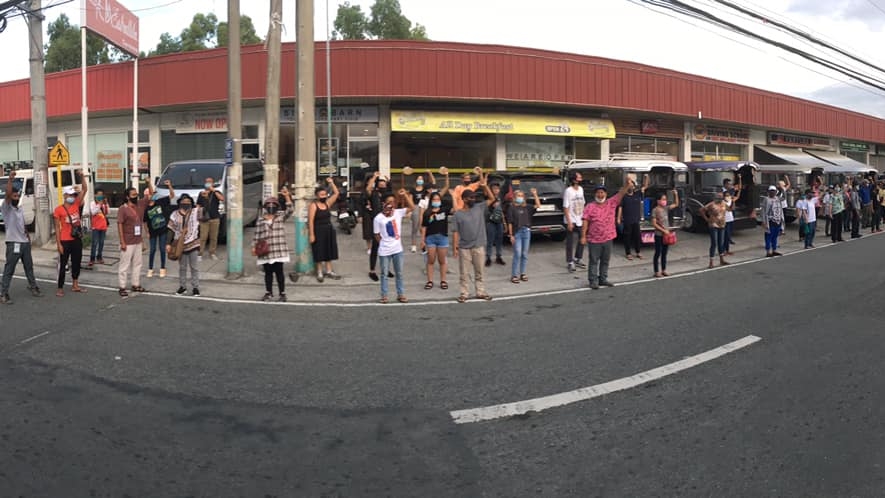 Although the 64 individuals were not able to join the 2 pm rally at the regional SONA ng Bayan in UPLB, they held their own protest in front of the Carmona Police Station after being released. They were joined by laborers, farmers, fisherfolk, other jeepney drivers, women, and youth. – with reports from Lance Mejico/Rappler.com