'Talagang nagpapasasa itong mga taong ito,' says Senate blue ribbon committee chairperson Richard Gordon after presenting documents from the LTO
How might have a couple of young individuals end up affording luxury vehicles like a Porche, Lamborghini, or a Lexus?
Senate blue ribbon committee chairperson Richard Gordon asked this question as he cast doubt on the timing of Pharmally Pharmaceutical Corporation executives' purchase of luxury cars. Pharmally is the firm that won the biggest amount of government contracts for pandemic supplies.
During the committee's seventh hearing on the government's pandemic spending on Friday, September 17, Gordon flashed photos of Porsches and Lamborghinis owned by Pharmally co-owners.
The senator cited documents sourced from the Land Transportation Office which showed the luxury cars were registered in 2020 and early 2021, or months after the firm started wining contracts from the government.
Among the vehicles questioned by Gordon were:
2019 Porsche 911 Turbo S worth an estimated P8.5 million registered under Pharmally secretary and treasurer Mohit Dargani on May 7, 2021
"'Wala naman po masama, kumita naman po kami.' Wala pang isang taon, wow, Mr. President, P8.5 million na Porsche, LTO nagbigay sa amin ng rehistro," Gordon said.
([They say] "There's nothing wrong here, we earned anyway." Not even a year later, wow, Mr. President, an P8.5 million Porsche. The LTO gave us the registration.)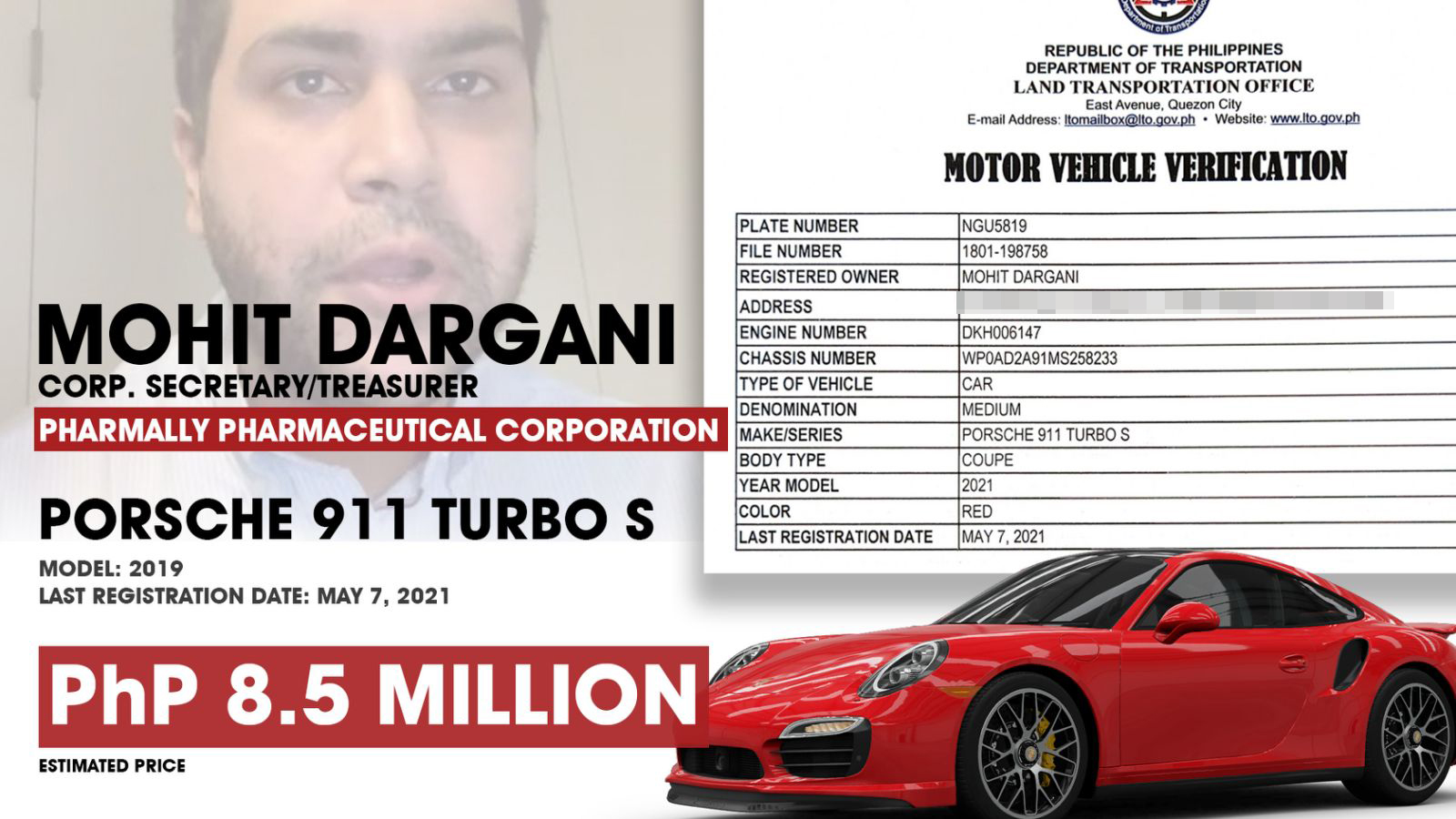 2021 Lamborghini Urus worth an estimated P13 million registered under Pharmally president Twinkle Dargani on December 7, 2020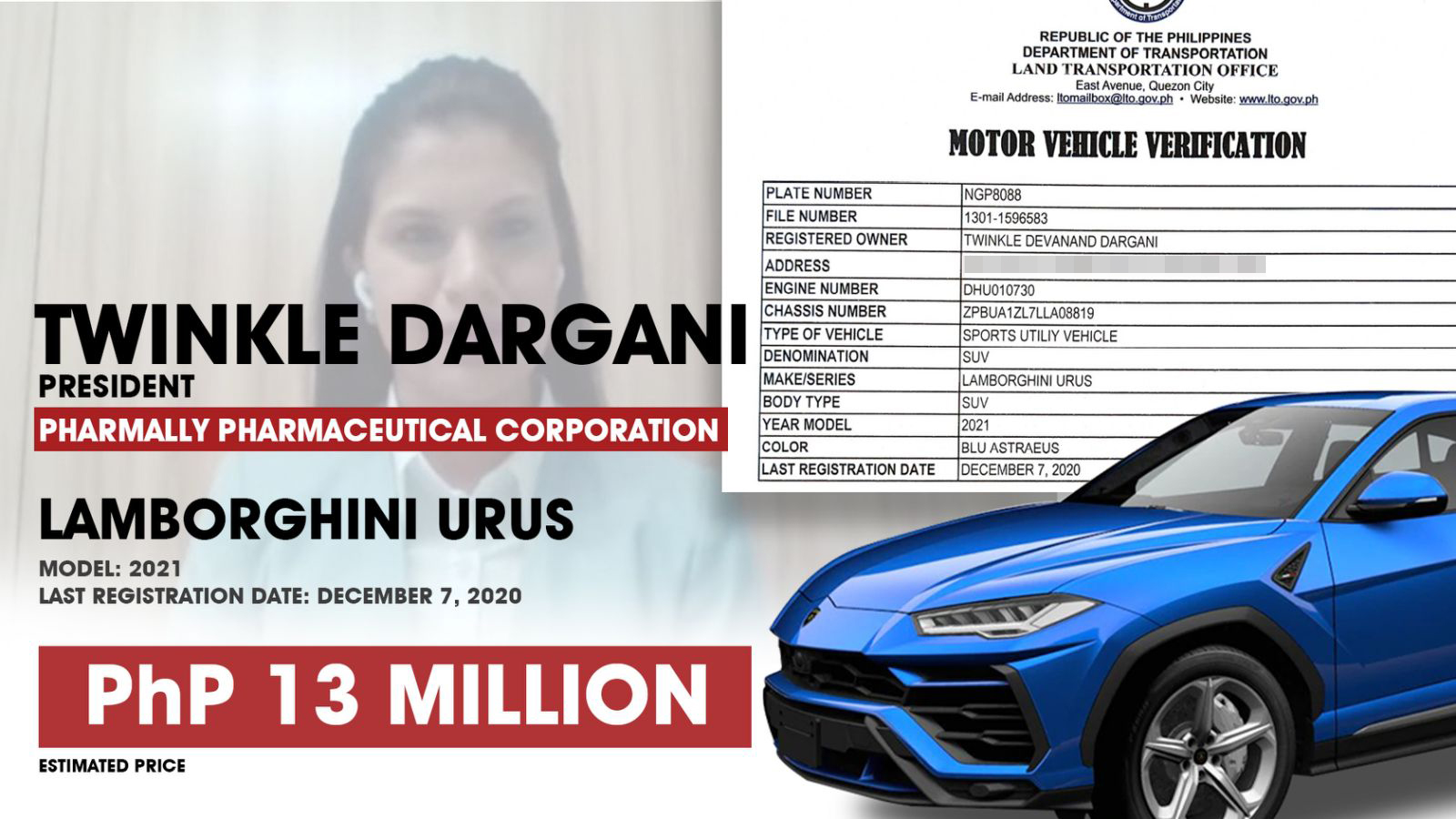 Aside from these, two more luxury vehicles registered under Pharmally director Linconn Ong were shown:
2021 Porsche 911 Carrera 4s worth an estimated P13.5 million registered under Ong on February 2, 2021
2021 Lexus RCF worth an estimated P5.9 million registered under Ong on July 9, 2021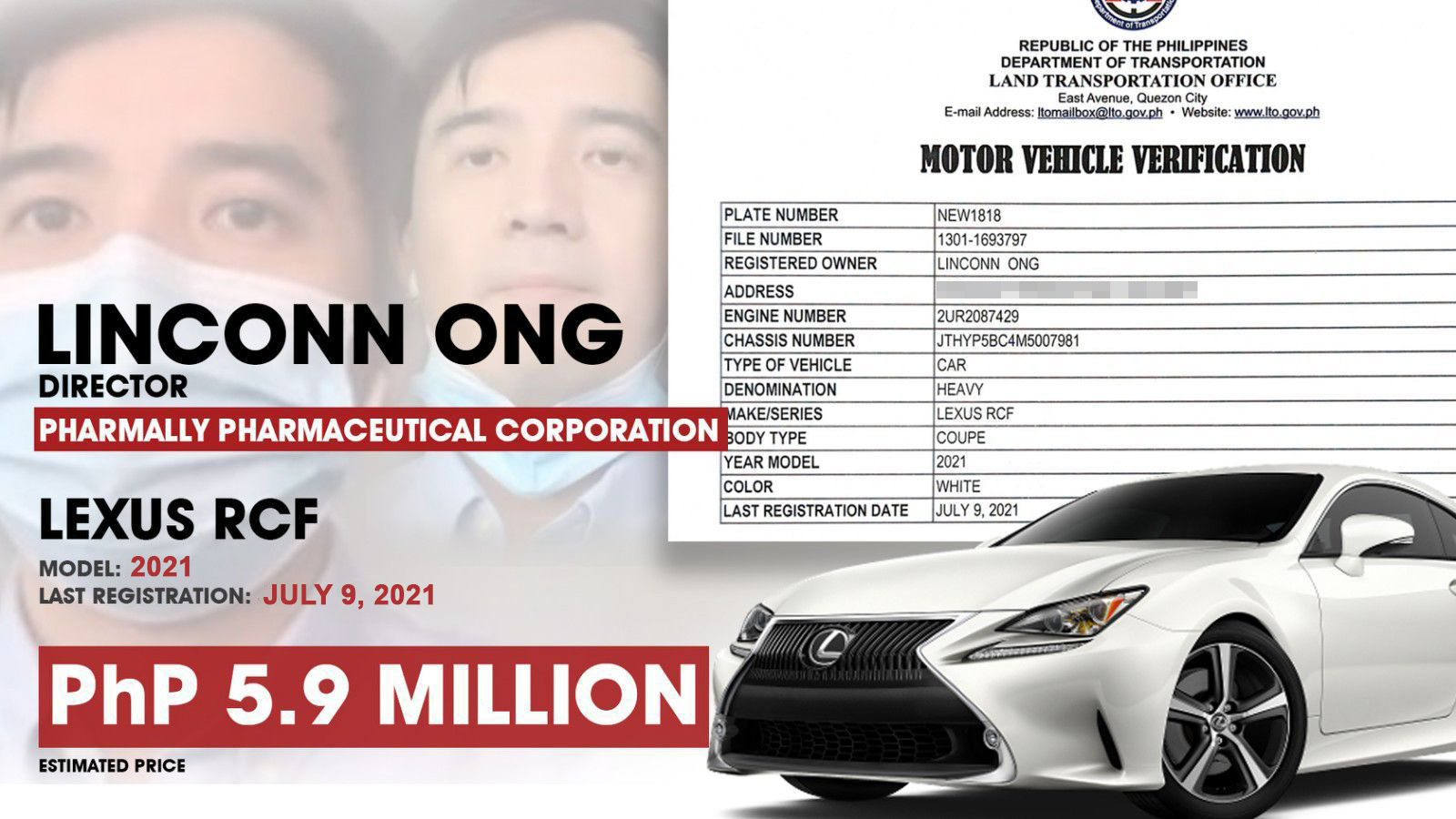 "Talagang nagpapasasa itong mga taong ito. Paano kikita ito?," Gordon said. (These people are really indulging. How can they earn [money] this way?)
Aside from these vehicles, Gordon showed LTO registration documents for a 2019 Porsche Cayenne registered under Ong in March 2019 and a motorcyle owned by Daragni registered in March 2021.
Asked by Gordon later in the hearing to confirm the purchase, Pharmally official Mohit Dargani said, "I only have a Porshe Turbo that's up for sale."
"Wow, 'only,"' retorted Gordon.
Pharmally has been in the center of Senate hearings into alleged corruption and abuse in the spending of public funds during the pandemic. In recent hearings, lawmakers questioned how Pharmally, a small firm incorporated in 2019, was able to bag at least P10 billion worth of government contracts even as it lacked the track record and credibility to engage in big-ticket government procurement.
The Senate's probe has also placed former presidential economic adviser Michael Yang and ex-budget undersecretary Lloyd Christpher Lao under intense scrutiny for their links to questionable deals the government entered into with Pharmally in 2020 and 2021.
Lao served as head of the Procurement Services of the Department of Budget and Management when deals with Pharmally were signed, while Yang was revealed to have been both a guarantor and financier for Pharmally with Chinese suppliers. A Rappler investigation also showed that Yang, through a network of companies, has links to Pharmally.
The marathon probe at the Senate has earned the ire of President Rodrigo Duterte, who has dedicated several public addresses to bashing senators and defending Yang. Gordon hit Duterte for attacking the Senate, calling him a "cheap politician" and leader "no country deserves." – Rappler.com
Read the other stories from the September 17, 2021, Senate blue ribbon committee hearing: