Health committee chair Dr. Helen Tan says that millions of COVID-19 probable claims are in 'danger of being denied'
The Philippine Health Insurance Corporation (PhilHealth) will revisit its benefit packages for COVID-19 patients after lawmakers spotted "mistakes" in its circular.
At a hearing held by the House of Representatives health committee on Tuesday, August 17, lawmakers questioned PhilHealth Circular No. 2021-008, which states that suspect or probable COVID-19 cases would instead be covered by "intermediate" packages of either P18,000 for moderate cases or P38,000 for severe cases.
Previously, benefit packages for Filipinos diagnosed with COVID-19, for either probable or confirmed cases, were categorized according to four pneumonia categories, as this respiratory illness is a complication of the coronavirus disease:
Mild pneumonia – P43,997
Moderate pneumonia – P143,267
Severe pneumonia – P333,519
Critical pneumonia – P786,384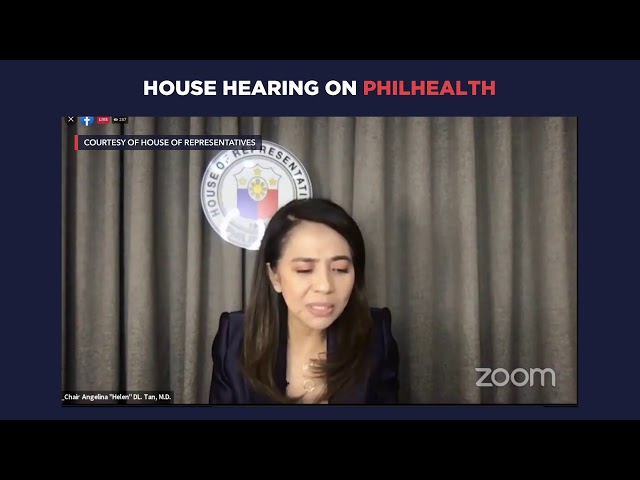 Health committee chair Dr. Helen Tan said hospitals were surprised upon learning that the new advisory would be implemented retroactively on patient cases from late November 2020 onwards, despite it being released only in June 2021.
"This will cause huge losses to hospitals that have already rendered service and processed the claims, as well as patients who were already entitled to such claim prior to the issuance of PhilHealth Circular 2021-008," Tan said.
Tan said that millions of COVID-19 probable claims are in "danger of being denied as a result of PhilHealth's turnaround, causing huge losses to healthcare facilities [that] clinically managed a probable COVID-19 case."
In response, PhilHealth chief Dante Gierran said that he would recommend that the PhilHealth board rectify the circular.
"I would certainly…recommend to the board being the highest authority in the corporation to have this matter be taken into consideration for favorable action," he said.
The state insurer's debt to hospitals has ballooned to over P26 billion as of July 1. PhilHealth said that it has paid almost P6.694 billion to hospitals as of August 13 under its Debit-Credit Payment Method (DCPM).
President Rodrigo Duterte already ordered PhilHealth to speed up payments of its unsettled claims to hospitals.
In the same hearing, lawmakers also pressed PhilHealth officials to provide details on why it took seven months for the state insurer to translate the November 2020 board resolution into the circular being applied now.
They said that it was "unacceptable" that a circular would take seven months to be approved and released.
Bayan Muna Representative Carlos Zarate requested PhilHealth officials to submit a timeline of the months-long routing to identify who should be held accountable for the delay.
"We know that the immediate problem the country faces is COVID-19…and now we will be confronted with this situation of dilly-dallying, passing the blame," Zarate said in Filipino. – Rappler.com