This is AI generated summarization, which may have errors. For context, always refer to the full article.
VIPs cite Del Rosario's patriotism for fighting for Philippine sovereignty and for helping Filipinos in troubled areas overseas
MANILA, Philippines – Current and former Philippine officials, and staff from the Department of Foreign Affairs (DFA) paid their last respects to former Foreign Secretary Albert del Rosario on Monday, April 24.

Del Rosario died on April 18 on a flight to the US.
The DFA sponsored a Mass at 5 pm, on Monday, April 24, and made time to allow colleagues to pay tribute to the late diplomat in a private event after the Mass.
Former interior secretary Manuel "Mar" Roxas II was among several high-profile former government officials who came to pay their last respects to Del Rosario.
Roxas told media on the sidelines that he held Del Rosario in high regard for fighting for the Philippines' claims in the West Philippine Sea .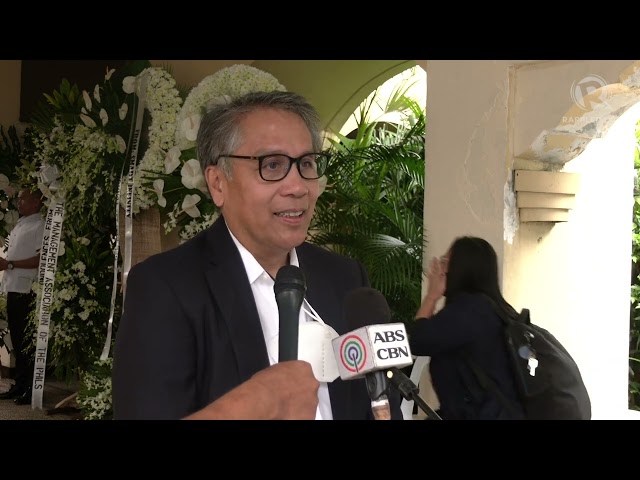 "Napakataas ang ating admirasyon at respeto para sa kanya (Our admiration and respect for him is very high)," Roxas said. "[He was] very soft spoken – a man of very few words. Pero malaman ang kanyang mga salita (But his words carried weight)."
"Pinaglaban 'nya talaga ang ating independence at sovereignty diyan sa West Philippine Sea at siya ang nagtaguyod at pinaglaban 'nya doon sa international court ng UNCLOS [United Nations Convention on the Law of the Sea] ang sovereignty ng Pilipinas. Kahit galing siya private sector, nakita natin ang patriotism para sa atin," he said.
(He fought for our independence and sovereignty in the West Philippine Sea and he fought for us in the international court, in UNCLOS, for our rights and sovereignty of the Philippines. Even if he came from the private sector, we saw his patriotism.)
Senator Loren Legarda called Del Rosario a "true gentleman."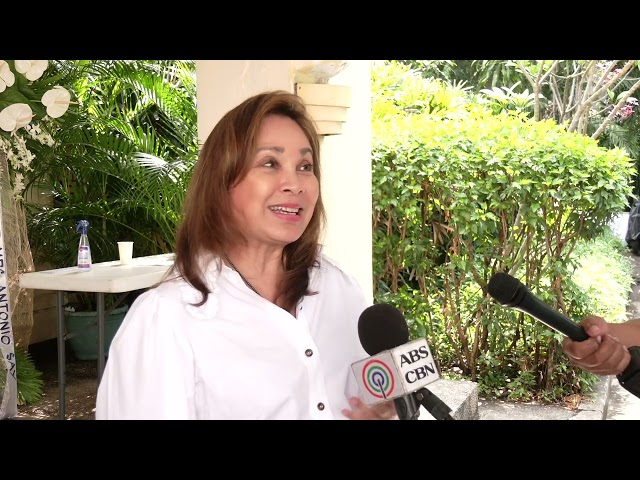 "We worked very well together when I was senator and he was secretary of foreign affairs," she said. "He was not just a joy to work with, but was a dear friend and a true gentleman," she added.
Former senator Richard Gordon said Del Rosario was "humble and courageous" and spoke his mind "quietly in a very strong way."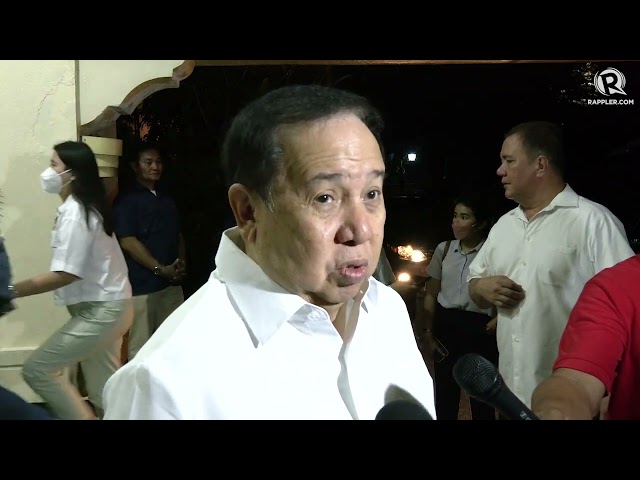 He said what Filipinos could learn from Del Rosario's life is to "stand up" for what's right.
Other former government officials who attended the wake but declined to speak to the media include former Bureau of Internal Revenue commissioner Kim Henares, former House Speaker Jose de Venecia and his wife Gina, and another former interior secretary, Raffy Alunan.
Father Bienvenido Nebres, former Ateneo de Manila president and provincial superior of the Society of Jesus (Jesuits), in his homily, praised Del Rosario's defense of Filipinos overseas. (READ: Del Rosario: Filipino 'Moses' in the world's danger zones)
"He defended Filipinos in the diaspora, got more support for the Philippine military, and defended our territory with discipline and passion," Nebres said.
"Secretary del Rosario made the West Philippine Sea a policy priority. I asked my friends in the DFA how they remember him, and they remember him with great respect and affection. Always with a smile," he added.
Del Rosario was also a person of deep faith.
He was on a flight to San Francisco on April 18 to pray at a private devotion to the Lady of Miraculous Medal when he died of a heart attack, according to a statement from the Del Rosario family.
"He was a devotee of the Rosary and sought to pray for better health as he believed he continued to have a mission for his country," the statement reads.
Despite suffering from various ailments and surgeries over the past 20 years, his family said he "continued to go to his office in Makati seven days a week, including Sundays."
Del Rosario's remains were returned to the country on Saturday, April 22. He was brought back by his wife Margaret Gretchen and his sister Joanne. His children, grandchildren, and other siblings received his body at the airport.
The family will hold a funeral Mass on Tuesday, April 25 at 9 am that is open to the public, but his burial will be private. – Rappler.com