Doses are expected to arrive as early as the 3rd quarter of 2021 but emergency approval from the Food and Drug Administration is still needed for any public rollout to begin
The Philippines has secured 30 million of doses of Novavax' COVID-19 vaccine, with initial supplies expected to arrive in the country as early as the 3rd quarter of 2021.
Vaccine czar Carlito Galvez Jr announced the development during a Senate hearing into the Duterte government's COVID-19 vaccination program on Monday, January 11, saying a term sheet was signed with the Serum Institute of India (SII) which will manufacture the vaccine.
"We locked in 30 million and it will be expandable to LGUs," Galvez told lawmakers.
While the deals assures the Philippines access to limited global supply, the vaccines still need to secure emergency approval from the Food and Drug Administration (FDA) before any public rollout can begin.
The FDA is currently reviewing applications for emergency use of Pfizer and AstraZeneca's vaccines, while it is waiting for additional documents on Gamaleya's Sputnik V vaccine after a filing was made with the agency last January 7. (READ: How FDA grants emergency approval for COVID-19 vaccines, meds)
Why this matters
The Philippines has largely fallen behind other countries in purchasing COVID-19 vaccines, signing only one supply deal in 2020 to acquire 2.6 million doses of AstraZeneca's vaccine.
A deal with the Serum Institute of India for Novavax' vaccine brings the government closer to mounting a mass immunization campaign that would tame the pandemic in the country which has reported one of the highest number of cases in Southeast Asia. 
The Novavax vaccine is a strategic procurement considering it can be stored at standard refrigerated temperatures of 2 to 8 degrees Celsius (36 to 46 degrees Fahrenheit), which will fit current storage facilities of the DOH.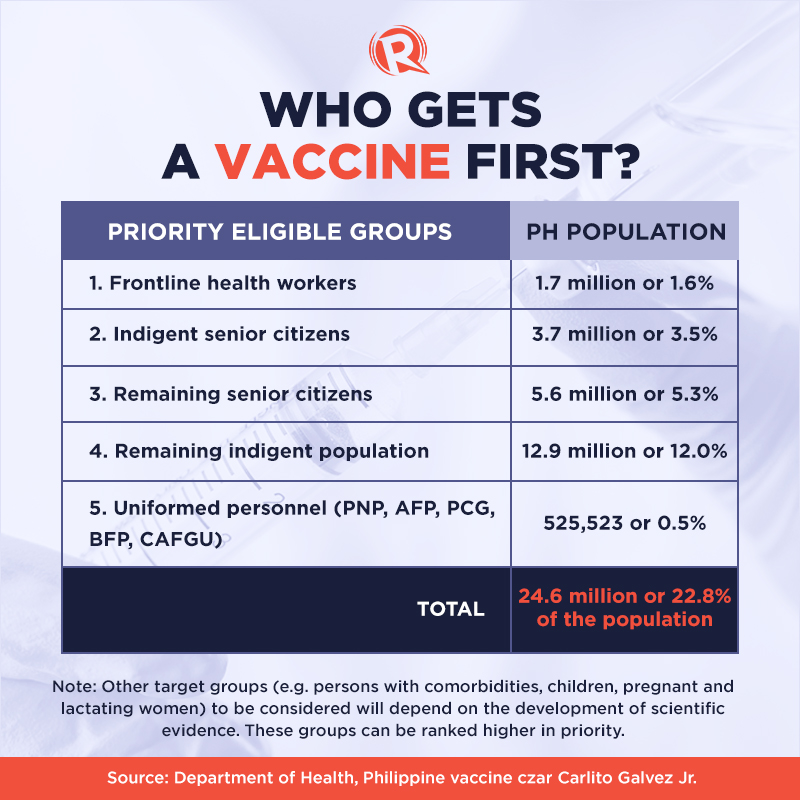 Vaccine czar Carlito Galvez Jr earlier said the government is targeting to secure at least 148 million doses of COVID-19 vaccines to inoculate 50 to 70 million Filipinos in 2021. – Rappler.com