This is AI generated summarization, which may have errors. For context, always refer to the full article.
Philippines vaccine czar Carlito Galvez Jr lists Metro Manila and Calabarzon – where majority of COVID-19 cases are concentrated – among areas that will be prioritized when deploying a vaccine
Philippine vaccine czar and National Task Force Chief Implementer Carlito Galvez Jr said on Thursday, December 10, that health officials were eyeing the deployment of COVID-19 vaccines in "high burden" areas and among groups most at risk of getting the disease. 
Speaking in a webinar hosted by Philippines Graphic and Business Mirror, Galvez emphasized that this strategy being developed by the Department of Health, along with other health experts, aimed to "immediately contain contamination and transmission of the virus and to reduce it."
"We will concentrate on focus areas that emerge as 'epicenters' of the pandemic and then we will focus on the sectors or priority groups," Galvez said.
Criteria to be considered
In a separate forum hosted by the Ateneo de Manila University, DOH Director Dr Napoleon Arevalo said health officials determined COVID-19 "high-burden" areas based on the prevalence of the disease, average daily attack rate over the 3 last months, and case fatality rates.
Based on these considerations, focus areas included Metro Manila, Calabarzon, Central Luzon, Davao City, Cebu City, Cagayan de Oro, Baguio City, Bacolod, Iloilo, Zambaonga City, Tacloban City, and General Santos City, among others. 
Citing data as of December 6, Galvez also gave the following preliminary list of regions to be prioritized based on the two-week growth rate of active cases: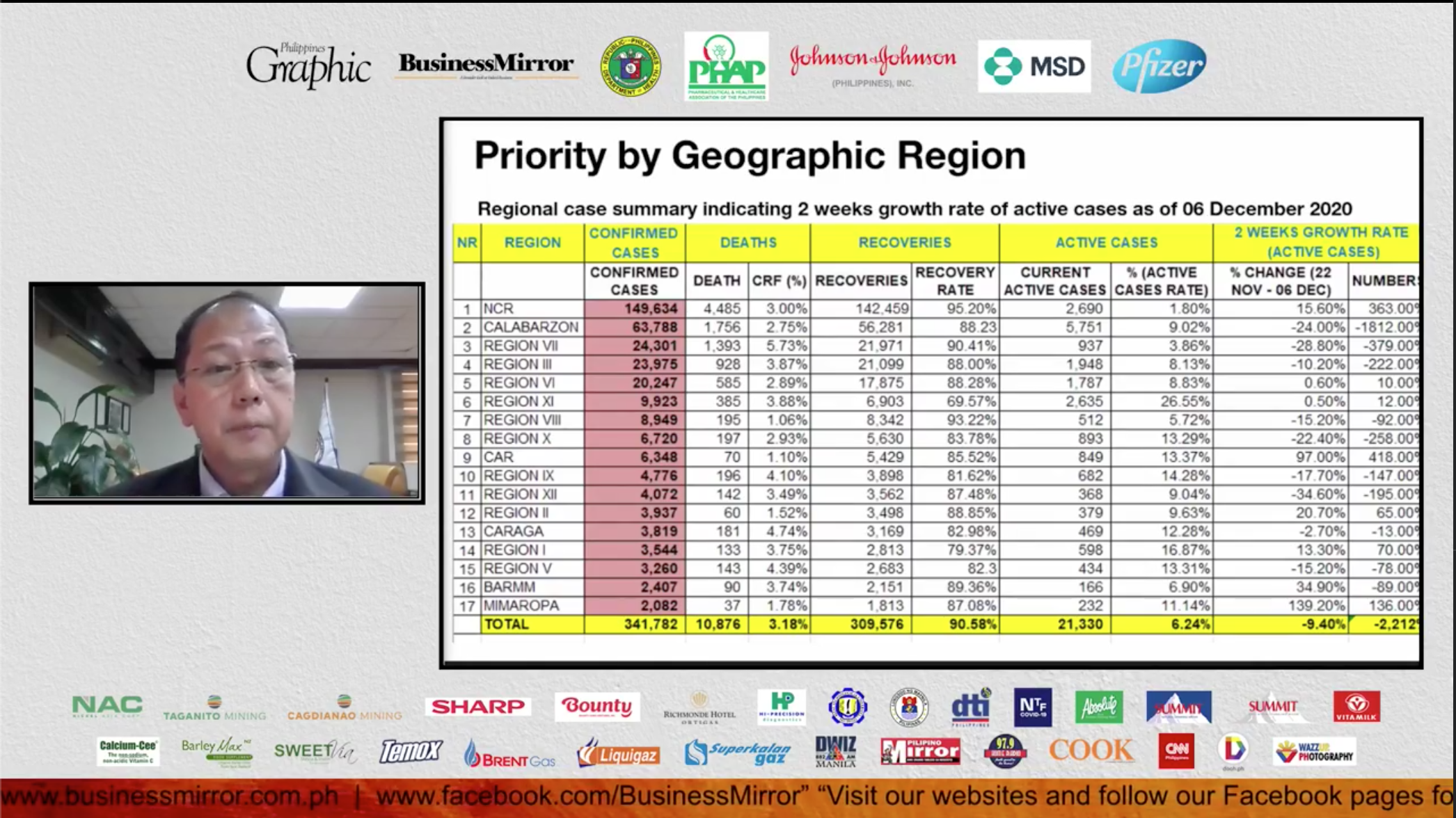 Galvez said that while data was continuously being assessed, Metro Manila and Calabarzon would most likely be among the first regions to be prioritized as over half of total confirmed cases were found in these regions.
This was consistent with findings showing Metro Manila as the epicenter of the pandemic, while nearby provinces with large populations working in the capital region also reported a high number of new cases over the past few weeks and months.
Who will get a vaccine first?
After assessing which areas vaccines will need to be deployed in first, eligible populations in these identified areas will be prioritized for the distribution of a COVID-19 vaccine, Arevalo said.
Galvez reiterated that first priority would be frontline health workers in public and private health facilities, temporary treatment and monitoring facilities, regional health offices, field workers, contract tracers, and barangay health stations (including emergency response teams). 
Also among the first priority group were frontline workers in other government agencies like the Department of Social Welfare and Development, Department of the Interior and Local Government, Bureau of Jail Management and Penology, and Bureau of Corrections.
All in all, those included in this first priority group totaled some 1.76 million or about 1.6% of the population.
They are followed by:
2nd priority: Indigent senior citizens (3.78 million or 3.5% of the population)
3rd priority: Remaining senior citizens (5.67 million or 5.3% of the population)
4th priority: Remaining indigent population (12.9 million or 12% of the population)
5th priority: Uniformed personnel (525,523 or .5% of the population)
Galvez said the government will focus on these 5 groups that account for about 24.66 million Filipinos or 22.8% of the population. 
Alongside this, he added pandemic officials were eyeing to partner with the private sector to vaccinate another 10.5 million Filipinos. These would include teachers, social workers, other government workers, essential workers in food, transport, tourism, and agriculture industries; persons with disabilities and Filipinos in high-density areas, overseas Filipino workers, and the remaining workforce.
Those in this group account for 10.15% of the population, Galvez said.
In the first year after a vaccine is made available in the Philippines, the government's target, he added, was to cover all these sectors listed.
Which vaccines will be given?
In the same forum, Galvez mentioned that based on ongoing discussions with vaccine developers and foreign governments, the Philippines may potentially see China's Sinovac or Russia's Sputnik V COVID-19 vaccine as being among the first to enter the market. 
"More or less there is some sort of an assurance that we will be having a Chinese vaccine by March," Galvez said, adding that the assurance came from Philippine Ambassador to China Huang Xilian during a dinner the two officials had on December 9. China had earlier promised it would prioritize the Philippines in the distribution of the COVID-19 vaccine.
Still, the "best case scenario" for a mass vaccine rollout would be sometime at the latter half of 2021 since this is when most vaccines would be made available, Galvez said. (The Philippines is considering at least 17 for Phase 3 trials or purchase.)
Despite this, he said the government was exerting its best effort to ensure a vaccine would be available by the first quarter of 2021.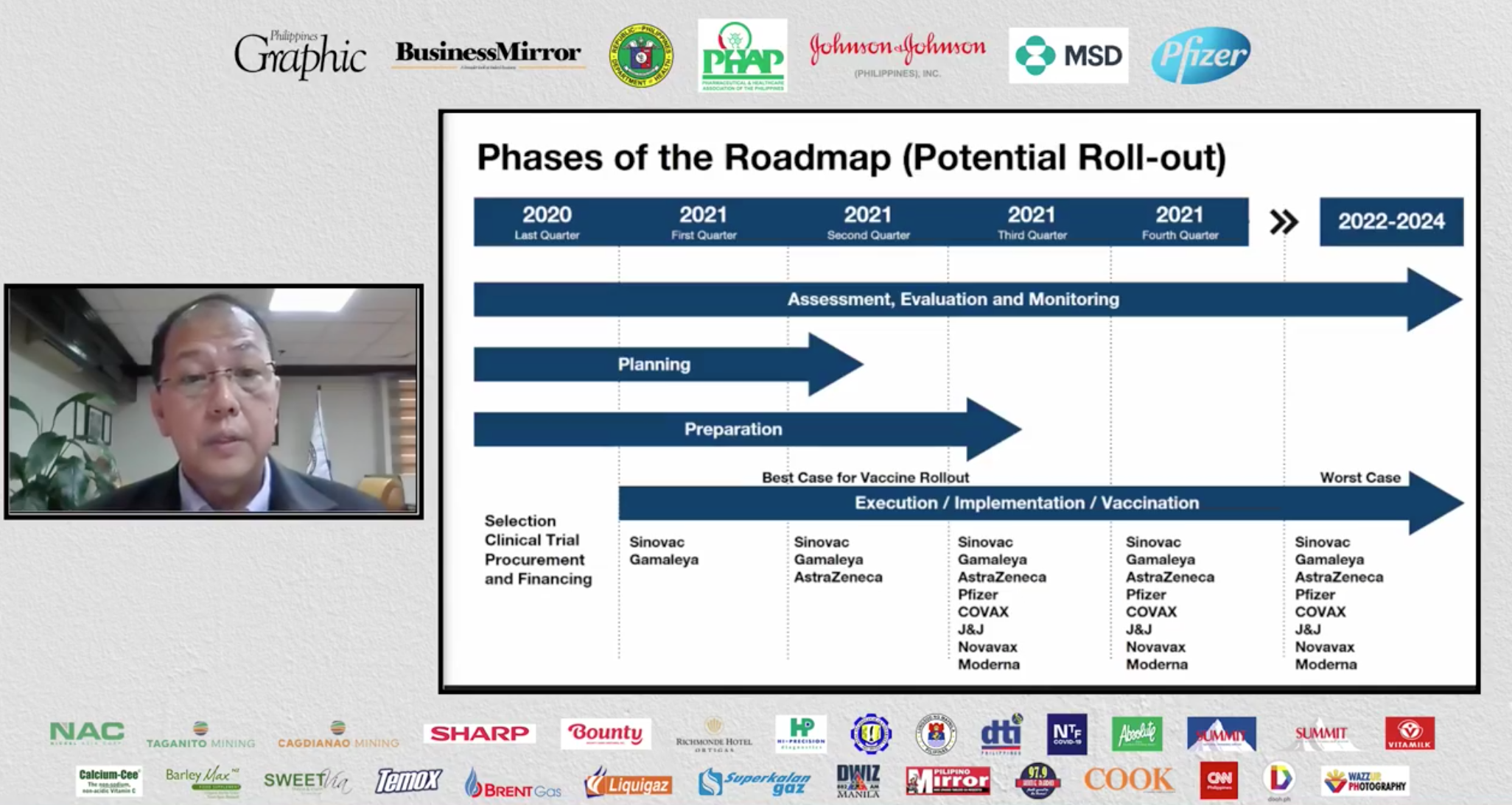 Meanwhile, there are still no vaccines that have been authorized for emergency or regular use by the Food and Drug Administration.
Galvez earlier said the worst case scenario would be that adequate supply of vaccines would arrive in the Philippines in early 2022.
The Department of Finance has so far said it would set aside P73 billion for the purchase of vaccines.
Galvez said this would be supplemented by a cumulative amount of $600 million to $1 billion that the Asian Development Bank and World Bank set aside to help the Philippines purchase a COVID-19 vaccine. 
Galvez said it was critical that arrangements for the purchase of vaccine supplies be completed by the end of the year to assure Filipinos of timely access to a vaccine once it is available. – Rappler.com