Vaccine czar Carlito Galvez Jr says 'more or less' 7 manufacturers will supply the vaccine doses for an initial 50 to 70 million Filipinos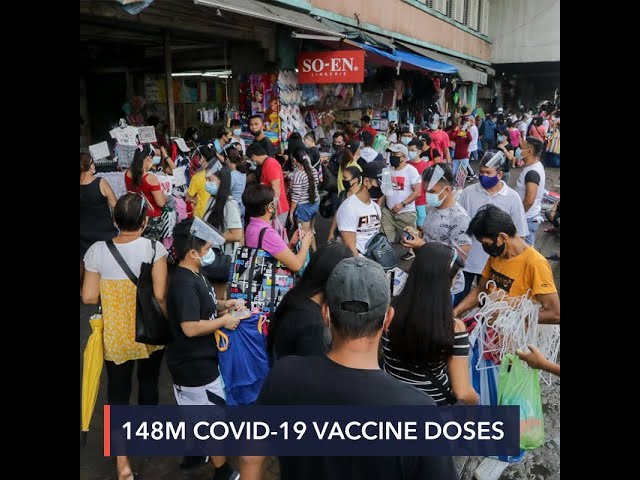 Philippine vaccine czar Carlito Galvez Jr said on Wednesday, January 6, that the government is targeting to secure at least 148 million doses of COVID-19 vaccines for the country in 2021.
The supply of 148 million, if fully secured, could cover some 70 million Filipinos, assuming two doses are needed per person. National Task Force deputy chief implementer Vince Dizon said the government wanted to vaccinate 50 to 70 million people within the year.
Galvez said the 148 million-figure was based on current negotiations with "more or less 7" vaccine companies that the government was in advanced talks with, including Novavax, AstraZeneca, Pfizer, Johnson and Johnson (Janssen Pharmaceutica), Sinovac, and Gamaleya.
"We hope to close a deal with these companies this month," he said in a virtual press briefing.
What's the timeline?
Galvez did not give specific dates on when vaccine doses from these companies may arrive in the Philippines.
He earlier said he expected Sinovac's vaccine to arrive in the Philippines as early as March, but this would depend on whether the Food and Drug Administration (FDA) approves the vaccine for emergency use. Sinovac has not yet applied for the necessary emergency use authorization (EUA) with the FDA.
(READ: How FDA grants emergency approval for COVID-19 vaccines, meds)
So far, a solid purchase deal was signed with AstraZeneca, the government, and private sector in November 2020. This is for the purchase of some 3 million doses expected to arrive around the second quarter of 2021.
Russia's Gamaleya Research Institute, meanwhile, is applying for Phase 3 clinical trials in the Philippines, while the FDA recently approved clinical trials for Janssen's vaccine that could start later this month.
Galvez also recently told President Rodrigo Duterte that the Serum Institute of India, which partnered with Novavax to produce its vaccine, promised to set aside 30 million doses for the Philippines.
As for Pfizer, no updates have been given after Galvez signed a confidentiality data agreement with the company in November 2020. Pfizer is the only vaccine company that has applied for an EUA with the FDA as of January 6. (READ: Why did the Duterte gov't take months to sign a vaccine deal with Pfizer?)
Why it matters
Launching a mass vaccination campaign against COVID-19 is crucial in taming the pandemic as soon as possible, though the Philippines has been lagging behind in a global race to secure supplies of the coveted good.
A recent study published in the BMJ medical journal found that based on advance purchase commitments, high income countries already reserved over half of doses to be supplied from 13 leading manufacturers.
"Even if all 13 of these vaccine manufacturers were to succeed in reaching their maximum production capacity, at least a fifth of the world's population would not have access to vaccines until 2022," the study said. – Rappler.com