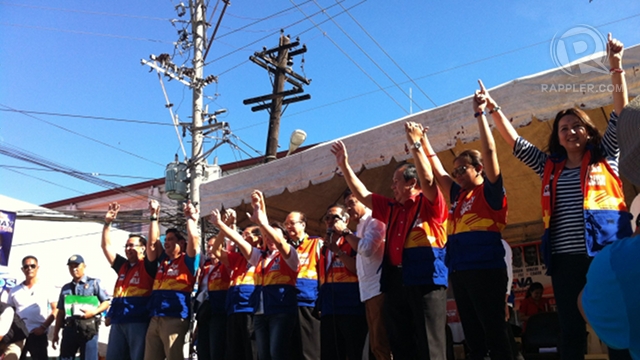 BOHOL, Philippines – Common candidates' absence in opposition events is becoming a sore issue for the United Nationalist Alliance (UNA).
After the absence of the 3 candidates in UNA's proclamation rally in Cebu, Vice President Jejomar Binay and UNA campaign manager Navotas Rep Tobias "Toby" Tiangco asked the bets to make up their minds.
UNA shares guest candidates Sen Loren Legarda, Sen Francis Escudero and Grace Poe-Llamanzares with the administration slate Team PNoy.
Tiangco told Rappler that while UNA let Legarda and Llamanzares send proxies to the proclamation, it will no longer allow representatives in future events.
"Hindi na ako papayag sa proxy sa susunod. Come to think of it, special treatment na nga ang binigay sa kanila eh," Tiangco said in a phone interview.
Tiangco added that those who do not appear in UNA's rallies will not have their streamers posted on the site.
Legarda sent her father, Antonio, to the UNA rally while Llamanzares' son, Brian, and actress Sheryl Cruz went on her behalf.
Escudero did not send a representative, prompting UNA not to post his campaign materials in the rally.
In an interview en route to Bohol, Binay also warned of a worst case scenario if the common candidates continue snubbing UNA events.
"Sa malamang [matatanggal sila]. Kung kami naman ay mukhang kawawa sa usapan ay hindi kami papayag." (They will likely be removed. If we end up being in the losing end, we won't allow that to happen.)
In another press conference in Loon, Bohol, Binay said UNA's top leaders will first meet about the issue.
Binay said UNA will have to discuss Team PNoy campaign manager Sen Franklin Drilon's statement that the 3 common bets belong to the administration.
Binay said that after the meeting, UNA will ask the common candidates where they really stand.
He said the choice will ultimately be up to the 3.
"Kung ano ang reaksyon nila batay sa usapan sa amin, siguro dapat sa kanila. 'Di namin kaya pagdesisyunan iyon. Sila ang nakalagay diyan para dumesisyon." (We will see what their reaction is based on our agreement. It depends on them. We can't decide on that. They will be the ones to decide.)
Binay said he is not yet giving the candidates an ultimatum.
"'Di pwedeng magpalugit dito kasi kung ayos pa ang usapan, tuloy pa rin ang samahan." (We can't give an ultimatum because if our agreement still holds then the relationship will continue.)
For now, Binay said he will hold the candidates to their commitment to also join some of the sorties of UNA, and will take developments on a "day to day basis."
"Remember when we got them as part of the group, they were also the ones to agree."
The tug-of-war for the common candidates has been a running issue for UNA.
Even during the filing of certificates of candidacy in October 2012, some UNA senatorial bets have lamented the privileges common bets get like being endorsed by both the administration and UNA even if they have not joined the latter's events.
UNA deliberately omitted the common bets from its ads, only featuring their names at the end.
'Basic courtesy, ethics'
A day after the proclamation, Tiangco reacted to Escudero's statement that he did not send a representative to the UNA rally because he was out of the loop.
Tiangco told Rappler that he actually went to see Escudero in the Senate last week to invite him to the proclamation. Initially, the senator was noncommittal about attending UNA's rally.
"Later, he said he wants to support Grace who has decided to join LP in Plaza Miranda. He offered to give a video message for UNA instead but I said I cannot allow that, kawawa naman ang partido namin (our party will be at the losing end)," Tiangco said.
Tiangco said he instead offered to move UNA's rally to 8pm so the 3 common candidates can fly to Cebu after the LP proclamation in Manila.
"But they said mahirap iyon, baka madelay ang LP rally so okay." (They said it will be hard because LP's rally might be delayed so okay.)
Tiangco said it was Legarda who came up with the idea of sending her father as her representative to the UNA event. Llamanzares also decided to send her son instead.
The UNA campaign manager said he texted Escudero while the senator was in the US if he could also send a representative but got no word.
'Like two suitors courting a girl'
Escudero told reporters during the Team PNoy proclamation that he was not aware that he could send a representative to the UNA rally.
Yet Tiangco said the burden was with the senator.
"This is basic courtesy and ethics. Para lang iyang ninong sa kasal. Kung 'di ka makakapunta, kailangan ko pa bang sabihin sa iyo na magpadala ng representative?" (It's just like a wedding godfather. If you can't attend, do I still have to tell you to send a representative?)
"It's proper courtesy. Respetuhin naman ang partido namin." (Please respect our party.)
Tiangco likened the situation to courtship.
"Parang panliligaw iyan eh. 'Di naman kami manhid at 'di namin pinagpipilitan ang sarili namin. Kung nakikita mo pareho kayo nagyaya ng date pero doon sa isa laging sumasama, anong gagawin mo kung ayaw sa iyo?" (It's like courtship. We are not dense and we are not insisting. If you see that you both ask the girl to a date but she only goes with the other guy, what can you do if she doesn't like you?) – Rappler.com