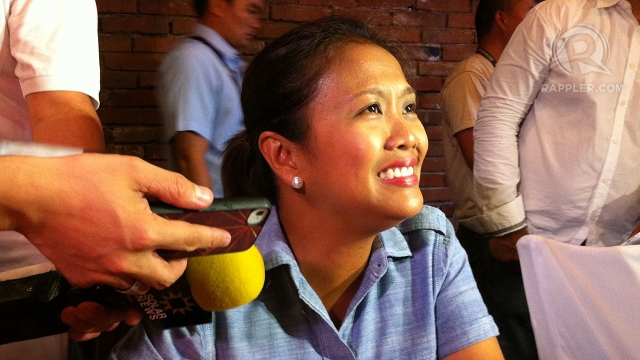 'SENATE'S MOTHER.' Senator-elect Nancy Binay says she will pursue her campaign platform of pushing for more daycare and feeding centers and an expanded immunization program. Photo by Rappler/Ayee Macaraig
MANILA, Philippines – In Makati, where her family has ruled for nearly 30 years, senatorial candidate Nancy Binay lost or nearly lost in 30 precincts.
Latest figures from the Commission on Elections showed that the United Nationalist Alliance candidate ranked 10th to 15th in 30 clustered precincts. The city has 479 clustered precincts for this year's elections.
She should have seen it coming. In the first-ever senatorial forum she joined during the campaign period – held at the Pamantasan ng Makati that her father built – Binay did not click with the audience.
Read: Nancy Binay won't get free ride in dad's bailiwick
Binay ranked 10th in 4 clustered precincts; 11th in 3; 12th in 4; 13th in 8; 14th in 6; and 15th in 5. These precincts represented 5,666 of Makati's 251,330 registered voters.
These precincts were in the following poll centers:
San Miguel Village
Bangkal Elementary School
Bel-Air Basketball Court, Solar corner Hydra Streets
Maximo Estrella Elementary School
Dasmarinas Village Clubhouse
Forbes Park Pavillion
Magallanes Village Clubhouse
San Lorenzo Village Clubhouse
Friendship Hall, Urdaneta Village
Valenzuela Sports Complex, Pililia corner Hormiga Streets
Cembo Elementary School
Many of these polling centers are in the exclusive subdivisions, where residents traditionally campaign against her father, former mayor and now Vice President Jejomar Binay.
Results transmitted by these precincts showed Sonny Angara, Bam Aquino, Ramon Magsaysay Jr, Grace Poe, and Richard Gordon taking the lead.
Meanwhile, Binay ranked 1st in 157 precincts and 2nd in 66 others.
Overall, Binay ranked 3rd in Makati City, garnering 165,666 votes. Grace Poe led the Senate polls in the city with 166,987 votes.
Members of the Binay family have held elective positions in Makati City for nearly 3 decades.
Before being Vice President, Jejomar Binay was mayor from 1986 to 1998, and from 2001 to 2010. His wife Elenita also held the same position from 1998 to 2001. His son Junjun will assume his second term as mayor. His daughter Mar-Len Abigail will be a second-term representative of the city's 2nd district. And Nancy Binay has been proclaimed senator. – Rappler.com