Almost unimaginable in the early months of the vaccine drive, the Philippines now has a stockpile of almost 40 million doses
If a lack of doses hindered the Philippines' COVID-19 vaccine drive in its early months, these days it faces a different challenge.
Government officials are now hard-pressed to accelerate reaching targets of administering shots, as country's vaccination rate has slowed down in recent weeks. 
After peaking with an average of 523,018 doses administered daily in one week during the start of August, the number of vaccine weekly inoculations has dwindled to 375,773 as of October 17, tracking by Rappler showed. 
Vaccine Czar Carlito Galvez Jr. recently addressed the issue, saying the main challenge for health officials seven months into the rollout of vaccines was "throughput" – or the rate at which doses are administered in a given time. 
Speaking to President Rodrigo Duterte on Tuesday night, October 18, Galvez said in Filipino: "If we look at March and September, we were supply-driven, which means that because we lacked supply, we had low throughput. Now, sir, the problem that we're trying to solve now is this (throughput) – more or less we have 39 million vaccines stockpiled."
What are the factors?
Optimizing how vaccines are distributed and given out is crucial if the Philippines is to meet several targets, including the following:
Having at least 50% of the population vaccinated by the end of 2021
70% vaccinated by the May 2022 elections; and
Some 90% vaccinated later in 2022
For now, Galvez said logistical challenges are hampering the rollout of doses from the regional level down to municipalities where vaccines are deployed. "We notice that the deployment before arriving to vaccination sites takes more or less seven to eight or seven to nine days," he said in Filipino. 
Aside from this, local officials were facing the issue of vaccine hesitancy in their communities.
Galvez said local officials planned to address this by "sweeping" through barangays and conducting house-to-house visits, where officials would remind individuals about the need to get vaccinated.
Safety concerns on vaccines, along with access to vaccination sites, are among the biggest challenges facing the vaccine rollout, at least as of June 2021. Surveys by Pulse Asia and the Social Weather Station have validated these concerns. Both polls showed apprehensions on the safety of shots was a top consideration among adults unsure about getting vaccinated. In June, some 29% of Filipinos said they had no access at all to a vaccine site. 
Why this matters
The situation of having a stockpile of almost 40 million vaccines is one that was unimaginable months ago. Back then pandemic officials fended off criticism it moved too slow to acquire sufficient access to doses. 
Yet, even while supply was still scarce, experts had anticipated and warned the government of the need to improve how vaccines were received and administered because the bulk of orders were scheduled to arrive in the Philippines by late 2021 or early 2022. The government was unprepared to launch the COVID-19 vaccination drive, the largest inoculation program the country has had to mount.
Galvez said the government, with the help of the private sector, wanted to boost vaccinations in the next few months to reach at 1.5 million doses administered daily, or about tripling the current amount of vaccines currently given. 
It planned to ramp up vaccinations by opening the rollout to the general adult population and introducing vaccine mandates that could see vaccinations becoming mandatory for some sectors like health workers and government, along with access to establishments like restaurants and the national conditional cash transfer program.
Aside from vaccinating some 90% of the Philippines' population, health officials were also planning to administer third doses to immunocompromised individuals. Government likewise tapped experts to determine when to start offering booster doses to other groups.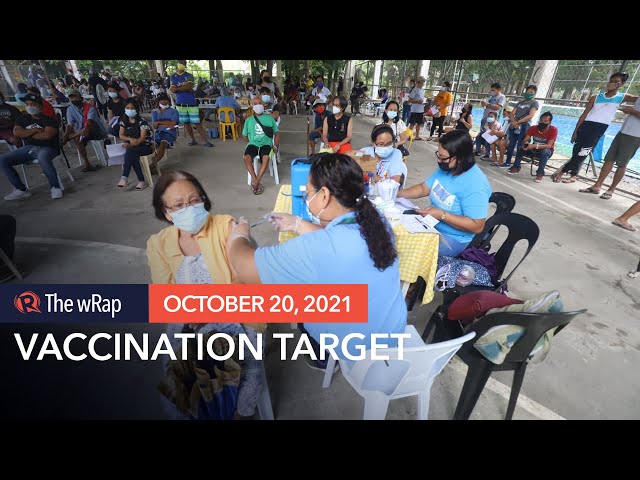 Many experts, as well as the World Health Organization, have stressed that increasing vaccination around the world, along with strengthening access to other treatments and diagnostic tools, remained among the top priorities in controlling the pandemic.
"While we want it to get to some predictability, this virus still has quite a lot left in it," Maria Van Kerkhove, WHO COVID-19 techinical lead told the Washington Post. – Rappler.com