Almost 4 years after the Marawi siege, a resident helps rebuild the city that he once knew, in the hopes that things will return to what they used to be before their lives – and homes – were shattered by war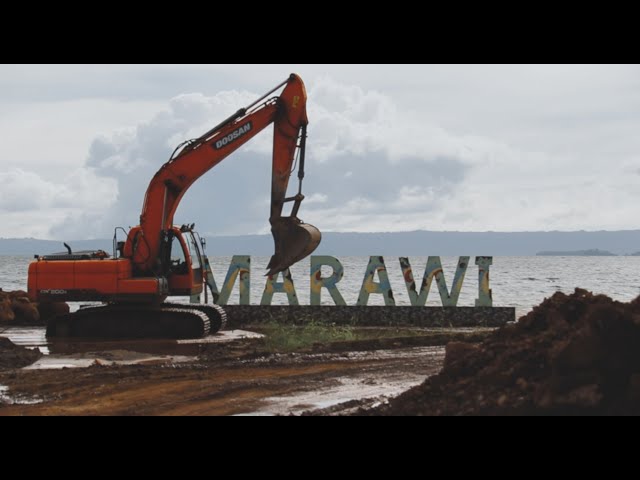 Three years into its rehabilitation, Marawi City is now disfigured with vandalism. The walls that used to be festooned with Maranao buntings are now riddled with bullet holes. Residents in their colorful dresses are gone, replaced by orange-suited construction workers wearing hard hats.
For some, joining the reconstruction effort is simply a form of livelihood. While for others, it is for a more personal reason—that is, to once again breathe life into what used to be the vibrant, tight-knit community of the Islamic City.
Jamael Alonto, 32, is among the thousands of construction workers working on the rehabilitation of the previously-besieged city. He works as a heavy equipment operator for one of the contractors authorized to rebuild the city's "ground zero".
When Marawi was "liberated" in October 2017, Jamael was given the opportunity to take part in the rehabilitation of his hometown. It broke his heart to see the place he grew up in ruins after the 5-month war.
However, the grief didn't take away his hope.
"Kaya tumulong ako dito magtrabaho kasi baka bumalik sa dati. Yung mga tao na nakaalis, baka matirahan nila yung mga bahay nila. Kasi matagal nang hindi natin nakita yung mga kapitbahay natin. Hindi natin alam kung saan sila nakatira ngayon," he said.
(That's why I helped in rebuilding the city in the hopes that things will return to what they used to be. The people who fled might return to their homes. We've never seen our neighbors for so long, we don't know where they live now.)
As someone who used to live in the devastated part of the city, Jamael recounted that he was not at home when the conflict broke out. He was worried about his mother because she was alone in their shanty then, and the roads leading to their home were closed, making it impossible for him to fetch her.
Without his knowledge, his mother also came looking for him a few days later until she found him seeking shelter in the provincial capitol of Lanao del Sur. He learned that she evacuated to Wato Balindong, about 20 kilometers away from their home, unable to bring anything with her.
He used to work as a conductor for jeepneys going in and out of the Mindanao State University in Marawi. Without any experience in handling heavy machinery, Jamael began working as a driver to make both ends meet.
"The rehabilitation of Marawi City is proceeding at a very slow pace," said the latest report of the Third Party Monitoring Team (TPMT). The immediate return of the residents from the most affected areas was the prime issue raised during the team's consultations with internally displaced persons (IDPs) and members of civil society organizations in the city.
As the Task Force Bangon Marawi (TFBM) raced against time to meet the deadline to finish their infrastructure projects in December 2021, families who were still living in displacement areas were hopeful to return and see the Marawi they used to know.
TFBM Chair Eduardo del Rosario said in a press briefing on November 27, 2020, that the implementing agencies would meet in the first quarter of 2021 to check if they still have programs to include in 2022. He clarified though that these would be non-infrastructure projects.
Meanwhile, the Bangsamoro Autonomous Region in Muslim Mindanao (BARMM) government has allotted P500 million in 2021 for the rehabilitation of Marawi as part of the 12-point priority agenda of the newly-created government.
Despite all these efforts, the question remained: Will the hope of Jamael and his people to rebuild the community they lost be realized? – Rappler.com