(UPDATED) 'Hayaan na po natin,' says Presidential Spokesperson Harry Roque, who claims most Filipinos also crack jokes to 'lighten' the mood after calamities
Filipinos should just accept President Rodrigo Duterte's sexist jokes during a situation briefing on typhoon devastation in Luzon because it's his way of coping with adversity, said Presidential Spokesperson Harry Roque on Monday, November 16.
"Hindi 'nyo ipagkakait sa kanya (the President) na dahil sunod-sunod ang nakikita niyang trahedya eh kahit papaano, humanap ng dahilan para magkaroon ng kaunting break from 'yung mga kalamidad ng binibisita niya," said Roque during his regular Malacañang press briefing.
(You can't deny it from him because he was looking for a little break after the consecutive tragedies he saw from the calamities of places he visited.)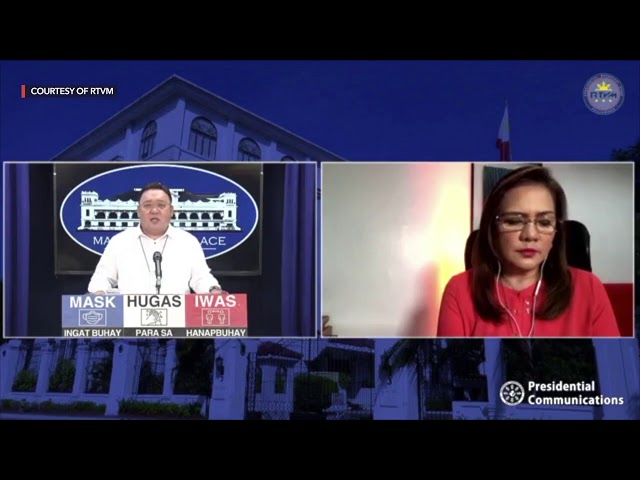 Roque even said this manner of finding solace from tragedy is common among Filipinos.
"Ugali na ng Pilipino na bagamat marami tayong pagsubok eh sinusubukan pa rin natin na i-lighten 'yung ating mga problema. So hindi lang naman po 'yan gawain ng ating Presidente," said the Duterte spokesman.
(It's the attitude of Filipinos that, though we may go through so much hardship, we still try to lighten our problems. So this is not just something only the President does.)
No other government official or typhoon victim has made sexist jokes on television as a response to a series of disasters in the past weeks.
Still, Roque said the public should "not read anything beyond the fact" that Duterte supposedly just wanted to "lighten the mood" of a meeting that tackled the rising Typhoon Ulysses (Vamco) death toll, billions of pesos worth of agricultural damage, and submerged barangays.
"Hayaan na po natin. Bigyan naman natin ng pagkakataon na magkaroon ng light moment ang ating Presidente," said Roque.
(Let's let it be. Let's give our President a chance to have a light moment.)
What did Duterte say?
Duterte and other government officials had joked about being "undersexed" during a post-calamity situation briefing in Pili, Camarines Sur, on Sunday, November 15.
Duterte had joked with Presidential Adviser for Bicol Affairs Marvel Clavecilla about having too many women, to which Clavecilla replied that he was "undersecs," a word play on his official title of undersecretary.
Duterte had also implied that an official he knew had died of COVID-19 because he "lacked women."
Theresa de Vela of the Women and Gender Institute (WAGI) condemned Duterte's and Roque's remarks, saying they are a step back in the country's efforts to fight sexism.
"It would seem both Mr Duterte and Mr Roque need to be reminded that we have a Bawal ang Bastos law that clearly prohibits sexist remarks, regardless of motive," she told Rappler.
She said women often carry the burden of taking care of their families during and after typhoons.
"A burden made heavier because of the inefficient response and prevention to typhoons. A burden made even heavier when you have a government making light of sexism and making light of the tragedy that so many families have to deal with," said De Vela.
No end in sight for Duterte's sexism
Duterte's sexist jokes have been a long-standing issue, even since the start of his 2016 presidential bid when he had sparked widespread outrage for saying he wished he had raped a "beautiful" Australian missionary killed in a prison riot in Davao City.
As President, and during official televised speeches, he has joked about shooting communist rebels in the vagina and has blamed rape incidents on the appearance of women.
Feminist groups have condemned these remarks, even as the Palace tries to project Duterte as a champion of women's rights.
Whenever he faced outrage for his sexist jokes, Duterte would say he was exercising his right to free speech. – Rappler.com