This is AI generated summarization, which may have errors. For context, always refer to the full article.
(3rd UPDATE) Vice President Sara Duterte leaves the party after the 'demotion' of Deputy Speaker Gloria Macapagal-Arroyo in the House of Representatives
MANILA, Philippines – Vice President Sara Duterte resigned from her political party Lakas-CMD, after a tumultuous day at the House of Representatives involving its top party leaders, Speaker Martin Romualdez and former president Gloria Macapagal-Arroyo.
In a statement on Friday, May 19, Duterte thanked the party that was largely credited by analysts as the political machinery that catapulted her to the vice presidency, but she did not provide a categorical reason for leaving it.
"This is to announce my irrevocable resignation as a Lakas-CMD member effective today," she said. "I am grateful to all the party members for the support that also once demonstrated that unity is possible to advance our shared dreams for our fellow Filipinos and our beloved country."
Duterte was the chairperson of Lakas-CMD.
"Nothing is more important to me than being able to meaningfully serve our fellow Filipinos and the Philippines – with President Ferdinand Marcos Jr. leading the way. Trust that my word, my commitment will be immutable," she added.
In her statement, Duterte indicated her aversion to the developments in the House of Representatives, using words similar to those used by Arroyo in her statement on Thursday, May 18, about the developments in the lower chamber.
"I am here today because of the trust of the Filipino people in me to lead and serve them and the country, and this cannot be poisoned by political toxicity or undermined by execrable political power play," Duterte said in an apparent expression of support for Arroyo.
Lakas-CMD was Duterte's top 2022 campaign donor, releasing P139 million in in-kind contributions to the political scion, mostly for ad spending.
In a statement, Lakas-CMD accepted Duterte's resignation. "As we respect her decision, we understand her reason for leaving the political party," said Lakas-CMD secretary general and Agusan del Norte 1st District Representative Joboy Aquino.
"We also support her call for all political leaders to unite in support of President Ferdinand Marcos, Jr., and for all of us to work for the success of this administration for the benefit of our people."
Asked in a media interview about Duterte's exit from Lakas-CMD on Friday, Marcos said he understood the Vice President's sentiments.
"Very simple – exactly as she says, she has too much work to do, she cannot allow herself to be distracted…to be involved in whatever is it that's going on," Marcos said.
The President also said that Duterte is busy with her job as education secretary and now, as co-chair of the National Task Force to End Local Communist Armed Conflict. "I can understand why sasabihin niya, 'Ayusin 'nyo muna 'yan (she would say, 'Fix that first).'"
House conflict
On Thursday at 11 pm, Deputy Speaker Arroyo – who is chairperson emeritus of Lakas-CMD – issued a lengthy statement dispelling rumors that she was trying to steal the speakership from its party president, Representative Martin Romualdez.
Both are longtime allies with a mentor-mentee relationship.
"It should be noted that being speaker once more is no longer part of my political objectives. This has been my position ever since Speaker Romualdez was elected in the 19th Congress, and I continue to urge my Lakas-CMD party mates to support our party president in that role," Arroyo said.
She also called the developments as "early politicking," which she said might affect President Ferdinand Marcos Jr.'s mandate.
"Still, I do not want to precipitate or intensify any tendencies towards early politicking. We are just barely a year into the administration of President Marcos Jr., and it would be unfortunate if early politicking resulted in any dilution of the tremendous mandate that the UniTeam, led by our President, earned in the 2022 elections. After all, the President ran on the platform of unity," Arroyo said.
Her statement came after the House leadership demoted her from senior to a regular deputy speaker in the final minutes of the plenary session on Wednesday, May 17.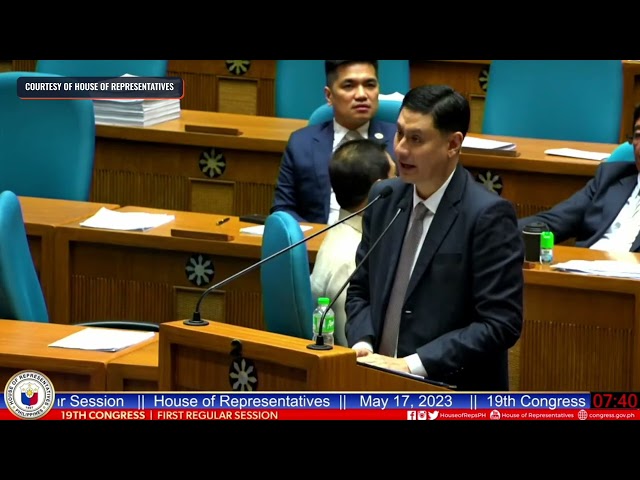 House Majority Leader Mannix Dalipe claimed the move was meant to relieve her of a "heavy load" that comes with the title, but a quick look at the House rules indicates that the position is an honorary title.
There are nine House deputy speakers – the chamber's second highest post – so a "senior" title distinguishes one from the rest.
The new senior deputy speaker is Arroyo's ally from Pampanga province, Representative Dong Gonzales, a member of PDP-Laban.
From Thursday to Friday, numerous power blocs in the House issued a press release reiterating their support for Romualdez, after rumors of a supposed ouster plot swirled in the chamber.
These include the PDP-Laban, the Nacionalista Party, the National Unity Party, Nationalist People's Coalition, party-list coalition, and the House minority.
Marcos briefly mentioned the speakership issue when he addressed the League of Provinces of the Philippines on Friday, May 19.
"I won't make any comments about the speakership as of yet," he said, after his cousin, Romualdez, introduced him as the keynote speaker at the event. – With reports from Bea Cupin/Rappler.com