Senators now want the task force's multi-billion peso budget removed after its spokesperson Antonio Parlade Jr likens community pantry organizers to Satan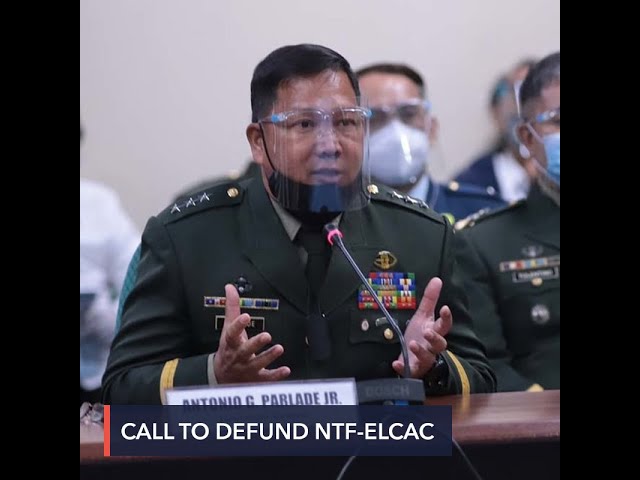 Some senators are considering the removal of the multi-billion peso budget of the government's anti-communist insurgency task force after its persistent red-tagging of community pantries.
Senator Joel Villanueva tweeted late Wednesday night, April 21, that the P19.1-billion budget allocated this year for the National Task Force to End Local Communist Insurgency (NTF-ELCAC) is just going to waste after its spokesperson Lieutenant General Antonio Parlade Jr, likened the community pantry organizers to Satan.
"Oh my! We should move to defund NTF-ELCAC in the next budget. Sayang lang pera ng taong bayan (The people's money is going to waste)," said Villanueva, who used a face palm emoji in his tweet about Parlade's statement.
Villanueva then proposed reallocating the task force's current budget into subsidies for Filipinos severely affected by the coronavirus pandemic.
The community pantries – where strangers leave food and other essential items in a communal area so anyone can freely take the goods they need – started popping up due to the lack of government aid for indigent Filipinos.
Senator Sherwin Gatchalian agreed with Villanueva, saying the NTF-ELCAC's red-tagging practices is "not worth" taxpayers' money.
"I agree bro. If these are the kind of people who will spend hard earned taxpayer's money, then it's not worth it," tweeted Gatchalian.
Senator Nancy Binay likewise told CNN Philippines' News Night on Wednesday that its "high time" to review NTF-ELCAC's budget.
"Budget season is coming, we will be, I will really make sure that we'll be addressing the budget for NTF-ELCAC. Maybe it's high time that we really review their budget," said Binay.
Senator Risa Hontiveros from the minority bloc was thankful that some of her colleagues in the majority bloc are now pushing to defund NTF-ELCAC.
Hontiveros had earlier pushed to realign portions of the task force's 2021 budget into calamity response instead.
"Hindi nila ipinakitang karapat-dapat silang nakatanggap ng ganyang kalaking budget, and if there are already calls in the rest of the Senate na 'wag na silang pondohan, I would gladly support that again," said Hontiveros in a virtual press conference. (They have shown that they do not deserve a huge budget, and if there are already calls in the rest of the Senate not to give them any funds, I would gladly support that again.)
Hontiveros on Thursday filed Proposed Senate Resolution No. 705 calling on the entire chamber to "strongly condemn" the harassment and red-tagging of community pantries.
Senators now want NTF-ELCAC defunded after Parlade told One News on Tuesday, April 20, that the community pantries meant to help the poor are supposedly like the apple that Satan had offered Eve in the Bible creation story.
Parade said Satan in this case is Ana Patricia Non, the woman behind the pioneering community pantry set up in Maginhawa Street in Quezon City. Non had to temporarily shut down the program on Tuesday due to red-tagging by the QC Police District and the NTF-ELCAC.
Senate President Vicente "Tito Sotto" III, however, disagreed with his colleagues, as he still considers the anti-insurgency task force as a "good" program.
Instead, Sotto proposed replacing NTF-ELCAC's officials who are making "irresponsible" statements.
"No. I believe the NTF-ELCAC program is good. Defunding it would give back the gains of government to the rebels. We should not be hasty in blaming a good program because of irresponsible statements from some officials. Replace the officials instead," Sotto told Rappler.
This isn't the first time that lawmakers had called to realign the P19.1-billion budget of the NTF-ELCAC.
Just before the 2021 General Appropriations Act (GAA) or the law on the national budget was passed in December 2020, minority senators wanted the task force's budget reapportioned to health, social welfare, calamity response, and housing programs.
Realigning NTF-ELCAC's 2021 budget for subsidies as proposed by Villanueva is easier than done, however.
President Rodrigo Duterte is empowered to cancel projects or programs in the national budget and turn it into savings instead. But for the money to be reallocated for subsidies during the pandemic, Congress would have to pass an enabling law similar to Bayanihan 1 and 2.
Defunding the NTF-ELCAC may also happen in the 2022 expenditure program – an election year budget – which Congress is set to begin scrutinizing by August or September this year. – Rappler.com