(3RD UPDATE) The Chief Executive makes the remark in reference to calls for his own daughter Sara Duterte to run for president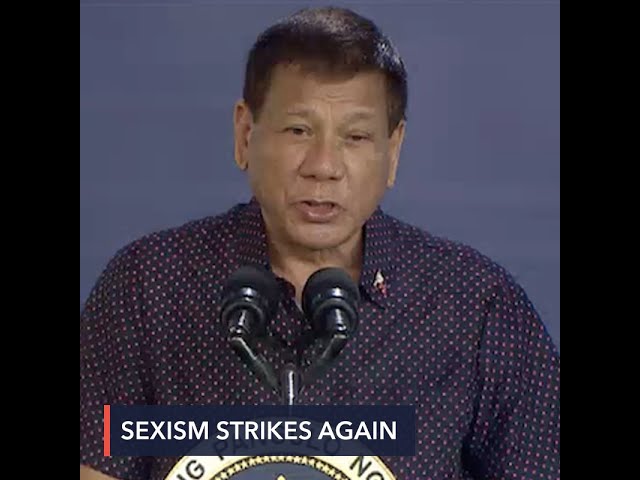 President Rodrigo Duterte's sexism reared its ugly head once again as he proclaimed in a speech that women aren't cut out to be president of the country.
Duterte, speaking at the formal opening of the Skyway Stage 3 project, made this comment in reference to his own daughter, Davao City Mayor Sara Duterte, who he said he advised not to run for president in 2022.
"My daughter, inuudyok man nila. Sabi ko, 'My daughter is not running.' I have told Inday not to run kasi naaawa ako sa dadaanan niya na dinaanan ko. Hindi ito pambabae," said the Chief Executive in front of Cabinet members, businessmen, and other government officials.
(My daughter, they are egging her on. I said, 'my daughter is not running.' I have told Inday not to run because I would pity her if she goes through what I experienced. This is not for women.)
He continued: "Alam mo, the emotional setup of a woman and a man is totally different. Maging gago ka dito."
(You know, the emotional setup of a woman and a man is totally different. You'll become a fool here.)
Sara responds
Asked for comment on his father's remarks, Mayor Sara Duterte said she went to see the President last January 8.
"I told him I do not intend to run for President. He replied, 'Very good.' He also said he did not want me to run, but nothing about gender was discussed," she told Rappler.
Asked if she had anything to say about Duterte's claim about the capability of women to handle the presidency, the younger Duterte said: "That is his opinion. I do not take offense because he will also respect my opinion if I say otherwise."
'Presidency not a job for misogynists'
Akbayan chair emeritus Etta Rosales slammed Duterte's misogynist remark but said she agreed with him that his daughter should not run for president  "for the simple and obvious reason that Sara as president will not exact accountability from her father over his high crimes against the people."
"The presidency is not a 'man's job.' It is a job. It is a job for all those willing to be held to the highest standards of governance regardless of one's gender, sexual orientation, identity and expression. The presidency is a job for those who can effectively lead with respect for human rights, justice and democracy," she said.
"It is not a job for mass-murdering tyrants, misogynists, sycophants, and incorrigible, lazy, and incompetent leaders. Neither is it a job for Mr Duterte's continuity candidate, family member or otherwise, in a desperate bid to evade accountability and cling to power," she added.
Responding to Duterte's latest sexist remark, Senator Risa Hontiveros said in a statement on Friday: "Filipino women have endured and overcome more than his presidency, and we will help take it back for a more worthy administration."
Recurring sexism
Yet even before Duterte became Chief Executive, the Philippines has already had two female presidents – Gloria Macapagal Arroyo, a key ally of Duterte, and Corazon Aquino, who in fact appointed Duterte to his first major government post.
Duterte's sexism has been a recurring problem during his presidency. He's sparked outrage for cracking rape jokes, lewd behavior like publicly kissing a migrant Filipino worker in the mouth, and misogynist remarks about Vice President Leni Robredo.
Gender rights expert Theresa de Vela warned about the social cost of sexist remarks made in public by no less than the highest official in the land. – Rappler.com