This is AI generated summarization, which may have errors. For context, always refer to the full article.
Donsol Councilor Helen Garay and her two companions were last seen with Peter Joemel Advincula in Daraga town. They were later found dead in a used clothing store.
Police on Friday, November 12, arrested Peter Joemel Advincula alias Bikoy following the death of a Sorsogon councilor and two others in Daraga town, Albay.
Daraga police chief Lieutenant Colonel Bogard Arao identified the victims as Councilor Helen Garay of Donsol, Sorsogon, a vice mayoral bet; and two Donsol councilor aspirants – 44-year-old Kareen Averilla and 61-year-old Xavier Alim Miraso, both business people.
Arao said in a news conference that the three were found at Advincula's used clothing store at the C &E building in Barangay Busay, Daraga, on Friday, after Advincula himself reported to their office early Friday morning that day that he found the bodies.
The Daraga police chief said all three bodies had signs of gunshot wounds but did not give other details.
Survivor's tale
Arao said that hours before Advincula reported to the police, they had received a missing persons report from the companion of the victims, whom they referred to as the lone "survivor" of the incident.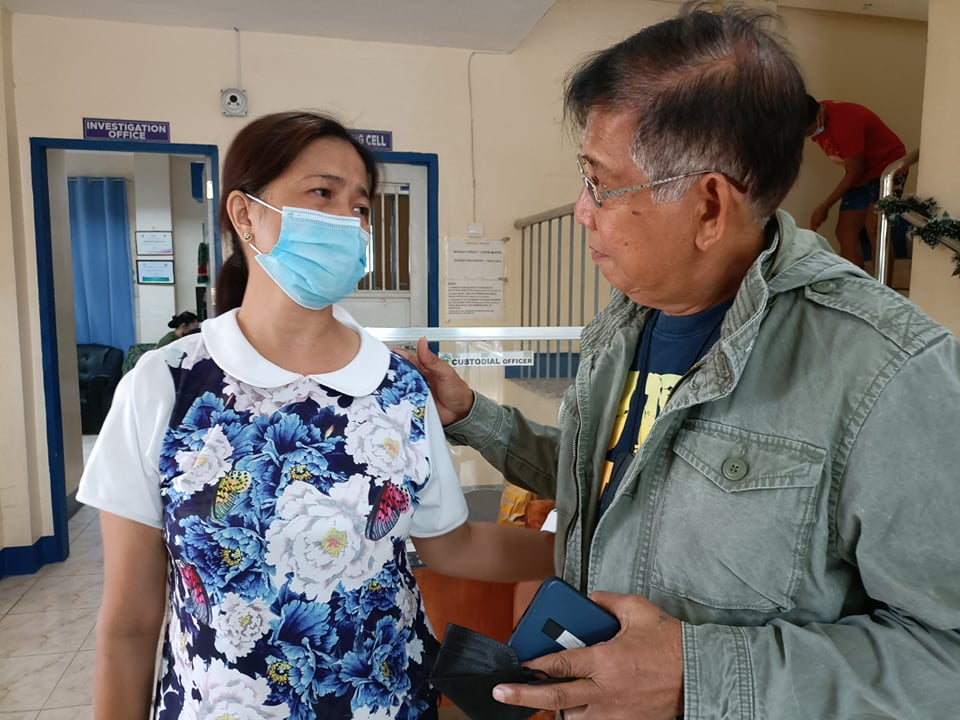 Arao said that at around 11 pm on Thursday, Lalaine Amor and her husband went to the Daraga police station to report that her three companions – Garay, Averilla, and Miraso – were missing, and that they were last seen with Advincula.
Amor, who is also running for Donsol councilor, told police that Advincula had invited Garay to a meeting with a supposed "coordinator" of a political camp in preparation for the 2022 elections on Wednesday, November 10. The unnamed coordinator allegedly wanted to tap the vice mayoral candidate as a local coordinator in Donsol.
Amor said Garay brought her friends with her, since they too were running for local office in 2022 and she also did not want to go to the meeting alone. They were supposed to meet with the coordinator on Wednesday, but Advincula kept on postponing the meeting, until they all had to spend the night in Legazpi City.
On Thursday morning, Amor said Garay received a call from Advincula and they agreed on a meeting place. Advincula arrived in a van at around 8 am, and initially took only Garay.
Advincula came back after two hours and took Miraso, and after two more hours, the third victim, Averilla, Amor told police. They were all taken to the used clothing store at the C&E Building in Daraga.
When Advincula returned for the last person in the group, Amor told police that she asked him why it was taking so long and where her companions were. She said Advincula told her that strict security protocols were being followed because of the person they were meeting.
Arao did not report any use of force by Advincula to get the victims to join him in the van. It was also not clear why they were willing to wait by the roadside for a long time to meet the supposed political coordinator.
Arao, however, said Amor told police that by then, she had become suspicious. Despite her misgivings, she still climbed into the van, and Advincula took her to the C&E building, just a few minutes away.
Arao said a frightened Amor took her chance when she saw people and caused a commotion, and that Advincula still tried to drag her into the used clothing store.
Fortuntely, Amor managed to break away and ran to a nearby sari-sari store for help.
'Huwag mo akong iwan'
Rappler managed to interview the woman who saved Amor. She refused to reveal her name but narrated the event.
She said Amor begged her for help. "Papasukin mo po ako. Huwag mo akong iwan," the frightened woman pleaded. "Nakikiusap ako, parang awa mo na."
(Please let me in. Don't leave me. I'm begging you.)
The sari-sari store owner said that even when she had let Amor in, Advincula followed, trying to drag her off with him.
She told Rappler that Advincula made handsigns to her that Amor was supposedly crazy.
The store owner took pity on Amor and led her to the house behind the store to borrow a phone. Advincula, she said, did not follow them because the commotion had attracted people.
Arao said Amor managed to call her husband who fetched her at a gasoline station near the C&E Building. It was not clear why they met away from the safety of the sari-sari store.
Arao said the couple arrived at the police station at 11 pm on Thursday to file a missing persons report. Amor then returned to Daraga the following day to thank the sari-sari store owner who had helped her, and learned of the bodies found in the nearby building. Amor went to the building, saw cops, and then Advincula. She approached the police and told them that he was the one who took away her friends.
C&E Building owner Cerilo Llaguno told Rappler in an interview that the tenant of the used clothing store is Agnes Abo but that he often saw Advincula around the premises.
The police identified Abo, also a politician and running as an independent candidate for Donsol mayor, as Advincula's live-in partner.
Arao did not name Abo as a suspect and said she was not around when cops came to retrieve the bodies.
Advincula came under the national spotlight in 2019, when he outed himself as "Bikoy" of the "Totoong Narco List" videos that linked members of President Duterte's family and allies to the drug trade. He later claimed that he was a mere pawn in a script to oust Duterte.
In July, a Manila court reordered his arrest after Advincula snubbed his arraignment over the perjury charge filed by the Free Legal Assistance Group (FLAG) in the Oust Duterte plot case. – Rappler.com