'In the interest of justice and fostering the unity that will strengthen our bonds as a nation, we ask that Senator De Lima be released at the soonest possible time'
MANILA, Philippines – The supporters of former senator Leila de Lima held a Mass on Friday, February 17, where they called on the administration of President Ferdinand Marcos Jr. to "turn his words into action" and free the senator, six years after her arrest.
"Mr. President, we appeal to your sense of fairness, truth and justice, which you have repeatedly espoused in your speeches," Catholic supporters of De Lima said in a statement presented during the Mass held at EDSA Shrine.
The statement highlighted that several key witnesses have recanted their testimonies in the drug cases against the former senator.
"Among the witnesses, four have recanted. All have claimed to have been coerced by government officials falsely accusing her. The latest recantation was made by Rafael Ragos, former officer-in-charge of the Bureau of Corrections (BuCor)," the statement read.

In their statement, they said De Lima's release should be done as a step toward "unity," the call of Marcos during the 2022 presidential elections.

"You campaigned on the platform of unity and, thus won over a majority of our people, who believed in your peaceful message, torn as they are by various issues that divided the country in the years prior to your assumption of the presidency. In the interest of justice and fostering the unity that will strengthen our bonds as a nation, we ask that Sen. De Lima be released at the soonest possible time," the statement added.

The site of the Mass, the Shrine of Mary, Queen of Peace, more popularly known as the EDSA Shrine, was built in 1989 to commemorate the February 24, 1986, People Power Revolution.

"EDSA Shrine is not just a place of worship. But it's a symbol of our quest for justice in defense of the oppressed and of course, it's also an advocacy for good governance," Father Jerome Secillano, rector of the EDSA Shrine, said during the Mass for de Lima.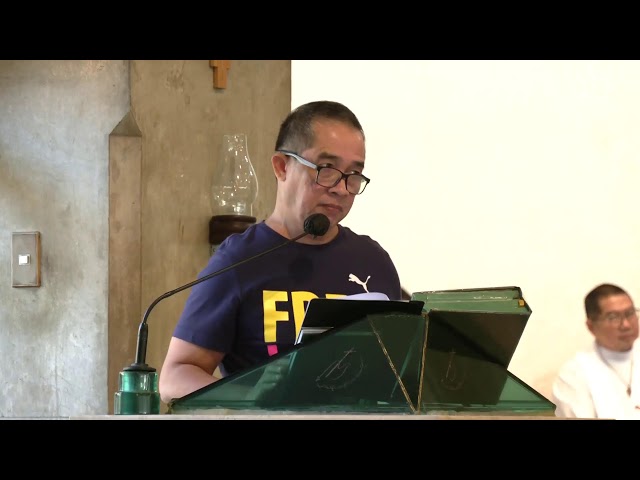 February 24 will mark the sixth year since the opposition leader was arrested and detained in Camp Crame, where she has not been allowed to speak to the public and has only communicated through messages on handwritten letters brought out by her staff.
Hundreds of supporters wore pink shirts and face masks, the color of the 2022 presidential campaign of former opposition leader Vice President Leni Robredo, who lost to Marcos in the election.

They also signed the statement calling on Marcos and Department of Justice Secretary Crispin "Boying" Remulla to free De Lima.
In a letter from De Lima, read by her brother Vicente "Vicboy" de Lima, she thanked clergy who would visit her on Sundays to hold Mass and said she gathered strength from the Catholic Church.
"Not only did I get spiritual guidance from our Sunday gatherings, I also drew strength from kindred spirits and co-warriors who fought for our shared causes – for truth, justice, and human rights," she said.
Activist priests Flavie Villanueva and Robert Reyes, who were outspoken critics of former president Rodrigo Duterte, were among the clergy who presided over the Mass.
Reyes said in his homily that De Lima continued to serve the people despite her no longer being in power.
"Mahal ni Leila ang Panginoon. Not money, not publicity, di pera, di PR, but our humanity, our freedom. Mahal niya ang ating dangal at ng ating kalayaan (Leila loves God. Not money, not publicity, but our humanity, our freedom.)," Reyes said.

Reyes himself received threats for openly criticizing Rodrigo Duterte and his bloody drug war campaign during the previous administration.
On February 10, lawyer Boni Tacardon, one of the legal counsels of De Lima, said they would again push for bail to seek the former lawmaker's temporary release. (READ: De Lima camp will push again for bail to seek temporary release)

Despite the six years in detention, De Lima said she regretted nothing.
"But as I always say, wala po akong pinagsisisihan (I regret nothing). The fight continues because this is not about Leila de Lima. It is about the fight of Filipinos to protect our democracy and civil liberties, not just for today but for the next generations to come," she said in her statement. – Rappler.com