WHAT YOU NEED TO KNOW
A tanker carrying 800,000 liters of industrial oil capsized off the coast of Naujan, Oriental Mindoro, on February 28, 2023. MT Princess Empress submerged two days after, according to the Philippine Coast Guard.
Since the incident, authorities have been on alert for oil spill in the affected area. Following the incident, the Department of Environment and Natural Resources (DENR) created Task Force Naujan Oil Spill, led by Environment Undersecretary and Chief of Staff Marilou Erni, who previously served as the corporate ground response coordinator during the Guimaras oil spill in 2006.
Bookmark this page for live updates on the Oriental Mindoro oil spill.
LATEST UPDATES
Oil spill reaches Calapan City
The oil spill from MT Princess Empress has reached the shores of Barangay Navotas in Calapan City, Oriental Mindoro, Mayor Marilou Morillo announced on her official Facebook page early Friday morning, March 17.
Morillo said it was detected past 9 pm Thursday, March 16.
In a statement, the Protect VIP campaign network called on President Ferdinand Marcos Jr. "to personally intervene and order relevant government agencies to pour all efforts and resources to contain" the oil spill.
"The only way to achieve the President's hope to clean up the oil spill in four months is to compel government agencies to direct all resources for containment. We are also in support of the consensus raised during the Senate hearing for the need to assign an oil spill response chief. Mr. President, the VIP is a crucial contributor to the Philippine economy. You must move now," said Protect VIP convenor Fr. Edwin Gariguez, who lamented that the government is moving "but not fast enough."
PCG: Over 1,000 sacks of waste collected from shorelines since March 1
The Philippine Coast Guard (PCG) on Wednesday, March 15, said a total of 1,071 sacks and 22 drums of oil-contaminated materials have been collected from the shorelines of 13 affected barangays in Naujan, Bulalacao, and Pola, Oriental Mindoro, from March 1 to 14.
During the same period, the PCG said 5,603 liters of oily water mixture and 50 sacks of oil-contaminated materials have been collected during its offshore oil spill response.
Sunken MT Princess Empress in Oriental Mindoro not brand new – Remulla
The sunken MT Princess Empress causing an oil spill in Oriental Mindoro and nearby provinces was not brand new, Department of Justice (DOJ) Secretary Jesus Crispin "Boying" Remulla revealed on Thursday, March 16.
"Isang major finding natin ay hindi siya brand new vessel. Itong barkong ito ay hindi brand new vessel, it is [a] rebuilt scrap – rebuilt scrap ship na dalawang beses ni-rebuild para maging tanker. It was not built to be a tanker from the very beginning," the DOJ chief told reporters.
Read more here.
MT Princess Empress was 'colorum,' MARINA insists
The Philippines' maritime regulator is standing pat on its Senate testimony that MT Princess Empress, the oil tanker that sank off Oriental Mindoro with 900,000 liters of oil was a "colorum" or unlicensed vessel.
In an interview with News5 on Thursday, March 16, lawyer Sharon Aledo, spokesperson of the Maritme Industry Authority (MARINA), said the shipowner – RDC Reield Marine Services – did not complete submission of documents that would have led to the addition of the company's new oil tanker to its fleet allowed by MARINA to operate. 
While in the process of amending their certificate of public convenience, the vessel's owner didn't seek a special permit to operate, says the maritime regulator.
Read the full story.
WATCH: Protecting Verde Island Passage from oil spill, other threats
Oceana legal and policy director Liza Osorio talks to Rappler about the Verde Island Passage, dubbed the 'Amazon of the oceans,' and how the Oriental Mindoro oil spill worsens threats in an already ecologically sensitive area.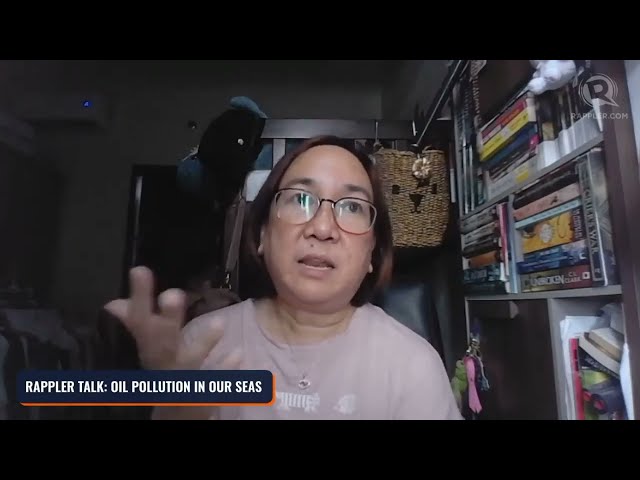 Recto to gov't: Use oil tax for oil spill cleanup, indemnification
Deputy Speaker Ralph Recto reminded the government that a day's worth of oil tax collections – P1 billion – can jumpstart "abatement and alleviation" measures in areas affected by the oil spill.
"Nature, when it is under threat, as in the case of the oil spill, is entitled to tax dividends," Recto said.
He said in a statement on Wednesday, March 15, that an excise tax is slapped on oil products because it is viewed as a harmful product.
"The argument was that it is paid to compensate for damages to health and the environment. That was how previous administrations framed their justification for higher oil taxes," Recto said.
"So can this principle be invoked in the Mindoro oil spill? Can collections of this specific tax be spent for the contingencies used to justify its imposition?" he asked.
May permit o wala? Coast Guard disputes MARINA, says MT Princess Empress authorized to sail
MANILA, Philippines – Hours after a Senate inquiry heard the country's maritime regulator say that the sunken oil tanker, MT Princess Empress, had no permit, the Philippine Coast Guard (PCG), which was also represented in the hearing, posted documents online seeking to discredit the Maritime Industry Authority (MARINA) chief's statements.
The PCG on Tuesday night, March 14, shared on social media six pages of the Certificate of Public Convenience (CPC) supposedly issued by MARINA to RDC Reield Marine Services Inc, the owner of MT Princess Empress which sank off Oriental Mindoro on February 28 with 800,000 liters of industrial fuel oil. MARINA's mandate is to "lead a progressive maritime administration for safer people, safer ships, and cleaner environment."