WHAT YOU NEED TO KNOW
President Ferdinand Marcos Jr. is set to deliver his State of the Nation Address (SONA) at 4 pm on Monday, July 25, at the Batasang Pambansa in Quezon City, the first in his six-year term in office.
The younger Marcos is poised to bare his top plans for a country still reeling from the long-lasting impacts of a pandemic that began two years ago.
Bookmark and refresh this page for updates, videos, fact checks, and analyses as Marcos delivers his first SONA.
Watch Rappler's coverage in the YouTube video below: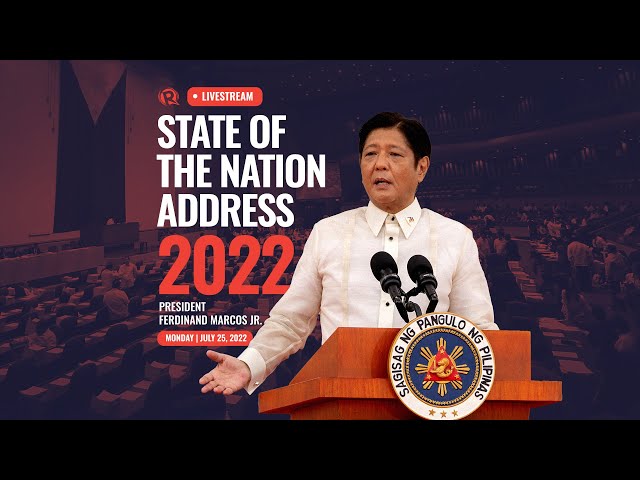 Further down the page, click "load more."
LATEST UPDATES
Who is new House Majority Leader Mannix Dalipe?
New House Majority Leader Manuel Jose "Mannix" Dalipe of Zamboanga City's 2nd District is one of two brothers in a pro-Marcos political circle that clobbered that city's Climaco and Lobregat political dynasties in the May 2022 elections.
Dalipe, 48, campaigned for his third term in the May 2022 polls under the Lakas-CMD party. One of his Facebook posts states that he is a member of the executive committee of the party now led by Vice President Sara Duterte.
His brother, John, 37, is the city's youngest mayor, thwarting then-outgoing mayor Maria Isabelle "Beng" Climaco's hand-picked successor.
The Dalipe brothers are the sons of former Zamboanga city mayor Manuel, who served as a helicopter pilot of the late dictator Ferdinand E. Marcos.
Prior to his Congress run in 2016, Mannix had served as city councilor from 1998 to 2007, and vice mayor from 2007 to 2010. – Rappler.com
Read full story here
SONA seen to be broken down, maximized by Marcos vloggers
It's no problem if not all supporters of President Ferdinand Marcos Jr. were able to comprehend his highly technical State of the Nation Address (SONA) – because the President's network of vloggers will be behind him to produce positive content about the SONA and up his image, according to Rappler reporter Rambo Talabong.
Talabong, who follows Marcos disinformation networks, said in Rappler's post-SONA panel that his speech was essentially still targeting his supporter base. "Napakadaling i-process 'yan [ng factory of Marcos content creators] on the ground to the people who might have tuned out now, pero for the next few days [and] few weeks, marami pang manonood diyan," he said.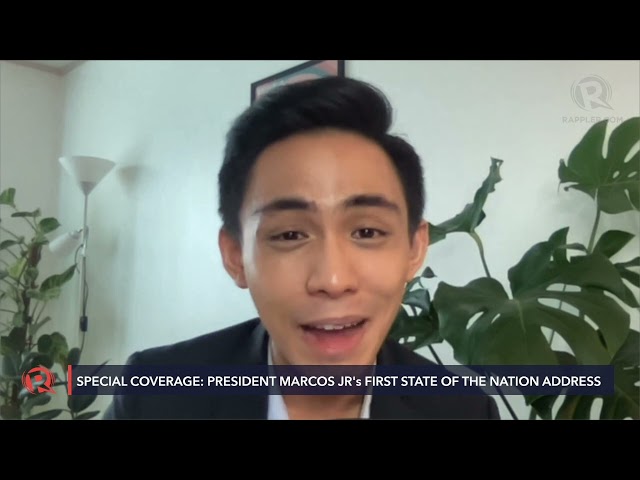 (It's easy for the factory of Marcos content creators to process [the SONA] on the ground to people who might have tuned out now, but for the next few days and weeks, many will still watch it.)
Marcos' own YouTube channel, which is active in uploading vlogs, may also create content like behind-the-scenes videos that will sustain attention on the SONA, Talabong said.
"This SONA is also part of a grander narrative, at magagamit din at magagamit ng kanyang base na maaaring nasa echo chamber… At merong mga taong papaliwanag para sa mga bagay na hindi maintindihan," he said. (His base, who may be in echo chambers, will surely milk the SONA… And there are people who will explain things that are difficult to understand.)
Makabayan bloc in Congress not satisfied with Marcos' speech
The Makabayan bloc in Congress is not satisfied with Marcos' speech, says it is full of generalizations and lacks specific details on programs for education and the youth. pic.twitter.com/CYbI5oz213

— Dwight De Leon (@newsdwight) July 25, 2022
Marcos zeroed in on his programs for migrant workers in his SONA speech. His DMW secretary Susan Ople says some of the programs that the president mentioned, like the One Repatriation Command Center, have already been launched. pic.twitter.com/CwtbxehROJ

— Dwight De Leon (@newsdwight) July 25, 2022
'Personal security can be threatened if trust of gov't isn't there'
Taken in the context of the anti-terror law and red-tagging tendencies of the NTF-ELCAC and a possibly less liberal government, the dangers of this cannot be ignored. Personal security can be threatened if trust of gov't isn't there. #SONA2022 @rapplerdotcom

— Chay Hofileña (@chayhofilena) July 25, 2022