The US warship is back in Manila amid heightened tensions in the region
MANILA, Philippines – Towering above a fleet of ships dotting the Manila Bay horizon, the massive silhouette of the US Navy's USS Ronald Reagan pierced the thick haze settling over Philippine waters.
It was the first time the American warship returned to Manila in over three years, or since August 2019, after lockdowns spurred by the COVID-19 pandemic, along with heightened tensions in the region, kept the vessel busy out at sea.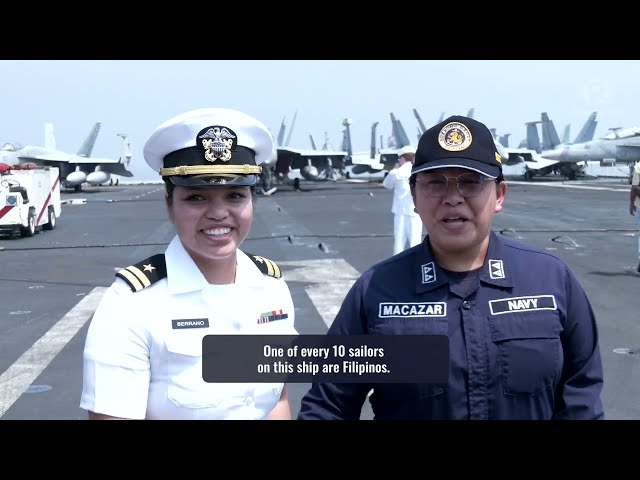 The USS Reagan is the US Navy's only forward deployed vessel, which means it's a first responder in times of emergency or crisis. Its visit to the Philippines brings the message that Washington is committed to both deepening ties with allies and ensuring peace and stability in the region.
This year alone, sailors onboard the vessel were involved in "routine" patrols off waters near Taiwan in August, after US House Speaker Nancy Pelosi's visit to the self-governing island brought tensions between the US and China to new heights.
Three days before arriving in Manila on Friday, October 14, the USS Reagan had also conducted maritime drills off the coast of South Korea, after North Korea held new bombing drills that included missile launches and the flying of warplanes near the South Korean border.
"Those missions reinforce our commitment that we will fly, steam, and sail anywhere international law allows," said Rear Admiral Michael Donnelly, commander of the Carrier Strike Group (CSG) 5.
For Philippine officials, the presence of the ship in the country was a welcome sign that both sides were committed to keeping waters in the South China Sea and the West Philippine Sea peaceful and open.
While in Manila, some 5,000 of the ships' crew will be able to leave the vessel for a short break, as well as participate in engagements with the Philippine Navy and charity groups.
The visit is the first under the new Marcos administration which, in contrast to its predecessor, appreciates the role of the world's only superpower in regional peace and stability. The presidency of Rodrigo Duterte had tested ties between the two countries, with the Philippine leader unilaterally terminating – and later restoring – the Visiting Forces Agreement.
"Our defense and security engagement remains a key pillar of Philippine and US relations. We appreciate the US government's willingness to work with ours as an equal and sovereign partner," Philippine Assistant Foreign Secretary Gunther Sales said.
Under Marcos, the Philippines has likewise expressed openness to the possibility of resuming joint patrols in the West Philippine Sea with the US, after Duterte had placed a ban on the activities for most of his presidency.
The port call is the latest in a drumbeat of significant engagements between the two countries, including a meeting between President Ferdinand Marcos Jr. and US President Joe Biden on the sidelines of the United Nations General Assembly in September. – Rappler.com