Villagers say a series of swine deaths began on January 12, allegedly starting with the hogs brought into the village by a dealer
GENERAL SANTOS CITY, Philippines – City hall workers seized at least 200 hogs in one village alone, sparking fears about another African Swine Fever (ASF) outbreak in the country's third-largest swine producer.
Workers from the City Veterinary Office (CVO) took close to 200 sows, boars, and piglets, early this week, Apopong barangay chairman Pao Natividad told radio station Brigada News FM in a recorded interview on Wednesday, January 26.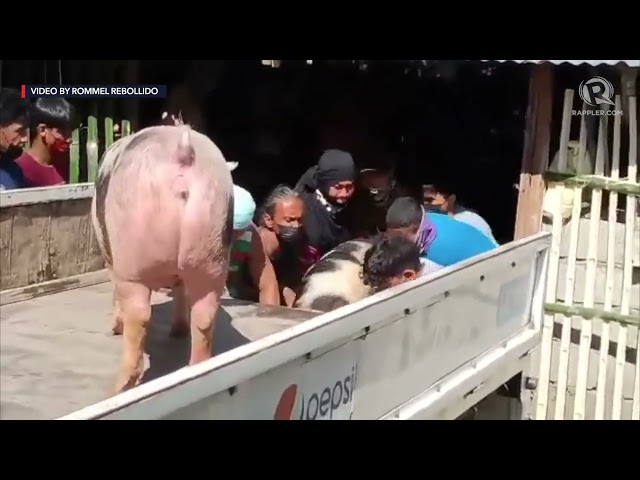 The CVO workers came on Tuesday, January 25, inspected backyard hog farms, and took specimens, he said.
Natividad said he was subsequently told that laboratory test results showed that the hogs had ASF, but no official from city hall or the Department of Agriculture (DA) was willing to confirm this on record.
General Santos has an estimated P8.4-billion hog industry, the third-largest in the country, and about 5,000 workers are dependent on it.
Councilor Richard Atendido, chairman of the city council's committee on agriculture, on Thursday, January 27, said there was no confirmation yet that recent swine deaths in Apopong were due to ASF.
"Let us be careful in saying it is ASF because it will have a big impact on our economy," Atendido said.
Villagers told Rappler on Wednesday that a series of swine deaths began on January 12, allegedly starting with the hogs brought into the village by one Franco Maguay, a dealer.
Rodolfo Nerimpas, 55, said he was paid P5,000 for each sow and P1,000 for every piglet taken for culling.
His sows, Nerimpas said, could have commanded a price of P15,000 each.
City veterinarian Antonio Ephrem Marin has avoided reporters, and he has not been answering calls and text messages from those seeking his comment.
But a CVO official, who spoke on condition of anonymity, said the hogs were found infected with ASF, but officials and large-scale swine producers feared that the information would hurt the local hog industry.
He said city hall culled hundreds of ASF-infected hogs, buried the animals in Barangay Conel, and managed to keep it as classified information two years ago.
Councilor Atendido unwittingly corroborated the source's disclosure when he told Brigada News FM on Thursday that there was an ASF outbreak in Barangay Conel in 2020.
In the last two years, the city produced an estimated 450,000 hogs, some 420,000 of which came from large-scale commercial hog farms. At least 15,000 heads of swine are shipped every two weeks to supply the requirements in Metro Manila, Cebu, and other areas in Luzon, and the Visayas.
The South Cotabato Swine Producers Association (SOCOSPA), an organization of big commercial hog farm owners, logged a sow population of 55,000 that produces more than 45,000 heads of hogs a month.
Only about 10% of SOCOSPA's hogs are sold in the Soccsksargen region, and 90% are shipped to Luzon and the Visayas. –Rappler.com
Rommel Rebollido is a Mindanao-based journalist and awardee of Aries Rufo Journalism Fellowship