This is AI generated summarization, which may have errors. For context, always refer to the full article.
(1st UPDATE) The jail became world-famous in 2006 for its dancing programs as a form of rehabilitation
CEBU CITY, Philippines – The famous dancing inmates of the Cebu Provincial Detention and Rehabilitation Center (CPDRC) performed for the public again on Friday, August 12, over two years since the jail was first put on lockdown due to COVID-19.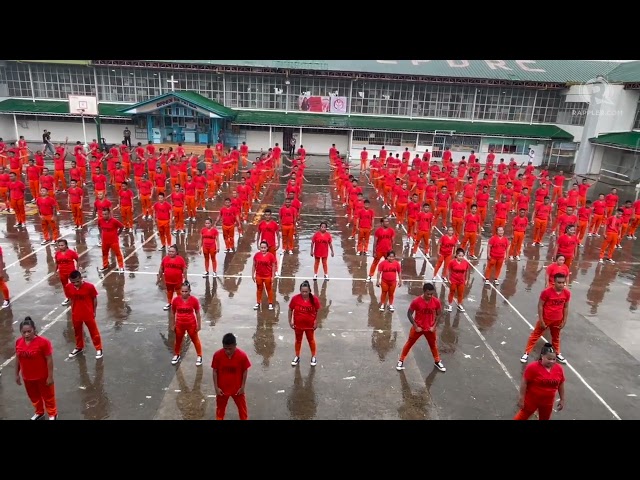 About 150 inmates participated, and opened their performance dancing to the tune of the Mission Impossible theme song.

In April 2020, jail personnel were required to stay in the jail, and no visitors were allowed, due to the rising cases of COVID-19 then. (READ: 17 Cebu provincial jail inmates test positive for coronavirus)
Governor Gwendolyn Garcia attended the inmates' first dance performance during the pandemic.
Garcia pushed for the relaunch of the inmates dance program as part of the provincial government's tourism push, to help reboot the local economy still recovering from the pandemic.
The total capacity of the jail is roughly 1,600, with about 800 currently serving time here.
Garcia told reporters they would not be charging entrance fees to watch the show.
"There will be no entrance fee, but guests will be limited. If they want to donate, we'll put out a donation box. And whatever they make from that we'll put it in their savings account," the governor said in Cebuano.
At the end of their performance, the inmates were given bank accounts with the Cooperative Bank of Cebu so that they could save earnings from the performances.
"We want you to leave here with the right skills and savings for your families," she added.
Inmate 'Alyas Taco', the only inmate authorized to speak to the media, said the inmates practiced over a period of three weeks to prepare for their performance.
Aside from the Mission Impossible number, they performed a medley of 80s songs and their classic Michael Jackson routine.
Taco told reporters that the challenge in coming up with the dancers for the performance this time around was that most of the good dancers from the previous program had already been freed because of the Court's effort to speed up cases to decongest jails.
So the CPDRC had to train new groups of dancers for this iteration of the dance program.
The jail became world-famous in 2006 for its dancing program as a form of rehabilitation and anti-violence program. Their video dancing to Michael Jackson's "Thriller" has over 50 million views to date.
The jail was also featured in the 2019 Netflix documentary Happy Jail. – Rappler.com