This is AI generated summarization, which may have errors. For context, always refer to the full article.
This is not the first time Ombudsman Martires has favored less transparency. He has also restricted journalists' access to the assets lists of government officials.
MANILA, Philippines – If Ombudsman Samuel Martires had his way, he wouldn't want to make public the audit observation memorandums (AOM) sent by the Commission on Audit to various government agencies every year, he told lawmakers on Monday, September 11.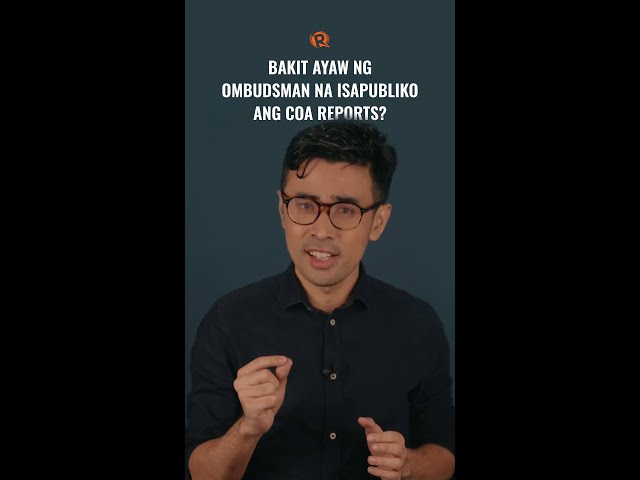 "I want to suggest to Congress, if we can remove from the special provisions or general provisions of the GAA (General Appropriations Act) lines referring to the publishing of AOM," Martires told the House of Representatives' committee on appropriations.
Martires said that an AOM "causes confusion" among the public because it gives the impression that the amount of flagged transactions necessarily went into the pockets of government officials. For example, he said, when "a P10-million project is flagged, they will say that a government official earned P10 million from that, when the agency just forgot to submit receipts."
On September 13, it became clear the government's chief graft buster had interchanged AOMs and annual audit reports (AARs) when he faced the congressional committee. He wanted clarified on Wednesday that he misspoke at the congressional committee, and that he meant to say he wanted AARs – entire audit reports – kept private.
What is an AOM?
According to COA Circular No. 2009-006, an AOM is "a written notification to the agency head and concerned officer/s informing of the deficiencies noted in the audit of accounts, operations or transactions." The memo requires them to comment on the observations and to submit documents and other information necessary to address the observations "within a reasonable period."
The issuance of an AOM does not necessarily mean there is corruption or an anomaly, but that there may be issues in the accounting, documentation, or implementation of certain processes and programs of a particular government agency. An AOM also provides an opportunity for government heads to explain their side on matters noted by auditors.
The auditors prepare their final audit reports based on the comments and information provided by the concerned agencies.
Not all AOMs are published. They are initially sent privately to heads of government agencies to call attention to specific deficiencies spotted by state auditors in public transactions.
When are AOMs published?
According to the same COA circular, if the agency official fails to reply within 15 calendar days of receipt, the observations should be deemed accepted, and may be included in the agency's full audit report and management letter, even without the responsible agency's explanation.
In cases where auditors may find the agency's explanation of the deficiencies unacceptable, a notice of disallowance, suspension, or charge, may be issued.
Why good governance advocates are concerned
It is the AARs that are uploaded in their entirety on the COA website every year, and these audit reports may include observations from AOMs, especially the ones not satisfactorily addressed by the agencies.
Center for Media Freedom and Responsibility board member Vergel Santos said in an interview with Radyo 5 on Tuesday, September 12, that the COA reports are open for public scrutiny to show transparency in government.
"That's why COA releases everything, people have a right to see it. And the people's right, freedom, should be expanded," Vergel said in a mix of Filipino and English.
"What should be restrained is power and control by the executive…. I can't understand why he would say the release of COA reports is causing chaos. If COA releases something, if there are observations, it is based on facts and numbers," he said.
A record of favoring less transparency
This is not the first time Martires has favored less transparency.
In 2021, he stirred a similar controversy when he announced that public access to the Statements of Assets, Liabilities, and Net Worth of public officials would be restricted. At the time, journalists questioned Martires, saying the policy went against the freedom of information. (READ: Ombudsman asks why he is being blamed for rule on SALN access)
House Deputy Minority Leader France Castro of ACT Teachers said the publication of AOMs "should continue" because it is one of the few instances that the public can check if their money is being used properly.
"It is like the publication of the SALN of government officials, so that the public may know if these officials enriched themselves while in office," Castro said.
"The publication of the AOM and the SALN are mechanisms for transparency and accountability for public officials. Doing away with it is like giving unscrupulous government officials carte blanche on the people's money," she added. – Rappler.com