A House lawmaker hits the Senate for canceling a charter change hearing 'at the last minute' – a decision which Senator Robin Padilla said was an 'order' from Senate President Juan Miguel Zubiri
MANILA, Philippines – Senate President Miguel Zubiri schooled Senator Robin Padilla on Monday, March 20, after the Senate canceled a planned joint hearing with House lawmakers about proposals to amend the 1987 Constitution.
Hours before Zubiri released a statement to the media, Padilla pointed to him as the reason why the joint hearing was scrapped – a decision that irked Padilla's counterpart at the House of Representatives. Padilla, in his own interview with reporters, said he is "sad" that the joint hearing with the House did not push through.
The public exchange between Zubiri and Padilla is the latest display of disagreement at the Senate over charter change.
While a constitutional convention (Con-Con) bill hurdled the House through an overwhelming majority of 301-7, Zubiri earlier told ABS-CBN News that a similar measure will fail at the Senate, as it will need the votes of three-fourths of the chamber, or at least 18 senators. Padilla had said in a February 23 forum, however, at least 11 senators support charter change.
In a statement on Monday, Zubiri confirmed that he asked Padilla "to postpone his invitation to our Representatives as resource persons." He explained, "Traditionally, the Senate does not invite incumbent members of Congress as resource persons, as they are accorded parliamentary courtesy, being members of coequal branch of legislation."
"Being a neophyte senator, the chair of the committee may not be yet be fully abreast with the traditions and practices of both chambers. But this tradition is to protect him and his committee as well, as we want to avoid a scenario in which conflicting opinions and heated arguments may take place, putting the chairperson in a bind, particularly on how to rule on such dicussions," he added.
Padilla, 53, is an actor-turned-politician who got the highest number of votes in the 2022 elections. In June 2022, Zubiri said only Padilla wished to head the Senate constitutional amendments committee, prompting Zubiri – a lawmaker at both House and Senate since 1998 – to advise him, "Study hard."
Last-minute cancellation
Cagayan de Oro City 2nd District Representative Rufus Rodriguez, chairman of the House constitutional amendments committee, expressed disappointment earlier on Monday over the cancellation of the hearing. He said it was scrapped "at the last minute without sufficient notice to invited resource persons."
"After inviting me last March 14, I received last night a notice of cancellation from the Senate committee on constitutional amendments and revision of codes. I was already prepared go to the Senate today at 10 am," said Rodriguez.
Prior to this, on Sunday, March 19, House Speaker Ferdinand Martin Romualdez said that he had spoke with Zubiri over the phone where they "conversed briefly on the topic of Constitutional reforms," hinting on re-scheduling the joint hearing.
Romualdez said that Zubiri assured him that the Senate would keep an "open mind" on the move by the lower chamber for economic reforms through constitutional amendments.
"I trust that other senators will continue to join Senate President Migz in keeping their mind open on amending restrictive economic provisions of the Constitution," Romualdez said.
But Zubiri clarified this, saying that what he told Romualdez was he openness to meet with the House leaders on the issue and have thorough discussion about the issue.
'We just followed orders'
The Senate committee on constitutional amendments on Monday went ahead with the hearing on Cha-cha without its counterpart from the House.
The hearing tackled Resolution of Both Houses (RBH) 6 and House Bill (HB) No. 7352. However, no detailed discussion was done on the two bills, with only two resource speakers attending the hearing – PDP-Laban secretary-general Melvin Matibag and former senator Kit Tatad.
Padilla is a member of PDP-Laban.
HB No. 7352 is important because it seeks to explain how exactly the Philippine government would form a constitutional convention, details of which were absent from the previously approved RBH No. 6.
"May mga bagay dito sa loob ng Senado at HOR (House of Representatives) na dapat kami ay sumusunod sa aming mga pinuno. Ako po ay may pinuno at pinuno ko ang ginoong pangulo na si Senator Migz Zubiri. At ganoon din naman may pangulo at Speaker ang HOR, nandiyan naman si Representative Martin Romualdez," said Padilla when asked why the hearing pushed through without the House lawmakers.
(There are things here at the Senate and at the HOR where we should abide by the orders of our leaders. I have a leader and my leader is Senator Migz Zubiri. And in the same way, the HOR has a speaker, they have Representative Martin Romualdez.)
Padilla, who is the chairman of the Senate committee on constitutional amendments, said that the hearing still pushed through because their invited speakers – Matibag and Tatad – were already there.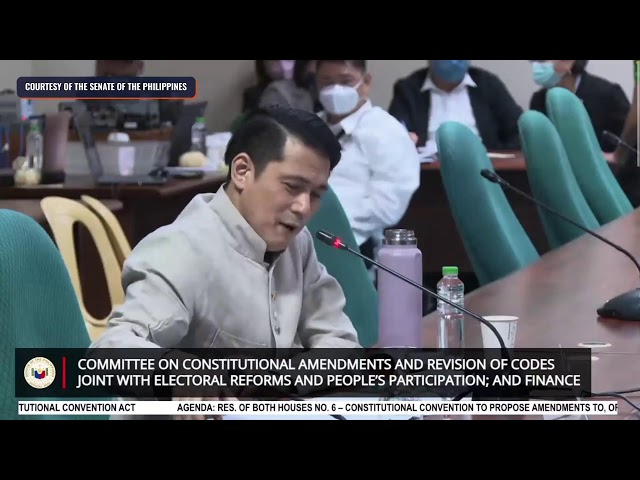 The senator added that he was sad because the joint hearing of both chambers did not happen as scheduled. He said that the new schedule for the joint hearing has yet to be discussed.
"Malungkot ako 'di natuloy. Kasi gusto ko magkabakbakan eh. Ito talaga ang hinihintay ko. Para po kasi sa akin, ang mga ganitong issue talaga, marinig ng taumbayan," Padilla said. (I am sad because it didn't push through. I already wanted a debate on this. I've been waiting for this. For me, this kind of issue, needs to be heard by the public.)
The lower chamber has already passed on final reading RBH 6 and HB No. 7352. Meanwhile, several senators are not keen on amending the economic provisions of the 1987 Constitution, as they believe that there are more urgent things to prioritize.
Cavite 4th District Representative Representative Elpidio Barzaga Jr. claimed that both leaders of the upper and lower chambers of the Congress have an apparent word war over revising the constitution.
"I urged congressional leaders to sit down and privately settle their feud over the House of Representatives push for constitutional amendments instead of quarreling before the public," he earlier said.
The word war, Bargaza said, started when Zubiri said the House's push to amend the charter's economic provisions appears to have delayed the enforcement of the implementing guidelines of three laws – the Public Service Act, the Retail Trade Liberalization Act, and the Foreign Investment Act.
Not just economic provisions
Both Matibag and Tatad agreed that the constitutional amendments should not be limited to economic provisions. They said that the changing the form of government should also be included.
"Total gagastos na rin talaga…. Sana kasama lahat. (Since we're spending anyway, I hope everything is included). It should be a holistic approach," Matibag said. (READ: House passes bill detailing how to proceed with charter change via Con-Con)
Matibag and Tatad are in favor of changing the structure of the Philippine government from a republic with a presidential form to parliamentary system. In February, Padilla said his proposed changes to the 1987 Constitution will be limited to economic provisions and will not cover political changes. – Rappler.com