Nobody coordinates efforts to peacefully end the crisis in Zamboanga City, thus the prolonged and bloody standoff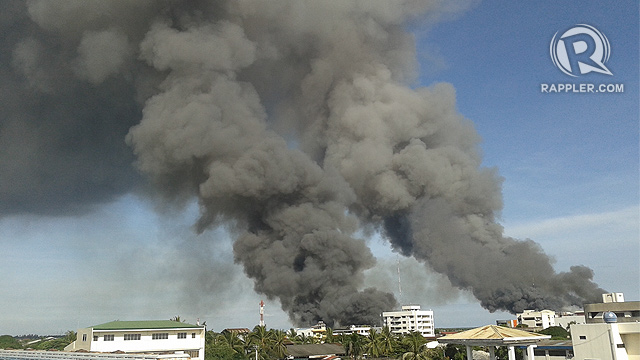 ZAMBOANGA CITY, Philippines – It was Friday the 13th.
September 13 was Day 5 of the standoff between government forces and followers of Moro National Liberation Front (MNLF) founder Nur Misuari who sought to symbolically declare independence at city hall. The break of dawn brought hopes that peace would be restored that day. After all, President Benigno Aquino III was arriving.
Inside the combat zone in Sta Catalina, Catholic priest Fr Michael Ufana — a hostage of Misuari's top commander Habier Malik — had forged an unlikely friendship with the MNLF commander. He offered to bring Malik's demands to the government for him to free all the hostages and stop fighting.
Meanwhile, barangay councilor and radio reporter Teodyver Arquiza was also waiting for calls from a "Commander Ismael" from the MNLF and his government contact so they could resume the previous night's operations that would complete the surrender of about 80 MNLF fighters and the release of their 38 hostages in adjacent Barangay Sta Barbara.
READ: About 80 rebels surrender
Ufana was praying he would be the instrument to end the siege. Arquiza was hoping that Thursday night's surrender would diminish the force of the MNLF and perhaps demoralize the others who would choose to remain inside the combat zone. But it would not be so.
Crisis response
A lot of things happened on Thursday night, September 12, that shaped the direction of government's response to the crisis. Members of the crisis management committee were actively negotiating with MNLF fighters to peacefully end the conflict, but the absence of clear and strong leadership made their efforts fruitless. 
The negotiators worked independently of each other and opened communication lines with the rebels. But nobody coordinated these efforts.
READ: Rappler's statement on the surrender in Zamboanga
On the ground, the chain of command wasn't as clear cut as well. Security forces were reporting to various commanders and public officials, each burdened with each sector's agenda. The crisis committee was a heavy mix of national and local figures — notably Secretary Manuel "Mar" Roxas II and Mayor Isabella "Beng" Climaco-Salazar — with very different views on how to proceed.
While the informal negotiations to peacefully end the siege were in disarray, the military was ready and waiting for the go signal to strike. City officials were prepared for a strike, too, as they issued a resolution that night ordering forced evacuation in the battle zone.
After all, in President Aquino's words, government had an "overwhelming force" in the city. About 4,000 troops — combined forces of the military and the police — had been deployed.
Flashback to Sta Barbara
Arquiza got involved in the negotiation because some of the MNLF's hostages are his constituents in Talon-Talon. Some members of the MNLF landed in the barangay shores, and as they marched toward city hall, they ordered people in the streets to join them. 
The MNLF shot at least two men who refused and tried to fight, Arquiza recalled. 
The military blockade prevented the MNLF from reaching city hall, where they wanted to hoist their flag of independence. "Commander Ismael" and his group camped out in a Sta Barbara mosque, not too far away from Malik.
One of their hostages is a pastor, David Nifras. It was his wife who contacted Arquiza and linked him (Arquiza) to her husband. 
"Saan ka? Kailangan ka namin dito kasi i-release na kami. Andito na kami sa labas ng mosque," Arquiza recalled Nifras as telling him over the phone Thursday afternoon, September 12. Arquiza demanded to talk to the MNLF commander and soon after they made the arrangement. The MNLF commander would turn over 38 hostages to Arquiza. After that, the rebels, mostly from the Yakan tribe of Basilan, would surrender.
Rappler was able to speak with Nifras days after, but he chose to keep quiet about what happened. He left Zamboanga to "heal," he said.
The reporter in him made Arquiza ask: Why are you doing this, commander? Ismael supposedly told him, "Kasi pagod na kami sa giyera. Ayaw ko na madamay [ang] mga taong ito." (We are tired of the fighting. I don't want these people to get involved.)
Arquiza said the commander's sole demand was that he report the surrender live on radio. He did. He reported over Radio Mindanao Network (RMN) the possible release of hostages. Afterwards, he proceeded to Sta Barbara later that afternoon of September 12 to escort the hostages out of the battle zone. But he was blocked by government troops.
It's not safe, he was told. He was surprised. "Commander Ismael" told him they had made their own arrangements with the security forces on the ground. They were only waiting for him. That's when Arquiza called his police contact and sought help. When he didn't immediately hear from them, he went home. 
Around 9 pm of the same day, Western Mindanao police commander Chief Supt Juanito Vaño called up Arquiza and then personally fetched him from his house in Talon-Talon. Arquiza thought Vaño would bring him to Sta Barbara, but he was instead brought to the headquarters of the Westmincom, the base of the crisis management committee.
Arquiza joined the police and some "negotiators" who discussed the surrender. He was, however, escorted out of the room before Mayor Salazar arrived. 
Arquiza was transferred to the Westmincom lounge, where he stayed with police officials who knew the policemen to whom the MNLF rebels in Santa Barbara surrended, such as PNP-Special Action Force commander Director Carmelo Valmoria.  Zamboanga City police chief Senior Supt Jose Chiquito Malayo was also in the lounge.  (Malayo would later figure in the surrender of 23 MNLF members, mostly from the Yakan tribe of Basilan.) 
READ: Hostaged? Zambo top cop doesn't look like it
Arquiza tried to call "Commander Ismael" but his phone was unattended. Valmoria then called someone, apparently an intelligence officer on the ground, who transferred the call to the "spokesman" of "Commander Ismael" who identified himself as Paul Casa.
Arquiza said he was instructed to sound scared. They were checking the sincerity of the surrender. 
Arquiza waited while the cops made decisions. But it was soon almost midnight and Casa said, "Bukas na lang. Pagod na si Commander Ismael." (Let's just do this tomorrow. Commander Ismael is tired.) 
"Medyo natagalan lang pagpunta doon kaya napagod si Commander Ismael. Hindi natuloy," said Arquiza. (The whole thing took awhile that's why Commander Ismael got tired. It didn't push through.)
But Arquiza heard the police say, "Wala na ito. Second option na."
The following day, Friday, September 13, they were supposed to try again. "Commander Ismael" and his government contact both called Arquiza, who waited in his house in Talon-Talon for further instructions. When he heard the heavy firing in the afternoon, he knew it was not going to happen anymore. 
Yakan tribe
Rappler reported on Thursday night, September 12, that about 80 MNLF fighters from the Yakan tribe of Basilan led by "Commander Ismael" surrendered to police troops in Sta Barbara. They were separate from the group in nearby Sta Catalina led by Habier Malik.
Police intelligence sources and residents in Sta Barbara told Rappler they surrendered to a small team of the Philippine National Police, the Presidential Anti-Organized Crime Commission, and the Philippine Center for Transnational Crime. 
"A certain member of MNLF under commander Ismael with white flag reached our position and negotiated their surrender," according to one source on the scene. Rappler was able to speak to Casa Thursday night. He said he approached the military at around 6:30 pm to arrange a ceasefire. "We asked if they were going to surrender, he said it's up to Commander Ismael."
A PNP source would later say: "They're in front of us, 70+. We dont' have the exact number of hostages." The PNP would also ask the rebels where Malik was. They were told he was not with them. He was "in the next mosque towards our direction."
The PNP began "processing" the surrenderees that night, but they could only do so much. They were waiting for Arquiza, who, unknown to them, was left waiting for hours at the Westmincom.
The Rappler story published on Thursday night was immediately denied by Secretary Roxas that same night, and by President Aquino the following day. The denials surprised people involved in the surrender, including Arquiza.
READ: Zambo councilor-reporter involved in surrender speaks and Rappler statement on the surrender in Zamboanga
In a text message to Rappler CEO and executive editor Maria Ressa on Friday morning, Roxas said, "There were some credible feelers last night [Thursday]. We were working on it and [they] evolved into some positive results early this morning."
READ: 'Positive results' in nego with rebels
Inside Westmincom
What Roxas failed to talk about was the committee's indecision on Thursday night.
While Arquiza was at the Westmincom lounge that night, security officials were talking about how difficult it would be to process surrenderees in the evening.
Jesuit priest Fr Albert Alejo, handpicked by Mayor Salazar to coordinate efforts to resolve the standoff, said he overheard Valmoria and Vaño discuss the "surrender of a lot of people" and that it was declared a "no go."
"Ito na lang kay Father, doable," Alejo overheard the police commanders telling each other. They were referring to Fr Ufana.
Alejo also overheard the officials say, "Hirap i-process 'yan. Gabi na. That's not possible. We need a lot of back-up. Times 3 ng sundalo. Kung may bakbakan pala. 'Yun pala may dalang granada. Bakit gusto may media? Delikado."
(It will be difficult to process them. It's already dark. It's not possible. We need a lot of back-up – 3 times the number of soldiers already deployed there. What if there's a firefight? What if they have a grenade? Why are they asking for the media? It's dangerous.)
Alejo said he didn't know what group they were talking about then and that he only faintly overheard the conversation. He said he would later ask Vaño about the surrender of the 80 MNLF fighters. "It did not happen," he was told.
In Sta Catalina 
Alejo, who had been in touch with Malik himself, presented the commander's demands for the release of Fr Ufana. Malik was asking for 500 food packs and an ambulance so the government could get from the battle zone two dead MNLF fighters and bury them. 
Alejo, Vaño, and Valmoria fought over the 500 food packs. They eventually reduced the number to 200. They also agreed to send a couple from Jolo to fetch Ufana. But it was soon 3 am and Valmoria said, "Madilim pa raw kasi. Delikado." (It's still dark. It's dangerous.)
Finally, they got Ufana out at 6 am, Friday, September 13, after Malayo was able to "clear" the area.
The food packs were delivered but government chose not to send an ambulance, which Ufana had insisted on. 
According to Rappler's intelligence sources, Ufana had to wait for at least 3 hours before he was finally picked up. This made him anxious and upset, they said.
Upon his release, Ufana immediately met Mayor Salazar at the Sangguniang Panlalawigan. He relayed Malik's demands — a ceasefire, an ambulance to carry wounded fighters and hostages, and, above all, a safe conduct pass.
Malik wanted a repeat of the ending of a similar attack that the MNLF launched in 2001 in Zamboanga City's Barangay Cabatangan. To end the standoff, he wanted the government to allow them to escape in exchange for the safety of the hostages.
Ufana would relay the same demands to Roxas in a phone call.
READ: Hostaged priest: Still picking up the pieces
Malik waited for the written agreement that would allow their "safe conduct pass." But it never came. As it turned out, this was non-negotiable for Mayor Salazar.
On Friday afternoon, the silence was cut by heavy firing. Malik called Ufana. "Father, andito na naman sila. Akala ko ceasefire?" (Father, they're here again. I thought we had a ceasefire?) That was the last time Ufana spoke with Malik.
By then, both Ufana and Arquiza knew they both had failed.
READ: Day 5 of Zamboanga crisis
The ghost of Cabatangan
Salazar, in a press briefing, declared, "I don't want a repeat of Cabatangan…. I stand firm. Charges will be filed as lives have been wasted here. I want to see them go to jail and never come back to this city."
She was referring to the 2001 MNLF siege in Cabatangan in this city that eventually ended without any charges filed against the rebels.
Towards the end of the crisis, the Philippine National Police revealed attempts by MNLF fighters, specifically the Yakans, to surrender. 
"They have decided to stop the fight and ceasefire. Unfortunately, repeated attempts by the Yakan group to contact the government and state their opposition to Malik's action failed," reads a September 22 press release by the PNP.
The Yakans' attempts supposedly angered Malik, prompting him to disarm the Yakans. In the process, two MNLF fighters were killed.
READ: MNLF members 'repeatedly' tried to surrender
Looking back, Arquiza knew that the destruction in Zamboanga City could have been avoided if the surrender of "Commander Ismael" and his group pushed through. 
"Kung may nakuha kaming hostages and then may nag-surrender na MNLF, 'yung group ni Commander Ismael, siguro hindi ganito kalala ang situation," Arquiza told Rappler in an interview on Day 7 of the crisis.
(If we only got to receive hostages and MNLFs who wanted to surrender, Commander Ismael's group, maybe the situation would not have been this bad.)
"Kung nangyari 'yun, maaapektuhan ang morale ng iba pang MNLF fighters," he added. (If that had happend, it would have affected the morale of other MNLF fighters.)
Guns prevailed
Afternoon of Friday the 13th, the military began advancing and stepped up attacks against the MNLF fighters. The offensive followed a city council resolution implementing forced evacuation and several fires that broke out in the battle zone.
The armed forces had been given the go signal that morning. 
Around 3 pm, government forces launched an assault to flush out rebels holed up in Sta Catalina. Seven APCs (armored personnel carrier) led the siege providing both cover and fire assistance for government troops.
The day still offered a glimmer of hope when Vice President Jejomar Binay announced a ceasefire between the government troops and the Misuari faction that was supposed to start at midnight. But this turned out to be a dud.
On Saturday morning, September 14, Zamboangeños knew there was no more turning back. 
"There was a heavy firefight this morning. Big-powered, heavy-powered arms already used. The way I see it it's already an assault," Rep Lilia Nuño said.
The military option prevailed. – Rappler.com