Faulty policy, failure of local leaders, poverty, and unabated population growth exacerbated damage wrought by a typhoon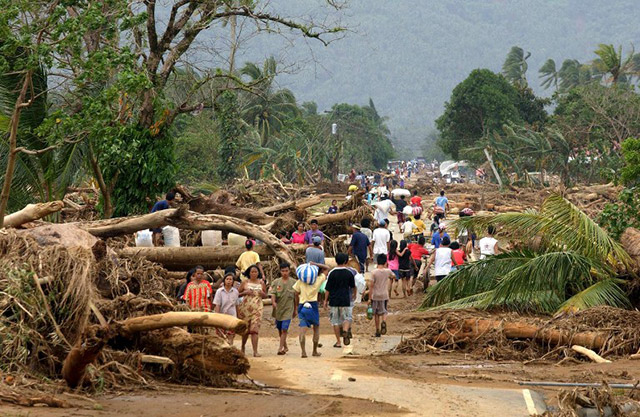 (Editor's Note: This story on the disaster that hit the towns of Real, Infanta and General Nakar in late November 2004 was first published by Newsbreak Magazine in January 2005. Since then, hazard mapping in the Philippines has evolved significantly. The new hazard maps give further insights on what caused this disaster.)

The rains started pouring that noon of Nov. 29, 2004, and with hardly any letup continued to fall till evening. Many residents of Real, Infanta, and General Nakar, all in Quezon province, braved the rains to do urgent tasks, but most stayed indoors. In Real, forester Florida Morada recalls that her family was about to eat dinner when they realized something was seriously wrong: the rising floodwaters had turned to thick mud.
Escaping through their second-floor window, Morada's family managed to evade the fate that many people in the three towns met that night. Landslides cascaded down the steep mountain slopes, bringing with them boulders, sand, mud, trees—and death. In some places, the waters rose to as high as six meters. People saw their loved ones drown or swept away by rivers of mud. As of the latest count, the typhoons that spawned the heavy rains and landslides had left over 1,068 dead, 1,061 injured, and 500 missing. Most of the casualties were from the three Quezon towns. Infanta was the hardest hit.
Some 20 million cubic meters of sand, mud, and rocks were carried down the mountains by the Agos, a huge river winding through the provinces of Rizal, Laguna, and Bulacan. It was as if a whole mountain had crashed.
In number of lives lost to floods and landslides, the provinces of Quezon and Aurora now come next to Ormoc City, where about 5,000 died on Nov. 5, 1991.
Illegal logging was tagged quickly as the main culprit. Nature exacerbated the catastrophe. The rainfall was extraordinary, observed Raymundo Punongbayan, former chief of the Philippine Institute of Volcanology and Seismology, an observation echoed in a report by the Mines and Geosciences Bureau (MGB) of the Department of Environment and Natural Resources (DENR).
Other factors had come into play. Data from the Forest Management Bureau (FMB) also of the DENR, pointed to another major cause: the conversion of forests into agricultural land. Much of Quezon and Aurora provinces is part of the Sierra Madre, the country's biggest mountain range, extending from as far north as Cagayan through parts of Southern Luzon down to the Camarines provinces in Bicol. Large swathes of the Sierra Madre had been converted to other uses. Over 60,000 hectares of forested land in Quezon and Aurora had been declared alienable and disposable, and thus were either already titled or open to private ownership.
Twin Problems
The pressure on forest resources from upland settlers had also increased as the population grew over the years. As of December 2003, about 10,000 people were living in the forests of Real, Infanta, and General Nakar. The figure does not include indigenous peoples, who move from place to place and are difficult to include in surveys.
The twin problems of poverty and population growth had made the forests easy prey to illegal logging.
Quezon is among the country's poorest provinces, ranking ninth among the top 10 provinces in number of poor families. Many in Quezon depend on the Sierra Madre for livelihood and survival.
Fortunately, Aurora, data from the FMB show, is still 70 percent forested. Only 20 percent of Quezon is forested, the rest having been converted into agricultural lands. Quezon's forested areas are mostly in General Nakar and Real. Compared to the rest of the country, Aurora and Quezon are better off in terms of forest cover, former DENR Secretary Fulgencio Factoran said. Recent satellite photographs show deep green areas in General Nakar and Real.
But the area is naturally hazard-prone, the MGB said. Infanta, spread over a river delta, is easily flooded. The last time a huge flood hit the place was on Sept. 3, 1929, but it did not cause the same amount of damage and casualties only because the population was much smaller then. An active fault line also cuts through the mountains from the Tignoan River in Real to General Nakar. The recent landslides occurred in both thickly forested and deforested lands. The verdict from the MGB: people there should be either relocated or properly warned of the hazards of living in the area.
Licensed Logging
From the '60s to the '70s, Quezon and Aurora had been home to several logging concessions. Practically all of them closed shop after around 100,000 hectares of land in Quezon, Rizal, and Laguna were declared a wildlife sanctuary in 1977.
Logging resumed in the '80s when the government and the private sector started projects in the area, leading to small-scale cutting of trees.
In 1987, about 11,000 hectares of forestland spanning at least eight barangays in Real were opened to agricultural settlement under Proclamation 196, which declared the land an agrarian reform area. It was then subdivided by the Department of Agrarian Reform and distributed to farmers.
In hindsight, Federico Ocampo, community environment and natural resources officer of Real, said many portions of the land should have been kept forested because they are very steep. The soon-to-be completed Marcos Highway, which will serve as a new route from Marikina in Metro Manila, will increase the pressure on the forests, he said. Construction of the road has already reached the Sierra Madre.
At the time the disaster struck, only two legal sawmills remained active in Quezon: the Kasibu sawmill in Real and the sawmill of the International Hardwood and Veneer Co. of the Philippines (Interwood) in Mauban. A former timber license agreement (TLA) holder, Interwood now has an active Industrial Forest Management Agreement (IFMA) with the DENR covering forestlands in Real, Mauban, and Laguna. An IFMA differs from a TLA in that the former is a production-sharing agreement with the government.
Wood cut by Kasibu is supplied by the Interpacific Forest Resources Corp., whose IFMA covers Dingalan and San Luis in Aurora.
While in office, DENR Secretary Heherson Alvarez approved an IFMA with Timberland Forest Products covering 34,000 hectares in General Nakar. Before Timberland could operate, however, Secretary Elisea Gozun canceled its IFMA in early 2004 because of protests from residents.
Hub of Illegal Logging
President Arroyo was among the first to blame illegal logging for the catastrophe. She resolved to go hard on those abusing the country's forests and appointed retired Brig. Gen. Victor Corpus as the new anti-illegal logging czar. In subsequent high-profile operations, the DENR and the military raided illegal sawmills and seized shipments of wood products not just in Quezon but in various parts of Mindanao as well.
Logs from neighboring Isabela province and Aurora are often transported to Metro Manila through Quezon. With legally cut wood still moving through the area, illegal loggers have found an excuse to transport goods through the same protected route.
In December, the DENR conducted a series of raids in Mauban. A number of bandsaws and other timber-cutting equipment were seized. In the early morning of December 23, while we were in Quezon, yet another raid was conducted by the anti-illegal logging task force. The raid uncovered 18,000 board feet of narra and 7,700 board feet of lauaan stocked in a compound supposedly owned by one Boy Sy Fernandez. The entire find could be worth as much as P3.7 million, according to retired general Alfonso Dagudag, who led the raiders. Dagudag heads the committee created to investigate the causes of the flash floods in Nueva Ecija, Aurora, and Quezon.
Mauban appears to have become the focal point of illegal logging in Luzon. There are several reasons behind this, Dagudag told Newsbreak. To begin with, it is connected to the sources of wood in areas near the Pacific coastline. Thus, logs from Isabela, Aurora, and the Infanta-Nakar peninsula can be easily taken to Mauban, towed by boats along the coast. A small, quiet community, Mauban is reachable only through very rough roads, making it easy to hide logging operations. Three exit points allow a quick getaway in case of anti-logging action.
Corrupt officials have been blamed for the persistence of logging in the province. As a result of the tragedy, a number of DENR officials have been relieved of their posts. Among them was Ocampo, a Lingkod Bayan awardee, who gained recognition for livelihood programs and environment projects he initiated. Secretary Michael Defensor admits, however, that the DENR does not have enough resources to protect the forests.
The DENR office in Real, whose jurisdiction includes General Nakar and Infanta, has about 170,000 hectares of forestland to monitor. It has 42 forest rangers, with a number of them performing desk jobs. At the moment, each forest guard assigned to the field has to keep watch over some 6,000 hectares.
In 2004, the office received only P44,000 for forest protection. "How can I operate with P44,000?" Ocampo asked. The forest guards do not even have a vehicle that would bring them to areas they are supposed to protect. It could take several days for one to reach some of these places on foot, he said.
What exacerbates the problem is that there are just so many people to go after. Unlike before, it is no longer the big-time loggers who cut the trees. Timber poaching, also known as carabao logging, is a big problem in the area, Ocampo said.
One reason is poverty and lack of other employment opportunities. Melvin Omida, a 27-year-old farmer from General Nakar, supplements his meager income by occasionally "rescuing" logs floating along the Agos river. He is not the only one. Whenever the water level is high, many people would wait along the riverbanks waiting for logs to haul in, he said.
Cut from deep inside the forests of Sierra Madre, logs are often too heavy to be transported by land. Loggers usually have to wait for the rains so that the river's waters could rise high enough for logs to float downstream.
The "rescuers" may use the logs for making charcoal or sell them to capitalists, depending on the size of the logs, Omida said. These capitalists pay from P8 to P10 per board foot for "rescued" logs, not much considering the dangers involved. Many are said to have drowned while trying to tow in logs. Still, in an area where there are few other sources of income, it is a good way to make a quick buck.
The rule of thumb, Omida said, is: "Basta inanod at nakuha mo, iyo na. Kung hindi mo kukunin, ma-wash out na 'yun. Sayang lang (If it is carried by the waves and you are able to get it, then it's yours. After all, if you don't get it, it will just be washed away into the ocean. That would be a pity)."
Who cut the trees from the mountains is the big question. Omida claims that the trees were felled by big-time illegal loggers up in the mountains.
In many cases, however, residents said, it is the "rescuers" themselves who do the cutting. These people are so skillful that they themselves ride the logs downstream.
Near the Real coastline, 42-year-old Jose (not his real name) supports his wife and six children by making charcoal. Formerly working as a locksmith and shoe repairer, Jose ventured into charcoal making when his business went bad. He used to go deep into the mountain to cut small trees suitable for charcoal making.
Jose does not make much from his labors. Before the disaster, he made around 15 sacks of charcoal a week. This he sold in the local market for P50 to P65 a sack. In a way, the disaster left a bonanza for him. The landslides brought down so many trees that he only had to select his raw materials from fallen trees still littering Real's coastline.
Because of their proximity to wood sources, Real and Infanta also host a number of furniture shops. Some of the shops were swept away by the floods. Many, however, still thrive along the Famy-Infanta road connecting Real, Infanta, and General Nakar to Metro Manila.
The Ugat-Tuod Multi-Purpose Cooperative, an organization of furniture shop owners, has around 40 members. Furniture shops owned by these members are supposed to use forest wastes, like branches and roots of dead, decaying trees, as their raw materials. In an interview, however. Ruby Coronation, the woman who owns Mountain Eagle's Root Furniture and a member of Ugat-Tuod, admitted that they also need freshly cut wood, not just waste materials, for the furniture they make.
Likening their work to cooking, she said: "Kapag nagluluto ka ng karne, kailangan mo pa rin ng rekado para masarap (When you cook meat, you still have to use condiments to make it savory)." She pointed to one of the chairs being made, which she said included a narra base. Narra is an endangered species, thus it is illegal to cut it.
Slow Rebuilding
Emmrich Borja, provincial environment and natural resources officer of Quezon province, told Newsbreak that since February 2004, members of a wood-based industry cooperative in the area had been asking for permits to transport their inventoried forest products. For 10 to 15 years, DENR had been lax in the issuance of such permits. However, during Gozun's term in 2003, the furniture makers were denied permits to transport because they refused to surrender their bandsaws.
Borja was also among those relieved following the disaster. A couple of years ago, Ocampo forced co-op members to organize themselves and plant trees. "He told us he would close down our businesses if we do not plant," Coronation said. Ugat-Tuod now manages a 10-hectare plantation in Real planted to mahogany, gmelina, and eucalyptus.
Today, with rebuilding under way, Omida cannot help seeing humor in what has happened. Now, he said in jest, they do not have to wait for the logs to come. "Hinahatid na ang troso sa bahay mo. Ang problema, nasobrahan naman (The logs are delivered to your doorstep. The problem is, too much has been delivered)."
In Infanta, Real, and General Nakar, the pace of rebuilding remains slow. The bridge that connects General Nakar to the rest of Quezon province has yet to be repaired. Rice fields that turned into seas of mud have to be rehabilitated. Roads have to be cleared of landslide debris.
The wounds hacked by the disaster were still very fresh during our visit. It will take a long time for them to heal. – Rappler.com