Documents obtained by Rappler suggest that Canadian Michael Koncz may have kept the boxing champ in the dark about his finances
First of two parts
GENERAL SANTOS CITY, Philippines – When Manny Pacquiao first blew the lid and complained that his bank accounts had been garnished by the Bureau of Internal Revenue (BIR), many fans and supporters immediately offered sympathy and support.
After all, Pacquiao just came from a thunderous victory over Brandon Rios in Macau on November 24 – 11 months after a shock knockout loss in the hands of perennial nemesis Juan Manuel Marquez.
Some say it was insensitive for the BIR to steal the sweet momentum of his victory by going after Pacquiao's bank accounts – a show of disrespect for a national icon. But looking back at the timeline of his tax troubles, Pacquiao may also have himself to blame, those who have been watching him closely say.
This is in part because he failed to take care of his tax business. Or because he entrusted too much of his financial affairs for too long to few trusted friends. (READ: Is Pacquiao covering up his tax woes?)
Documents obtained by Rappler show that in all the years that Pacquiao had been fighting in the US until 2010, he never had his finances straightened out.
The documents, prepared by VisionQwest (VQ), a US accounting firm with whom Pacquiao had brief but tumultuous relations, detail how, where, and why Pacquiao's finances went awry. A US-based informant privy to the preparation of the documents confirmed to Rappler the veracity and authenticity of the VQ documents that show an audit of Pacquiao's earnings from 2005 to 2010.
The documents suggest that Canadian Michael Koncz, identified as Pacquiao's financial advisor, may have kept him in the dark. 
Manny's income  
VQ documents show that Pacquiao's earnings from his fights were not properly booked. VQ started its audit of Pacquiao's income in March 2010. Since 2005, Pacquiao has fought mainly in the US where he held 18 of his last 19 fights. (His last fight was held in Macau.) Discrepancies exist between HBO figures and Top Rank numbers pertaining to Pacquiao's earnings, with some differences going as high as over US$250,000 (see table).
With proper accounting, Pacquiao's unremitted incomes should have been credited as "unreported" or "accrued income from previous years," which means they should have been included in his taxable incomes in succeeding years.
According to documents obtained by Rappler from a US informant privy to Pacquiao's fight purses, HBO remitted to promoter Bob Arum's Top Rank a total of $144,242,258.61. This represented the net pay-per-view (PPV) sales of Pacquiao's fights, starting with 2005 against Erik Morales, and ending with his Joshua Clottey win in 2010.
GROSS SHARE OF PACQUIAO EARNINGS FROM PPV
| Fight Date | Fight | HBO Net Profit (US$) | Paid to Top Rank by HBO (US$) | Difference (US$) |
| --- | --- | --- | --- | --- |
| | | | | |
| | | | | |
| | | | | |
| | | | | |
| | | | | |
| | | | | |
| | | | | |
| | | | | |
| | | | | |
| | | | | |
|   | TOTALS | | | |
(Note the discrepancies between the figures of HBO and Top Rank) 
By practice, net proceeds of the PPV are split evenly, or 50-50, between HBO and the fighter, with HBO bankrolling all the promotional expenses of the fight and advancing training and other expenses to the featured fighter. It is from the PPV buys where a boxer's minimum guaranteed purse is also taken – with the exception of the Oscar de la Hoya fight for which Pacquiao received considerably less.  
The "minimum guaranteed purse" refers to what is stipulated in the fight contract as opposed to the "guaranteed purse" that is fixed even if a PPV fight loses money. If the fight nets more than the guaranteed fight prizes, that's the time HBO and the featured fighter split the net profit evenly.
Pacquiao's biggest earning for a single fight to date was $31,970,925.35 (roughly P1.34 billion) for the Oscar de la Hoya fight in 2008, followed by the Cotto bout, where he netted over $30 million. But not all the 50% goes to the bank account of Pacquiao whenever he fights for PPV.
A formula they follow stipulates that 27.5% of Pacquiao's 50%-share goes to the promoter; another 27.5% goes to MP Promotions, a company set up and owned by Pacquiao; and the balance of 45%, to Pacquiao. From what he collects – less allowable deductions – US tax rates of 30% and Philippine tax rates of 32% are applied. In short, Pacquiao does not bring home that much money after a multi-million dollar fight.
To illustrate, using the same formula for the Cotto fight, it would appear that out of the $30.34 million that Top Rank said it received from HBO, Pacquiao collected only $13,653,642.32 gross, before tax payments (see below). The Pacquiao-Cotto fight generated over a million PPV buys, with each sold at $55.
Gross share of Pacquiao from HBO's PPV Payments for Cotto fight: $30,341,427.37
Pacquiao's share (45% of HBO payment to him) = $13,653,642.32
Top Rank's share (27.5% of HBO payment to Pacquiao) = $8,343,892.53
MP Promotions' share (27.5% of HBO payment to Pacquiao) = $8,343,892.53
A source knowledgeable about the sharing of profits, however, said that Top Rank deducts all expenses related to the fight, including purses of his opponent and the undercard, in addition to other expenses that are not made known to the public (these could include hotel, training and other similar expenses). Afterwards, Pacquiao's cash advances are further deducted from the remaining amounts.  
Only after deducting all these expenses from the HBO payment do they split earnings according to the following percentages:
Pacquiao – 45% of whatever is left
Top Rank – 27.5% of the balance
MP Promotions – 27.5% also of the balance
In effect, Pacquiao receives even considerably less than what is remitted by HBO to Top Rank.
Payment in tranches delayed
Before the June 2008 bout with David Diaz, which Pacquiao won via technical knockout, HBO's payments to Top Rank, came in several tranches. For Pacquiao's first match with Mexican world champion Erik Morales in 2005, HBO made 23 payments to Top Rank totaling $7.13 million including advances, VQ records show.
A rematch of the two fighters in January 2006 netted Top Rank 17 checks totaling $7.12 million. For the 3rd encounter, which Pacquiao also won by knockout in November 2006, HBO issued 21 checks that totaled $7.73 million.
Pacquiao's biggest PPV income was for the December 2008 Oscar de la Hoya fight where Top Rank was paid $31.97 million in 3 installments representing Pacquiao's share and advances.
Without a professional accountant to record and keep track of his income, Pacquiao trusted Koncz who, by VQ's observation, was not that competent to handle his money.
It is significant to note that Pacquiao received his full payment from the first Morales fight (March 19, 2005) almost 4 years later, with the last check coming on Jan 30, 2009. 
For the December 2005 rematch with Morales, Pacquiao was not fully paid until Jan 31, 2008. He got his full payment for his November 2006 3rd fight with Morales only on Oct 31, 2009.
In the VQ audit, the accounting firm said Koncz never showed documents for the payments the Filipino boxing champion supposedly got from Top Rank. VQ tried to get vouchers and returned checks from Top Rank but was not accommodated. That, VQ observed, would have guided the accounting firm about the tax obligations of Pacquiao.
"We started looking at TR (Top Rank) in September of 2010 at Manny's and Jinkee's request," said Michael Lodge, president and CEO of VisionQwest.
After noticing discrepancies in the HBO income statement and the figures provided by Top Rank, VQ sought and obtained wider authority from Pacquiao and was poised to take legal steps against Top Rank before its services were terminated in September 2011, documents showed.
"When we submitted to TR request for information, they stopped responding. We went to Manny in March 2011 and signed a new contract that was stronger and gave us the legal power to go after TR," Lodge added in an online interview on December 23.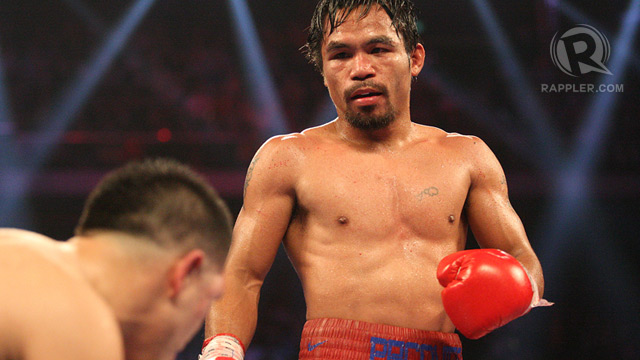 No back taxes?
In a letter to Pacquiao dated June 30, 2011, Lodge warned him about Koncz. "It is our responsibility as your accountant and advisor on business issues in the United States to inform and request of you that Michael Koncz should have no further role in your business affairs," the letter said. Lodge cited 3 reasons:
Misstatment of revenue and expenses – Tax documents for 2006 and 2007 and other years were in hand written form, emails and written notes have been clearly misstated on revenue and expenses of Pacquiao and MP Promotions USA Inc. "Mr Koncz has now placed our client in a possible tax liability based on his false documentation and that now VisionQwest Accountancy Group must justify through our own gathered and documented records a new tax position to the Internal Revenue Service."
Lapse of corporate status – Koncz put MP Promotions USA Inc in jeopardy as an active corporation because he let its "corporate status fall out of status." It was suspended as a corporation for two years and VQ had to bring it back into status.
ADK and relationship with Top Rank – ADK, a Koncz company, has never filed any tax returns, which could lead to tax evasion issues, which could affect Pacquiao. "Furthermore, it appears that Mr Koncz is receiving fees from Top Rank which is a conflict of interest because it could appear that he is serving not only Manny Pacquiao but also Top Rank…The question that should be asked is Manny getting the best contract for a fight?"
Koncz has refuted claims that Pacquiao has unpaid taxes to the IRS. He told Rappler there may have been a few mix-ups and some of his expenses may be disallowed as deductions. But everything is fine, he said.
"This is now being handled by our lawyers in America. This is not something new that happened yesterday. We have been discussing this issue with the IRS during the last 3 years," Koncz said.
Contacted by Rappler on Friday, December 27, and asked why he and Top Rank failed to provide VQ the documents on Top Rank payments made to Pacquiao, Koncz again said his lawyers both in the Philippines and the US are handling the issue now.
The Canadian reportedly went to the US to confer with Pacquiao's lawyers and accountants and straighten out Pacquiao's tax issues.
Koncz was briefly put in the freezer shortly after the letter was sent by Lodge way back 2011. But a few months later, Pacquiao abruptly terminated the services of VQ.
Koncz back as advisor
Koncz is now back as Pacquiao's trusted advisor. For the recent Rios fight, he was given the task of who to invite, provide plane tickets for, and who to assign rooms among Pacquiao's friends and entourage.
It is not known which accounting firm is now handling Pacquiao's finances in the US. But by sending Koncz to the US, Pacquiao seems to show he still trusts him.
VQ has since sued Pacquiao to recover the money it loaned to him for payment of the house Koncz bought in the US, and for services rendered to the Sarangani congressman. In return, Team Pacquiao sued VQ for breach of contract. The case is still ongoing in the US. – Rappler.com
(READ the concluding part: Pacquiao's money man)