'If my sister were still alive today, I'm sure she would join us to welcome Pope Francis in his historic visit to the Philippines'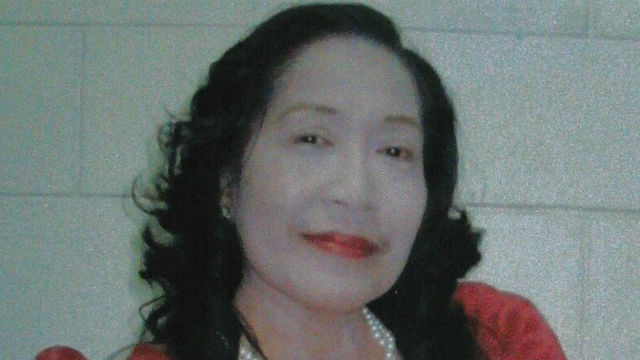 One clear afternoon on January 12, 1995 – 20 years ago – hundreds of thousands lined the streets from the old Manila International Airport to Roxas Boulevard to greet Pope John Paul II, one of history's most beloved popes. It was the second visit of the Pope to the Philippines. The 5-day visit was in time for the observance of the 10th World Youth Day.
I was one of the hundreds of thousands who patiently and eagerly waited for the convoy of the Pope to pass by. And 4 days after, I was also one of the more than 3 million people who attended the 10 am mass at the Quirino Grandstand that marked the closing of the 10th World Youth Day. It was reportedly the biggest gathering during the Pope's 16-year reign.
I vividly remember those days not only because of its significance to us Catholics, but most especially because our eldest sister, Florabel, was still with us. I can still recall the spark in her eyes and the smile on her lips as she intently listened to the message of Pope John Paul II. With her signature abaniko (fan), she tirelessly fanned us to lessen the heat of the blazing sun.

We sat among millions at the Quirino Grandstand together with my daughter, who is now in the US, and my close friend in the foreign service.
Unfortunately, my sister passed away about two months ago at the intensive care unit of a hospital. It was really heartbreaking to see my dear sister for 3 weeks, with tubes connected to her mouth, nose, and legs. I had to put up a brave front, to give her moral support. During the few minutes allowed for visits, she would silently join me as I recited the healing prayers and prayers to Jesus and Mama Mary. And then at the end of the prayers she would open her mouth and try to say, "Amen."
In our last telephone conversation before I left Athens to be with her in Manila, she said, "At least the Lord gave me another year to live."
In 2013 she was diagnosed with colon cancer. She survived more than 12 hours at the operating table, thanks to able surgeons and prayers of our family, relatives, and friends. For almost a year she lived a normal life. She gained weight and was in her usual cheerful disposition. She was hopeful she would live long like other cancer survivors. But I guess something went wrong along the way and the inevitable happened.

Cancer is a heartbreaking reality for many across the world. According to the World Health Organization, there were at least 14 million new cases and 8.2 million cancer related deaths. 
On that sad day in November last year, she looked at me with imploring eyes as if to say goodbye.  I watched helplessly, held her hands and whispered in her ears, "I'm sorry Manang Belle, we did our best." 
I knew that deep in her heart she wanted to live. We prayed for a miracle. But I guess it is God's will.
I miss those happy moments with my dear sister. If she were still alive today, I am sure she would join us to welcome Pope Francis in his historic visit to the Philippines this January. Even at past 60, I know she would still have the stamina to wade through the millions of people who would be at the Quirino Grandstand for the Mass. Now she must be looking at the vast crowd of people who would gather on Jan. 18 (the day Pope Francis will hold a Mass at the same venue), just like the time we were there on Jan. 12, 1995.
#DearPopeFrancis: Please pray for all persons afflicted with cancer. And pray for the repose of the souls who have succumbed to the disease, like my sister Florabel so that they will join our Creator in Heaven. – Rappler.com