US President-elect Joe Biden plans to hold a 'democracy summit' to address authoritarianism and attacks on democracy. Should President Rodrigo Duterte be worried?
Winds of change wafted to the Philippines as Joe Biden jogged onstage in Delaware to deliver his victory speech before an ecstatic crowd.
Filipinos tired of the divisive politics and vitriolic rhetoric of the Duterte presidency wondered, "Is it our turn next?"
No other United States election has riveted Filipinos as much and hit so close to home – an assessment backed up by how #Halalan2022, a hashtag for the 2022 national elections here, trended on Twitter when Biden's win was declared. 
Against all odds, Americans unseated Donald Trump, a president who not only praised authoritarian leaders, but behaved like one himself – spurning press freedom, sowing doubt in the elections, spreading lies for personal gain.
President-elect Biden promised to undo the harm wrought by his predecessor and there are signs this could influence his foreign policy, possibly to the detriment of populists and would-be authoritarians.
Promising to "restore the soul of America," Biden said he would lead the Superpower in a "battle to restore decency, defend democracy."
One arena where this battle could be waged is in a "2021 global democracy summit" which Biden and his advisors have written and spoken about.
I can very much see that as a way of President Biden saying, 'We're back.'
Manpreet Anand, former Obama deputy assistant secretary of state
"During my first year in office, the United States will organize and host a global Summit for Democracy to renew the spirit and shared purpose of the nations of the free world," he wrote in his essay for Foreign Affairs magazine.
The essay, "Why America Must Lead Again," gives an overview of Biden's plans for foreign policy.
Biden said the summit would bring leaders of democracies together and "honestly confront nations that are backsliding."
He said it would be similar to the Nuclear Security Summits hosted by US President Barack Obama where participating countries committed to eliminating nuclear materials and beefing up nuclear security practices.
He even outlined priorities he wanted the summit to set: "fighting corruption, defending against authoritarianism, and advancing human rights in their own nations and abroad."
Duterte has lost an ally.
Melay Abao, Ateneo de Manila political science professor
"It would be an opportunity for the US again to bring global actors together. I can very much see that as a way of President Biden saying, 'We're back, we're here to help lead the world on these fundamental principles of democracy we all care about,'" said Manpreet Anand, a former Obama deputy assistant secretary of state for South Asia and now National Democratic Institute regional director for Asia-Pacific in an interview with Rappler.
No compromise on human rights
It's not only authoritarianism that Biden says he'll call out, but also the toxic social media environment that props up their regimes with misinformation and dangerous propaganda.
He said the summit would issue a "call to action" for the private sector, "including technology companies and social media giants," to ensure their platforms are not used for "spreading hate and misinformation," surveillance, and repression.
Ateneo de Manila political science professor Melay Abao doesn't see Biden ignoring Duterte's controversial campaign against illegal drugs, for which Trump had infamously praised Duterte.
"Duterte has lost an ally. The Biden camp is not likely to compromise on the human rights issue so for sure, it will frown upon the extrajudicial killings and the drug war," she told Rappler.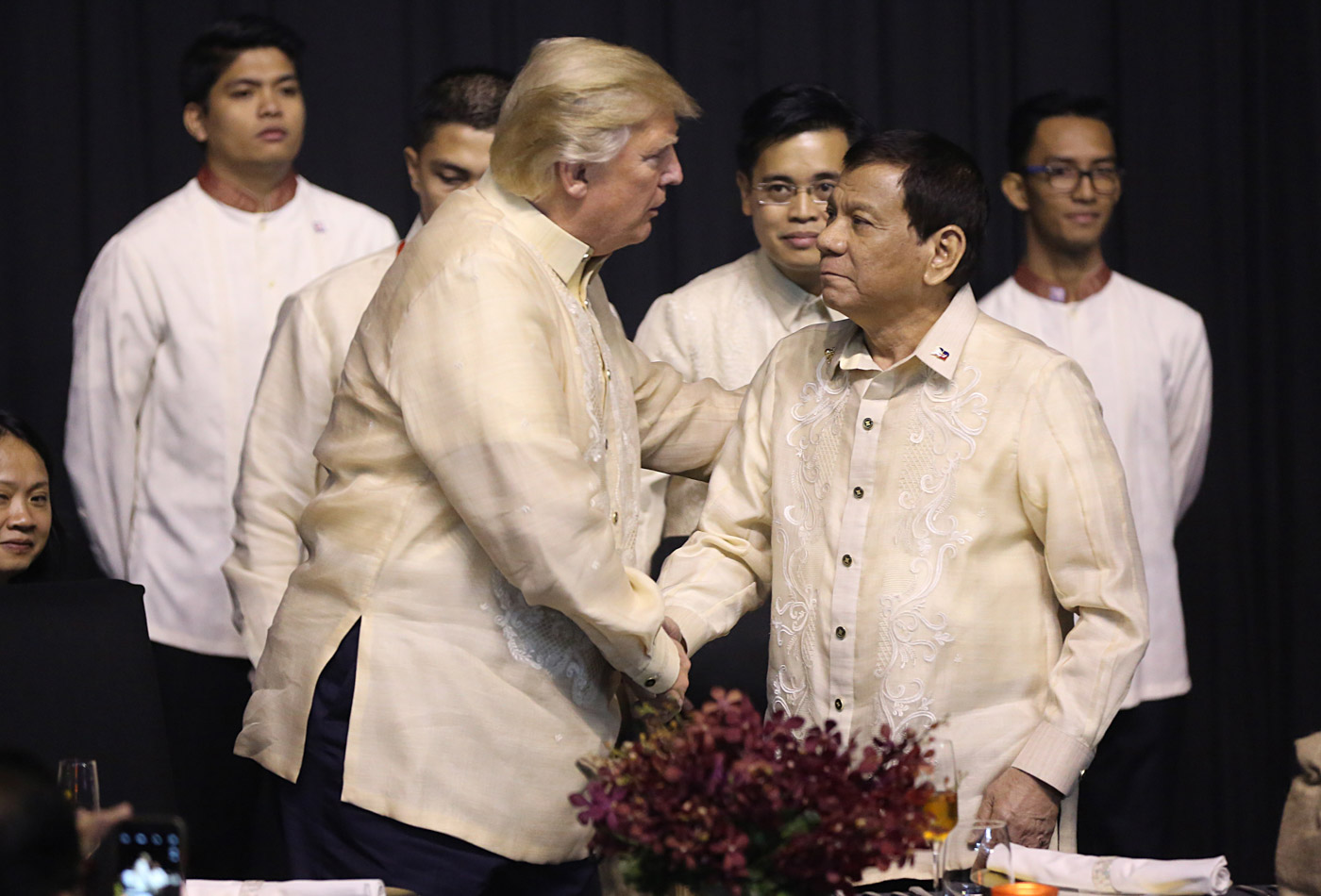 This early on, it's not clear if the Philippines will play a role in the summit, though it is Southeast Asia's oldest democracy and America's oldest treaty ally in Asia.
Reality check: China's growing power
But one thing that could temper any criticism of Duterte is the military alliance and how it could help the United States in its strategy with China, the world's rising power and America's competitor, especially in Asia.
Herman Kraft, chairperson of the University of the Philippines' political science department, says Biden could be advised to do all he can to preserve the alliance. This would be particularly crucial with the looming withdrawal of the Philippines from its Visiting Forces Agreement (VFA) with the US, instigated by Duterte himself.
"I think a Biden presidency would not want to do anything to rock the boat as far as any relationship with any of its friends and allies is concerned… He certainly would be very careful about driving or creating the conditions that might give President Duterte the reason for why he can proceed with his inclination to really put the Philippines closer to China and really move it away from the US," Kraft told Rappler.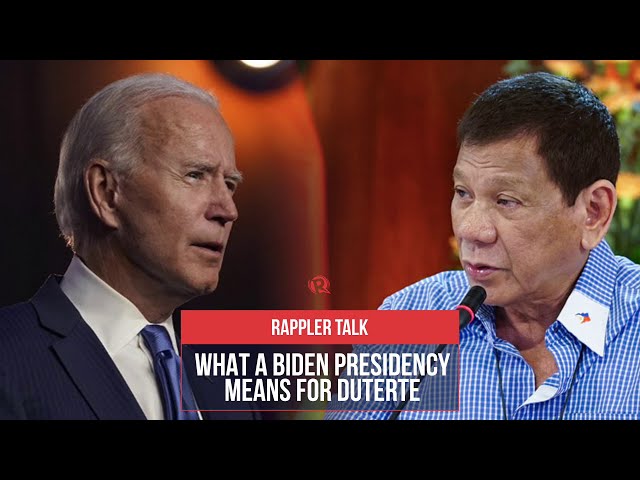 The VFA is a deal that allows US troops to move in and out of the Philippines with relative ease. While beneficial to the US, it's also been invaluable to the Philippines since it has discouraged more aggressive encroachments by China in the West Philippine Sea.
The abrogation of this military deal was well on its way when, in June, Duterte inexplicably halted the process 5 months before the US presidential elections. That abrogation process could resume after December, if Duterte decides against extending the suspension. The US would want that extension, or if it can have it, no Philippine withdrawal at all.
What triggered Duterte to order the VFA's abrogation in the first place was his outrage over the US' suspension of his ally Senator Ronald "Bato" dela Rosa's visa. He saw it as punishment for his drug war, which was led by Dela Rosa when he was still Philippine police chief.
This has created the perception that any criticism of Duterte could catalyze a knee-jerk response from the erratic President that could impact foreign and military policies.
Basis for trust
Will Biden push hard on confronting Duterte on human rights and preserving democracy if it could mean losing a strategic military ally?
"There are also geopolitical considerations that I think would temper the Biden administration's approach to what the more progressive wing of the democratic party might actually want to push, as far as the Duterte administration is concerned," said Kraft.
But Anand thinks Biden can manage a balance between both. Biden, after all, is experienced in foreign policy, having led the Senate committee on foreign relations for several years. Obama had chosen him to be his vice president precisely because of his experience and knowledge of international relations.
"Certainly, we would want to keep that (VFA), but keeping that does mean we need to have some basis by which we can trust each other, that democratic values won't be eroded," said Anand.
Biden has made it clear that democratic values will be the take-off point and centerpiece of his foreign policy. It's part of his greater push to "put strengthening democracy back on the global agenda."
The new American president wants to undo the perception created by Trump's controversial chumminess or praise for authoritarian leaders like Russia's Vladimir Putin, Turkey's Recep Tayyip Erdogan, and even North Korean dictator Kim Jong-Un.
We will stand by our national interest.
Presidential Spokesperson Harry Roque
"I think President-elect Biden will try to shift that back to restoring America's place in the world and I think he'll do it by saying the fundamental basis by which we should be engaging in the world should be based on our democratic values. And that is something that I think will have far-reaching impact, especially in the Asia-Pacific," said Anand.
Duterte's spokesman, Secretary Harry Roque, declined to say if Duterte would attend Biden's democracy summit if invited. But he said while the Duterte government wants to strengthen ties with a Biden-led US, it would also not budge on protecting the "national interest."
"As far as Malacañang is concerned, we know what our national interests are, we will stand by our national interest, we will maintain our traditional friendship with the United States, and we hope that this relationship will become stronger," said Roque when asked by Rappler on Tuesday, November 10.
Asked if the Philippines still lives up to the description of a democratic nation amid Duterte's controversial attacks on critics, press, and human rights groups, Roque said, "Very much so."
"We have an independent judiciary, we have a functioning Congress, and we have an executive whose powers are patterned after the US presidency," he said.
In the party
Even during the Trump presidency, the US had expressed concern over the arrest of Rappler CEO Maria Ressa and the ABS-CBN shutdown. But these are perceived to be State Department moves rather than personal actions of Trump.
We're the same.
President Rodrigo Duterte on President Donald Trump
It had been American senators of the Democratic Party, the same party as Biden, who had repeatedly called out the Duterte government for human rights violations, the anti-terrorism law, drug war, and detention of opposition senator Leila de Lima.
Democratic senators had proposed sanctions against Duterte officials enforcing these controversial policies. Three of these senators – Richard Durbin, Patrick Leahy, and Edward Markey – have been banned by Duterte from entering the Philippines.
So if Biden eventually decides to get soft on Duterte, pressure to take a more hardline stance could come from his own Democratic partymates.
In between the greater geopolitical issues and battle for democracy, personal dynamics between the two presidents could play a part.
Duterte has expressed admiration for Trump, calling him a "pragmatic thinker" and a "realist."
The Trump of the East has said he sees himself in the Duterte of the West.
"We're the same. We pretend to talk like that when we're insulted but they don't know that Trump is actually a deep thinker," Duterte said in 2017.
Biden is very different from Trump, but he's also not Barack Obama, who had openly criticized Duterte's drug war and received a volley of curse-laden insults in return.
"Obama was a serious person. He took himself very seriously so that's why there was a clash of personalities. I don't think Biden will be, shall we say, as serious in how he takes himself but at the same time, I don't think there's going to be any interest on the part of Joe Biden to actually build a personal relationship with President Duterte," said Kraft.
Biden, the internationalist
When he was Obama's vice president, Biden often helped deal with foreign leaders. His form of diplomacy carried a personal touch like his many walks and private dinners with Chinese President Xi Jinping that had informed Obama's approach to China.
Biden had warm ties with Turkey's leader Recep Erdogan when he was vice president, but has since become more critical, calling Erdogan an "autocrat."
During a 2011 visit to Russia, Biden told Duterte's "idol," Vladimir Putin, "Mr Prime Minister, I'm looking into your eyes, and I don't think you have a soul."
Duterte himself has not spoken in public about Biden though Malacañang said the Philippine leader extends his congratulations.
An immediate concern for both would be the coronavirus pandemic, and specifically, how the Philippines can access American-developed vaccines. The COVID-19 vaccine frontrunner is the vaccine candidate of Pfizer, an American pharmaceutical firm.
Biden, whose term is until 2024, will have two years to deal with Duterte, whose presidency ends in 2022. The geopolitical stakes require a balancing act, not for one, but for both leaders. – Rappler.com