In a few days, President Rodrigo Duterte will decide new quarantine classifications. Metro Manila has been under GCQ for 4 months. Will this change?
Metro Manila is the region that has stayed the longest in general community quarantine (GCQ), a quarantine classification where public transportation and most industries have been allowed but where tourism activities, entertainment events, and large mass gatherings are prohibited.
Still the epicenter of the COVID-19 pandemic in the Philippines, Metro Manila continues to report hundreds of new cases a day. Latest nationwide figures as of Friday, September 25, indicate close to 300,000 coronavirus cases, of which over 61,000 are active. Metro Manila still accounted for 53.14% of the country's total coronavirus cases as of Friday.
No wonder it's been in GCQ since June 1 or for nearly 4 months now, save for the two weeks in August when it was reverted to the stricter modified enhanced community quarantine (MECQ).
At this time, most of the country has been placed under the loosest quarantine mode, modified general community quarantine (MGCQ).
In a few days, or before October 1, President Rodrigo Duterte will decide once more whether or not to change Metro Manila's quarantine classification.
What will it take for the national coronavirus task force to downgrade the capital region to the more relaxed MGCQ?
According to task force members, it's more than just one factor. Apart from a marked reduction in new cases, the region's hospitals should also have plenty of room and equipment.
Here's how they measure these factors:
Case doubling time of more than 11 days
Treatment czar and Health Undersecretary Leopoldo Vega says an ideal case doubling time for Metro Manila is "at least 11 to 14 days."
Case doubling time refers to the number of days it takes for COVID-19 cases to double. The longer the number, the better because it means infections are not spreading as fast.
A month ago, Presidential Spokesman Harry Roque said a case doubing time of 28 days is ideal.
"The basic assumption is your case doubling time must be more than 7 days. At present, we're (Metro Manila) at 12 days," said Vega on Thursday, September 24.
"So if Secretary Roque would say 28 days, that's the best kind of scenario," he added.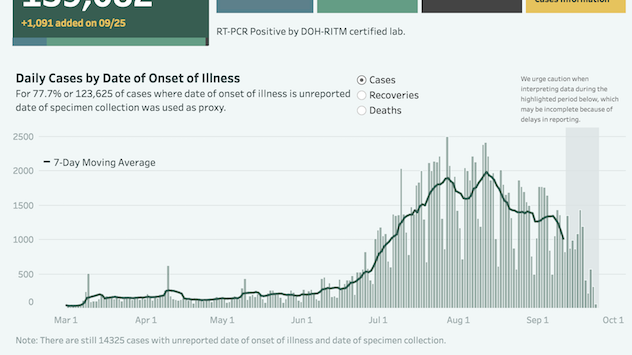 Critical care capacity below 60%
If Metro Manila already has a case doubling time of 12 days, isn't it ready for MGCQ?
Vega said not necessarily because the national government task force also considers the capacity of hospitals to take in severe COVID-19 cases – or persons who are experiencing the most serious of coronavirus symptoms like difficulty in breathing.
"You need to look at the critical care utilization of the hospitals, especially the ICU (intenstive care unit). The ICU now is still at 65%, that's moderate risk. It means that, if you are to move to MGCQ, you should be below that," said Vega on Thursday.
Two days after, on Saturday, September 26, Health Undersecretary Maria Rosario Vergeire said Metro Manila's critical care utilization rate has decreased to 60%.
A utilization of "below 60%" of critical care beds is recommended to be able to say a region is ready for MGCQ, said Vega.
Back in August, critical care utilizaton rate reached the "danger zone," around 80%, according to Vergeire. But by September, facilities were expanded, leading to decongestion.
Test positivity rate between 5% to 9%
Aside from this, government experts are also looking at a number called test positivity rate. This refers to the number of people who test positive for COVID-19 out of the total of number people tested.
The lower this number, the better, because, if testing is being done widely, it means less people are getting infected.
"If we will be able to decrease the number of positive cases and our positivity rate goes below 10% or between 5% to 9%, those are the metrics IATF will check if we can open to MGCQ," said Vega.
The National Capital Region's test positivity rate was still at 11% for the period September 7-13, according to the Octa Research Group.
Reproduction number below 1
Another important number is the reproduction number or R0, pronounced as "r naught." Experts want to see this number go below 1 and stay at that level for 30 days.
In early September, Metro Manila actually did begin to see a dip below 1 from August 22 to at least the first week of September, according to the Octa Research Group. This group of experts have been accurately projecting COVID-19 cases and is consulted by the government.
The reproduction number measures a disease's "transmission potential" or the number of people that one confirmed case can infect. A reproduction number below 1 thus means that a person infects less than one other person, indicating that the spread of the virus has been contained.
Metro Manila has clocked in a reproduction number below 1 from September 18 to 22, according to the online pandemic tracker, EndCov.PH, created by the University of the Philippines. On September 22, the reproduction number mean was 0.74.
But so far, this promising trend has not yet been sustained for 30 days.
Clustering of infections
Though Metro Manila is reporting good numbers in the indicators above, Vergeire said there is another factor the task force is still concerned about.
"We have to see the other side where there are parts of Metro Manila where there are still clustering of cases and increasing infections in some localities," she said on Saturday.
The strategy of Metro Manila mayors is to impose ECQ-like lockdowns in these specific parts of their cities where cases surge.
This has appeared to work in some cities, like Quezon City, which managed to bring its reproduction number below 0 in the week of August 31 to September 6. It also saw an increase in new confirmed cases per week, from August 17 to September 6.
As of Friday, September 25, Metro Manila has reported 159,082 coronavirus cases. Out of this, 28,010 are active cases, meaning they have not yet recovered from the disease or died.
Meanwhile, 128,517 people from the metro have recovered. Over 2,500 Metro Manila residents have died from the virus. – Rappler.com