What is essential travel in and out of the bubble? How is this different from MECQ? Here's an explainer based on official government pronouncements.
(UPDATED) After COVID-19 cases shot up to nearly 8,000 over the weekend, the Philippine government announced stricter quarantine measures – what is essentially a GCQ-MECQ hybrid enforced within a new Metro Manila-Rizal-Bulacan-Cavite-Laguna bubble.
National Task Force vs COVID-19 spokesman Restituto Padilla calls the bubble, "NCR Plus."
The new protocols are in effect from March 22 to April 4, unless extended or shortened by President Rodrigo Duterte.
We answer your questions about these new restrictions, based on the most recent official statements from Malacañang and pandemic task force officials.
A copy of the Malacañang memorandum that officially lays out these rules is at the end of this article.
What are people permitted to do within the 'NCR Plus' bubble?
Persons in Metro Manila, Rizal, Bulacan, Cavite, and Laguna can do everything they used to do under the normal GCQ (General Community Quarantine), including staycations within the "NCR Plus" bubble, except for the following:
Prohibited under stricter GCQ
Hold any type of gathering – The only exceptions are religious services like weddings, baptisms, funeral services that are limited to 10 people.
Visit cinemas, arcades, museums, libraries, cultural sites, driving schools, as these will now be closed. Only open-air tourist attractions are allowed.
Indoor eating in restaurants – Only eating al fresco or outdoors is allowed and the restaurant must stick to 50% capacity limit, and impose a limit of two-per-table seating with physical distancing. Otherwise, you can do takeout or delivery.
Be outside your home from 10 pm to 5 am – This curfew covers the entire NCR+ Bubble but does not cover workers, cargo vehicles, and public transportation. Buying groceries and medicine is also allowed since these are considered essential activities.
Kids outdoors for exercise – Persons below 18 years-old can no longer go outside to exercise. However, the elderly, or those above 65 years old can still do outdoor exercise and outdoor non-contact sports. Persons with disabilities (PWDs) can do the same as long as they can present a prescription from their doctor or a PWD ID.
Going to gyms, spas, and internet cafes in Metro Manila – Metro Manila mayors decided to close these establishments even if the national government wanted to keep them open at reduced capacities.
How is this not MECQ?
In MECQ (Modified Enhanced Community Quarantine), public transportation was prohibited. In the stricter GCQ, this is not the case.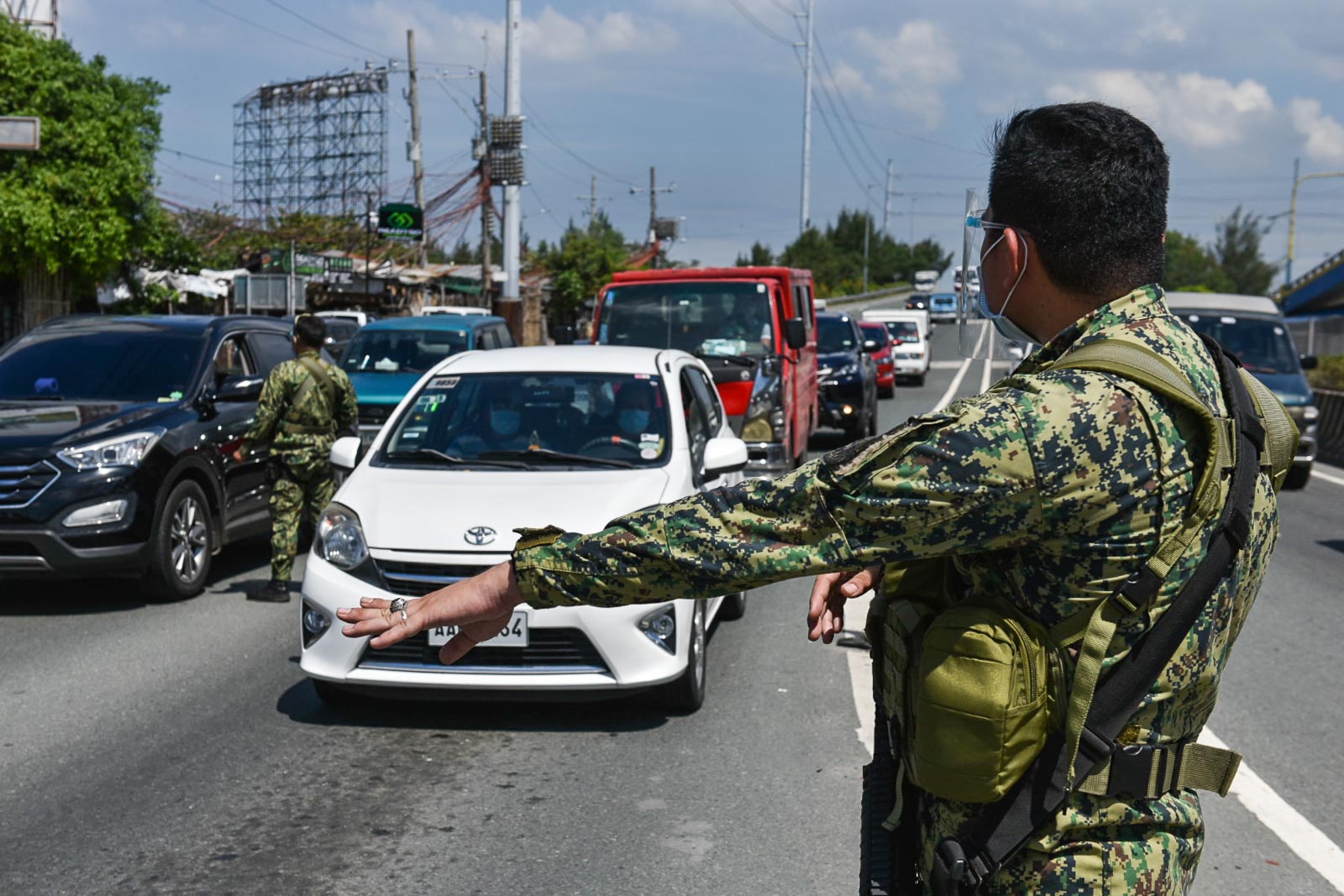 In MECQ, varying limitations on on-site capacity for all sectors had been imposed. Under this stricter GCQ, the government is only encouraging a reduction to 30% to 50% of capacity for most of the private sector. The only exceptions are for the following establishments:
Restaurants – mandatory 50% capacity limit and only for outdoor dining, delivery, take-out
Personal care services, spas – mandatory 50% capacity limit
Gyms – mandatory 75% capacity limit
However, Metro Manila mayors decided to completely close gyms, spas, and internet cafes until April 4 in the region. The decision does not cover Rizal, Cavite, Laguna, and Bulacan.
The government also emphasized workplace rules like a ban on group meals and face-to-face meetings. It highly recommends the adoption of work-from-home arrangements.
Who can leave and enter the 'NCR Plus' bubble?
A person can only travel in and out of the bubble if they meet the following criteria:
Traveling for medical and humanitarian reasons
Going to the airport for travel abroad
Crossing zones for work or business
Going home (including if they are returning overseas Filipinos or overseas Filipino workers)
They are health and emergency frontline services personnel, government officials, government frontline personnel, authorized humanitarian assistance actors
Will it be harder to get around Metro Manila, Rizal, Cavite, Laguna, and Bulacan?
There will be no mobility restrictions inside the "NCR Plus" bubble, said Philippine National Police officer-in-charge Lieutenant General Guillermo Eleazar on Monday, March 22.
"Checkpoints in NCR are not to restrict movement," he said during a Palace news briefing. "Within the bubble, the movement is not restricted. It is only when crossing the border that we will be strictly monitoring."
Travel for staycations or tourism within "NCR Plus" is also allowed, but only for 19 to 64 year-old persons, said the Department of Health, citing tourism department rules.
What other new measures or recommendations were made?
Cockfighting and cockpit operations have been prohibited even in Modified General Community Quarantine (MGCQ) areas
The government also introduced these recommendations as additional ways to keep safe at home:
Wear masks at home if you live with elderly, pregnant women, and immunocompromised persons
Don't visit other households, stay within your "family bubble"
As much as possible, don't accept outside visitors for now
At the workplace, these additional measures were also recommended to ensure workers were kept safe:
Prohibit face-to-face group meetings, gathering, and eating together, as a minimum of two people is already considered as a group.
When applicable, allowed workplace capacity should be kept at 30% to 50%
When will Filipinos start to see its effects?
In a forum on Monday, March 22, Health Undersecretary Maria Rosario Vergeire said that with restrictions in place starting today, Filipinos may start seeing its effects on transmission in 3 to 4 weeks.
She added its impact on the health system's capacity may take longer to see since patients needing treatment tend to stay in the hospital for long periods of time.
– Rappler.com