The supposed transfer is not even mentioned in the video. De Lima is still in Camp Crame.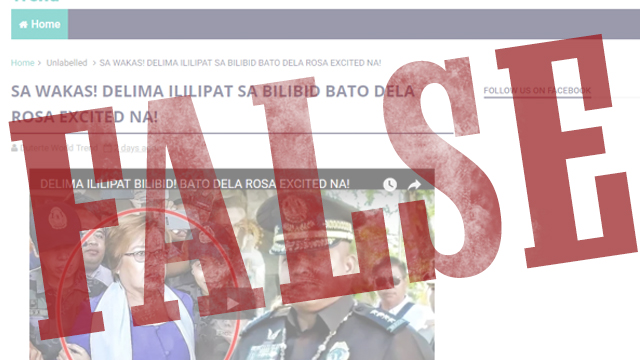 Claim: Senator Leila de Lima will be transferred to Bilibid prison, and Bureau of Corrections (BuCor) Director General Ronald "Bato" Dela Rosa is excited about it.

The blog phslidenews.top ran the headline "Sa Wakas! De Lima Ililipat sa Bilibid, Bato Dela Rosa Excited Na!" (Finally! De Lima Will Be Transferred to Bilibid, Bato Dela Rosa is Excited Already!) on their May 19 blog post with a YouTube video uploaded by Pro Duterte Ka Ba? as its sole content.
The blog post was shared with 5 different Facebook pages and groups garnering more than 2,000 likes and reactions. The same claim was also published by kantonewsph.xyz, dailydu30.info, and du30gov.com (the last blog claimed, however, that Dela Rosa was going to take care of her instead).
Rating: FALSE
The Facts: The embedded source video does not at any point mention De Lima transferring to New Bilibid Prison in Muntinlupa nor Dela Rosa feeling excited about it.
The detained senator filed on May 15 a Very Urgent Motion for Furlough (to take a leave) before the Muntinlupa Regional Trial Court Branch 205 and 206 to attend the graduation ceremony of her youngest son Vincent Joshua Bohol on June 3. Bohol will be graduating with a law degree at the San Beda College of Law.
The video shows De Lima's legal counsel Atty Boni Tacardo telling reporters about the details of the hearing. There was no mention of a transfer or of Dela Rosa, the recently appointed BuCor Director General.
There are no news articles reporting any comment from Dela Rosa regarding De Lima's recent hearing.
De Lima, a staunch critic of President Rodrigo Duterte's brutal campaign against illegal drugs, was arrested on February 24, 2017 over the 3 drug-related charges filed against her. These charges were: she allegedly extorted money from Bilibid inmates, tolerated "widespread" drug use inside the NBP, and wielded influence over top drug lord and inmate Peter Co. She is still awaiting her arraignment after it was postponed last March 16.
According to Tacardo, her arraignment by Muntinlupa RTC Branch 206 was reset to June 22 after her camp filed a Motion to Quash. Meanwhile, RTC Branch 205 reset her arraignment to August 10.
While undergoing trial, De Lima is now detained in the PNP Custodial Center in Camp Crame.
According to BuCor's website, only convicted offenders are sent to Bilibid. – Miguel Imperial/Rappler.com