The ICC is still conducting an examination regarding the communication sent to them by lawyer Jude Sabio against Duterte and his administration's 'war on drugs'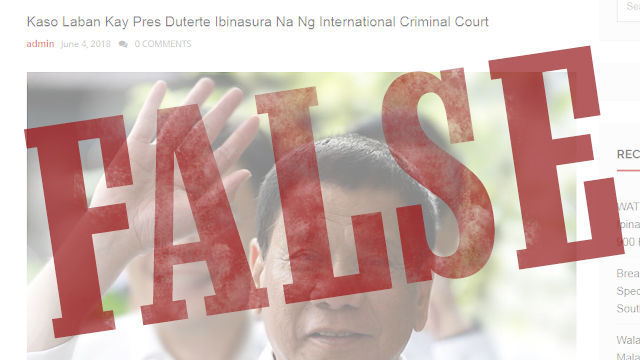 Claim: The International Criminal Court (ICC) has junked the case filed against President Rodrigo Duterte.
A communication was filed  by lawyer Jude Sabio on April 24, 2017, asking the ICC to look into the killings brought by Duterte's "war on drugs."
The blog goodnewstoday.d30.club in their June 4 post ran the headline, "Kaso Laban Kay Pres Duterte Ibinasura Na Ng International Criminal Court" (Case Against President Duterte Junked by the International Criminal Court).
As of June 6, the post was shared by a "Marcos loyalist" and a "Universal Duterte movement" Facebook group which have a combined 40,639 followers. Within these groups, the post has generated 294 total interactions.
Rating: FALSE
The facts: The ICC website's The Philippines section marked the examination into Duterte and the "war on drugs" campaign as "ongoing".
The communication is not considered to be a case yet since it is still in examination. It is the first step in the court's legal process wherein the handling prosecutor will examine if the complaint has enough basis to be under ICC jurisdiction.
Duterte is accused of leading a "mass murder" because of his relentless war on drugs. According to the Philippine National Police, 4,279  drug suspects have been killed in anti-drug operations from July 1, 2016 to May 15, 2018.
In addition, from the start of Duterte's term until September 2017, there 16,355 homicide cases under investigation according to PNP. It is unclear how many of these cases are already solved.
As the ICC started its examination, Duterte announced on March 14 that the Philippines would withdraw as a member of the ICC. A state's withdrawal will be formalized a year after a written notification is sent to the United Nations Secretary-General
The ICC, born out of the Rome Statute treaty, is an intergovernmental and international tribunal which investigates genocides, war crimes, and crimes against humanity.
The Supreme Court recently announced that it would hold oral arguments on July 24 regarding the President's decision to withdraw from the ICC.
The false claim about ICC "junking the case" is a rehash of a 2017 claim by philgov.info which has been "busted" by memebuster.net in its May 5, 2017 post.  

The blog goodnewstoday.d30.club does not have a company and author profile and a masthead. Most of the blog's posts are written by a certain "admin." – Miguel Imperial/Rappler.com
 If you suspect a Facebook page, group, account, a website, or an article is spreading false information, let Rappler know by contacting us at factcheck@rappler.com. Let us battle disinformation one Fact Check at a time.